By Emily Barasch
The dominos fall quickly in the way that I choose
              And I have to act fast because they're falling.
                            Falling—and I direct the lean.
I direct the lean.  I have the power to choose.
I can't control what happens to me.  Attacked—assaulted.
I had no control over his
actions. "I couldn't have done anything differently."
But I decide how to proceed.
He didn't take that from me. My freedom to move forward.
Empowerment
              Comes from within.
But the darkness can bubble over and drown you.
Rise so high that you can't get out until
someone rescues you.
Helpless.
Hopeless.
              Tears flowing like an infinity pool, never ceasing.
I know what it's like—and I don't want to fall.
I don't want my freedom taken from me.
He took that day
              Those two days
                            Those three days
                                          Those ten minutes
Powerless—at his mercy—no way out until he stopped.
But he's gone now. He's not holding me anymore.
His hands aren't on my face—my
neck.
I'm free. Free from his grasp. Free to move forward. Free to rise.
And I want to rise.
              Rise up—Rise away—not fall.
It happened and I'm okay.
              I'm alive. I can move.
************************************************************************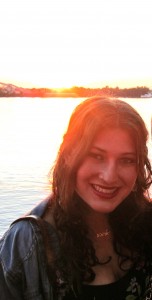 Emily Barasch is a senior at Tulane University studying sociology and dance. Exploring the place and power that art has within society is her greatest passion. Her thirst for experiences and expanding herself has lead her to live in Israel, New Orleans, and South Africa. She hopes her words can help empower other women to get through difficult experiences and find solace.​