By Hollye Dexter
What woke me that summer morning in 1978 was the screaming. I didn't know it was my mother's voice. I'd never heard a sound like that come out of her. I ran into the living room to find my seven-year-old brother Christopher covered in blood. He had just been shot in the head by a neighborhood kid playing with his dad's gun.
Christopher was in the first grade. He was a skinny little, tow-headed boy missing his front teeth. I held him as my mother tore through stop signs and red lights all the way to the hospital. The last thing he said to me before losing consciousness was, "Please don't let me die." His eyes fluttered and rolled back in his head as his little body began twitching violently. I screamed at my mother to drive faster. My arms were covered in my brother's blood. I was fourteen years old.
My brother survived, but the life that was meant for him was taken with a single bullet. With brain surgeries and a year of physical therapy, Christopher learned how to use a fork and walk without dragging his leg. He learned to talk without slurring. He learned how to write with his left hand, to compensate for the loss of motor skills on his right side. He went to school wearing a helmet. His young body was able to heal much of the brain damage, but the emotional damage continues to take its toll. Though he lived, a part of him died that day–the part that was pure, childlike and trusting. He still has a piece of the bullet in his brain.
Christopher and I had a single mother who worked nights to support us. It was all she could do to get through each day with work, therapies, doctor appointments and getting Christopher caught back up in school. We never talked about the incident that turned our lives upside down. We just lived it.
Three decades later, watching the news coverage of the Sandy Hook massacre on a Friday morning brought all the memories I had suppressed back in vivid detail. I know what a child who's been shot looks like. It's a nightmare that never fades away.
On the morning of December 14th, 2012, I knew I could never go back to life as usual. If I didn't do something, the grief was going to overtake me. So I started writing about my own experience with gun violence and putting my stories out into the world, and that's when someone referred me to this new group of mothers who were rising up against this public epidemic. I started working for Moms Demand Action that day.  This year we merged with Mayors Against Illegal Guns and became part of Everytown for Gun Safety – a movement that is already turning the tide of gun violence in America.
Over the past year and a half, I've been proud to stand with moms, grandmothers, dads, friends, aunts and uncles across the country, fighting for stronger gun legislation that protects children, women and all citizens. We have packed the State Capitols with our strollers and diaper bags, showing up relentlessly month after month. We have stormed Capitol Hill and sent a clear message to Congress- we are united, and we are not going away. And we have had great victories at the state level. I'm especially proud of the strides we've made passing legislation to keep guns out of the hands of domestic abusers in Washington, Minnesota, Louisiana and Wisconsin. I know this work is saving lives.
But recently there has been an alarming wave of misogynistic threats against us coming from self-proclaimed "patriots" across the country. These gun extremists, predominantly male, are on a mission to intimidate women into silence on the issue of gun violence.
Sexual insults and threats of violence against us on social media are a common occurrence. We are called whores, sluts and worse daily. And not just by extremists. Sometimes we're bullied by state legislators.
This April, all within the span of about a week, things really began to heat up. In Indiana, an employee from gun parts manufacturer Slide Fire Solutions, Inc. posted a picture of Moms Demand Action founder Shannon Watts on their company Facebook page, allowing misogynist, sexual and violent comments to be posted such as, "There's another way to shut her up that's a lot more fun."
In Texas, they retaliated against a woman who called 911 when she saw men with assault rifles in her neighborhood, publishing her name and phone number on gun extremists pages and threatening to do the same to anyone who reports them.
In California, they are aggressively pursuing Belinda Padilla, the female CEO of Armitix, a German company that sells "Smart Guns." These are guns that can only be used by the gun owner and therefore can't cause accidental shootings or be wrestled away from and used against, say, a woman gun-owner.  The extremists don't want these guns on the market, and have published Padilla's phone number, stalked her and published photos taken of her at her P.O. box.
But perhaps the most egregious incident happened a few weeks ago in Indiana. Jennifer Longdon, a mom and gun-owner who has been paralyzed since being shot in the back in 2004, came to Indiana during the NRA convention to talk about common sense gun laws that protect all citizens without infringing on gun owner's rights. At the Indianapolis airport as she sat in her wheelchair waiting to board her plane home, a gun extremist who recognized her from the news walked up and spat in her face. Jennifer's response was not one of bitterness. She said, "They don't get to scare us. We have the moral high ground. The overwhelming number of responsible gun owners must stand with me as a gun owner and a survivor, and say 'enough.'"
In the wake of the horrific Isla Vista shooting last Friday, in which the shooter made a specific plan to kill young women, it's clear that, sadly, misogyny is alive and well in America. Though the intention of armed bullies is to frighten and silence women, they will be disappointed to discover that their efforts are having the opposite effect. Women are not cowering in fear. We are standing up and galvanizing against this threat, organizing efforts to get folks engaged and to the ballot boxes come midterms. For too long politicians have turned a deaf ear to the people, all the while letting the gun lobby dictate our country's gun policies. But moms know how to handle bad behavior. These politicians need a time out. We'll be sure to give them one with our votes this election season.
I've worked with the parents and family members of the Sandy Hook victims. I count as friends survivors of the Virginia Tech and Aurora and Tucson shootings. I have experienced the horror of gun violence in my own life and I will do everything in my power to prevent others from experiencing it. Our collective grief has unified us in our mission to save lives. We will not be silenced. Not ever.
____________________________________________________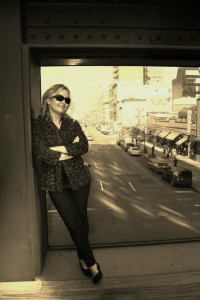 Hollye Dexter's articles about women's issues, activism and politics have been published in numerous anthologies as well as online on 
Maria Shriver's Architects of Change
, 
Huffington Post Live
, 
Opposing Views
and more. She is also the author of three books — her recently released
"Dancing at the Shame Prom"
was praised by bestselling author Gloria Feldt (former CEO of Planned Parenthood) as "…a brilliant book that just might change your life."