By Sheila Bustillos-Reynolds
Critics are chiming in about several distasteful slavery jokes made on Saturday Night Live's May 3rd show. Leslie Jones, a writer at SNL, made her first appearance on "Weekend Update" with a splash.
My interest in writing about Leslie Jones comes from my background as a stand-up comedienne, a humor studies theorist (specifically writing about humor and slavery), and a women's studies doctoral student. I'm also aware that I'm writing a critique of Jones' material from a Chicana, female perspective. I situate myself not to give more power to identity categories such as race and gender, but to recognize the power of race and gender and these categories form what we know in the world.
Several well-written summaries and critiques of her content appeared at The Washington Post and NPR, to name a few.  And my critique is shaped by an appreciation of her comedic work and of the difficulty to getting on any stage and sharing your thoughts.
Jones built jokes around People magazine's choice to name Lupita Nyongo The Most Beautiful Woman of 2014. Jones moved the joke forward, asking when People is coming out with "The Most Useful" category. She then makes a series of jokes that imply her definition of "useful" would mean "whoopin' ass" when her date was attacked by gang members and producing tall and strong children for slave masters.
According to Jones, the joke was intended to be a critique of normative standards of beauty—her underlying critique was that small-framed women fit normative scripts of beauty more so than women who are tall and broad shouldered. Instead of creating jokes to call out how desirability works in our society, Jones jumped to an anachronistic depiction of how women's bodies were used during slavery as sites of labor; to give birth to more "help." It is true that women's bodies in slavery were used in multiple forms as sites of labor. If anything, Jones surfaced a conversation about the fetishization of black women's bodies and how black beauty is incredibly undervalued.
Writing a joke boasting about how your body would be used for a site of labor during slavery does several things: (1) It uses women of colors' bodies as sites of labor as a topic of entertainment.  (2) It reaffirms black beauty as dependent upon whiteness without a hint of irony.
How could she have approached her jokes differently? Well, comedy can work when you offer a reality that contradicts normative scripts.
Humor used during slavery was for survival, not for entertainment.  I'm not arguing that comedians cannot joke about difficult subjects like slavery—the reverse is actually true. However, comedians need to look at historical uses of humor and make sure they do not historically appropriate those uses. Glenda Caprio writes a comprehensive account of humor during slavery in Laughing Fit To Kill: Black Humor in the Fictions of Slavery.  The author argues that during slavery humor in was presented as a private inside joke for survival; humor was a subversive sarcastic approach to resisting the white privilege of slave owners. Humor gave slaves hope while subject to in an inhumane ideology. African Americans used humor  for resistance, survival, and hope, not for a cheap laugh.
If Jones' purpose for delivering this joke was to invoke consciousness-raising, she fell short of the job. Humorous consciousness-raising is most successful when we—as Aristotle puts it—take a seemly noble act and promote it as ignoble. In other words, resistance humor works well when we challenge normative scripts that perpetuate oppression of marginalized individuals; it doesn't work if we reinforce those scripts in our humor.
Jones would have hit the mark if—by her appearance and delivery of the joke—she gave us what we were not expecting. Matthew Hurley, a cognitive and emotion scholar, wrote Inside Jokes to show linkages between cognition, emotion, and humor. According to Hurley, "Humor occurs when a perception of the world suddenly corrects our mistaken preconception." When viewing Jones' aesthetics or physical appearance (the color of her skin, broad shoulders, and height) we might have guessed that she would make a joke about beauty that elevated her body type over, as she suggested, smaller-framed women. Instead, she began by delivering her jokes that lead us on a predictable path.
Humor depends on absurdity. Immanuel Kant proposes: "Whatever is to arouse lively, convulsive laughter must contain something absurd…[l]aughter is an affect that arises if a tense expectation is transformed into nothing." Our expectations must be challenged to produce laughter. Jones' material did not illustrate a picture for audiences (in studio or watching from home) where imaging the absurd was a possibility.  Instead, her flopped joke about producing "Shaq…Kobe…LeBron…" in 9 month intervals show us something startling and true, which is why the SNL audience fell silent and stopped laughing at her jokes toward the end of her delivery. Her joke stunted our ability to laugh because there was too much truth to her content and not enough imagination.
This critique is not a call for Jones to be politically correct as much as it is a call for more mindful comedy. Wanda Sykes joked about one of the most contentious topics in our contemporary culture—rape and gender violence. Her joke reached absurdity when she asked us to imagine a world free of rape where women had "detachable vaginas." The joke is funny because it's physically impossible to do, and she imbeds a subversive argument that women's bodies are sites for objectification and ownership.
Lastly, Jones' material further perpetuated a devaluing of Black women's bodies when she called for People magazine to come up with a "useful" category. Although this joke is closest to critiquing social relations, it set the tone for the rest of the performance that framed her body as useful, penetrable, and insignificant compared to socially constructed ideas of beauty. She compared her "talent" as a hypothetical slave to LeBron James' comments about "Taking his talents to South Beach" when she stated, "I'd like to take my talents to South Carolina. I do, believe there'd be a lot of opportunities there for me." You can hear the audiences dissatisfaction of this joke in the absence of laughter. She sets up the punch line by subversively comparing the rape and violence experienced by African American women in slavery to "opportunities" to produce "super babies." Producing babies for whom? And who benefits from those "opportunities?" These are questions we are left with after her performance.
I applaud Jones for taking a risk on these jokes on difficult topics; but like comedian and author Dick Gregory puts it, comedians doing consciousness-raising humor "are obligated not to offend or disrespect individual patrons." In other words, comedy used to change outlooks or perspectives on the world—like images of beauty—should not offend the very people you want to hear your message. Comedy should push limits of political correctness by activating the imagination. Jokes that replay difficult histories or marginalization need a twist or a turn to help us imagine how we can playfully reframe our current reality. In this framework, Jones' jokes could've ended with a flip of the script: "using her Shaq and Kobe to whip the slave master's ass" or  "People might have picked Lupita as 'The Most Beautiful Woman' but Strong, Tall, Smart, and Sexy picked my ass for sexiest bitch to put down a beef bowl."
___________________________________________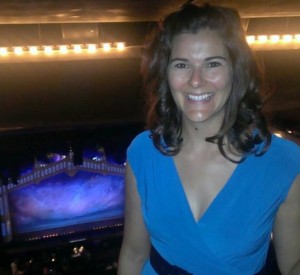 Sheila Bustillos-Reynolds is currently pursing a Ph.D. in Women's Studies at Texas Woman's University. She earned a M.Ed. in Counseling and Guidance with an Emphasis in Higher Education Administration from and a BESS in Pre-Physical Therapy with a minor in Health and Wellness both from Texas State University-San Marcos. Her research interests include: Humor Studies, Chicana/Latin-American/Mexican-American Studies, Access into and Persistence through Higher Education, Higher Education Outcomes for Foster Youth, Motherhood and Former Foster Youth, and Ethical/Moral College Student Development Theories. She is a board member for Education Reach, a non-profit organization that researches and supports foster care alumni in higher education.