By Breanne Fahs
A few weeks ago, Al Jazeera ran a piece that critically traced the obfuscation of rape language from the (violent, highly politicized, and potentially stigmatizing) rape to the (corporate and university approved) nonconsensual sex. Apparently, calling college men "rapists" left a bad impression for the public relations campaigns of universities, especially when it implicated the sons of the rich white mega-donor families that paid much of the tab for university operations. This notable ploy to use nonconsensual sex instead of rape arrives at a crucial juncture in the politics of sexual assault on college campuses.
Widespread accusations have reached fever pitch not only on individual campuses (including my alma mater, Occidental College), but have also recently drawn attention in at the White House, with President Obama calling for a new task force to ensure the confidentiality of rape reporting, and Joe Biden stating publicly, "Colleges and universities need to face the facts about sexual assault. No more turning a blind eye or pretending it doesn't exist. We need to give victims the support they need, like a confidential place to go, and we need to bring the perpetrators to justice." Articles about the denial of rape on college campuses, the staggering statistics of university rapes, and the consistent lack of attention and prosecution of rape cases for those who report these crimes have appeared in droves in recent weeks. We are now in the midst of a nonconsensual sex crisis. Hmm.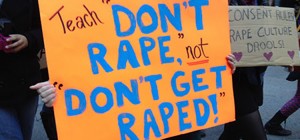 So why get so picky about the language? Why might it matter that we've wiped the word rape off the map in favor of a phrase generated in university boardrooms by public relations managers? Well, for starters, this language lets rapists off easily and does not hold them accountable to the violence they have committed. Further, many people do not classify rape as a "kind of sex." There is not vaginal sex, oral sex, anal sex, and nonconsensual sex. It's not a "position" or a "type." It's a crime of power and violence, most often enacted onto the bodies of women by the bodies of men (though men raping other men, and women raping women also gets disappeared in mainstream conversations about rape despite these actions occurring not infrequently).
When I interviewed women across a wide range of demographics and ages about their sexual experiences in my book, Performing Sex (SUNY Press, 2011), I found that women did not typically discuss rape in response to the question I asked about women's "worst sexual experiences." Instead, women discussed their experiences of rape, incest, and sexual abuse later on in the conversation when we talked about violence. Many women did not, and do not, actually categorize rape as about sex at all. It is, rather, something more akin to battery (what we now call "domestic violence" or "intimate partner violence," phrases that second wave radical feminist activists cringe about), abuse, and assault. Calling rape nonconsensual sex is somewhat akin to calling someone shooting someone else on the street homicidal dialogue. You're not "having sex" if you're being raped; you're not "in dialogue" if you get shot in the head.
Perhaps more important, however, are the experiences that these conversations about language mask or cover up. What we don't talk about are the staggering rates of "grey rape," or sexual experiences that lie in the middle ground between rape and non-rape. As a sex researcher and therapist, I am continually astounded by the number of women who describe having had coercive or pseudo-coercive experiences that they did not label as rape. Here are some examples: having painful sex; agreeing to have sex while sick with pneumonia; exchanging blowjobs for rent money or a car payment; having a boyfriend force anal penetration; men asking women to engage in sexual behaviors that were humiliating or degrading without women feeling like they could refuse; having "hard sex" or aggressive sex that physically harmed women or felt uncomfortable; having drunken sex and feeling used and/or regretful…and that's just from a sample of a few dozen women. Add to that the slightly less coercive but still depressing facts that many women feel the need to fake orgasms in order to stop a sexual encounter (and to support a partner's ego), the alarming rates of rape fantasies that women get off to, or all of the varieties of bad sex that women endure and put up with in order to perform relationship maintenance, and the picture gets even bleaker.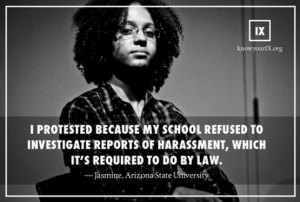 The bottom line is this: we live in a culture that relies on caricatures and myths of sexual violence in order to sustain the violence that everyday women endure and ordinary men perpetuate. The "rape victim" needs to be a woman battered, at-knife-point, in-a-parking-lot, beaten-to-a-pulp figure in order to obscure the fact that women endure rape, sexual violence, coercion, disappointment, bad sex, and sexual extortion all too often in their dating life and in their short and long-term relationships. Or, better yet, this oft-depicted "rape victim" is scantily-clad, asking-for-it, and "deserving" of the rape.  The "sex offender" and the "rapist" (which couldn't possibly be college men!) needs to be the scary trench-coat-wearing greasy-haired sleaze ball who preys on little girls and warrants neighborhood watches in order to obscure the fact that our culture socializes boys and men to engage in coercive, selfish, and sometimes violent sexual acts in order to validate their status as "real men." Sexual violence must be perpetrated by an Other (often racialized and/or marked as "creepy") and not by our loved ones, our students, or ourselves.
What would it mean instead if we acknowledged that normative femininity meant dealing with sexual violence and coercion and normative masculinity meant perpetuating violence against women and other men? It is, in fact, the minority of women who never experience sexual coercion of any sort; further, most women (and some men) fear men's violence and organize their understanding of public space around such fears (e.g., not walking alone at night; wanting protection; fear of alleys and parking lots). While corporations, universities, and the military sit around trying to "manage" the bad PR they're getting from sexual assault reports, women continue to endure a rape culture that enables a Yale fraternity (not coincidentally, George W. Bush's old frat) to chant the slogan, "NO MEANS YES, YES MEANS ANAL!"
I had a conversation with a therapy patient of mine recently that spoke volumes to the problems of living in a rape culture that no longer wants to use the dirty word rape. She told me that she and her best friend (both 19-years-old) frequently endured sex with their boyfriends that involved heavy drug use, painful and coerced anal sex, utter boredom for the women, regular transmission of STIs, no orgasms for the women, and "sex on demand" whenever their boyfriends wanted to have sex. When I asked her if she ever felt pleasure during sex, or ever wanted to feel pleasure, she said, point blank, "I thought sex was only supposed to be pleasurable for the guys, right?" Right.
_______________________________
Breanne Fahs is an associate professor of women and gender studies at Arizona State University, a practicing clinical psychologist, and the author Performing Sex andThe Moral Panics of Sexuality.