By Minna Salami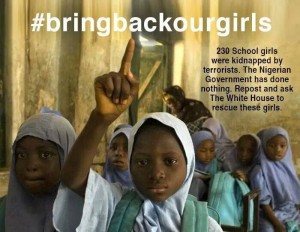 On April 14, over two hundred girls aged twelve to seventeen were kidnapped from their school hostel in Borno, a Nigerian state that has become notorious for fundamentalism and terror. As I write this, the whereabouts of the girls remain unknown. Nor has Boko Haram, the key terror group in Nigeria, issued a statement claiming responsibility for the abduction. However, it is unlikely that the group is not behind it: although the large number of hostages taken is a first for Boko Haram, it isn't the first time that they kidnapped girls and women.
The fate of the girls is unimaginable. We may assume from personal accounts by previous detainees, that rape and sexual abuse is prevalent. Also, we can presume (again, from girls who've escaped the camps) that Boko Haram members are particularly interested in raping virgins, which might be part of the reason that the abducted girls are so young. However, girls and women are rarely only kidnapped for sexual abuse. The female body is a type of "wartime asset" made to perform activities such as cooking, cleaning, and general looking after. Above all, women's bodies are perfect pawns. In a deeply patriarchal society, where women are seen as male property, kidnapping daughters, wives, mothers, sisters etc. is a tactical way to communicate a message which lies at the heart of Boko Haram, namely that Sharia law must be implemented at any cost whatsoever. As one young girl who escaped from a Boko Haram camp was told, "convert to Islam or die." Many previously abducted girls are not Muslim, and Chibok (the neighbourhood in which the 200+ schoolgirls live) is predominantly Christian. In an attack in a Maiduguri university in 2013 not dissimilar from this latest one, Boko Haram segregated women into Muslim and non-Muslims, and then systemically raped the non-Muslim women. In another incident reported in the Journal of Terrorism Research, six Christian women were abducted and repeatedly raped by insurgents who claimed this as sexual 'jizya,' a tax paid by Christians under Sharia law. Boko Haram is sending a message that non-Muslim women are to be punished. As a report by World Watch Monitor stated, "the fact that Christian women and children suffer at the hands of Boko Haram is not incidental. It is a carefully calculated part of the movement's multi-pronged front-line offensive that is designed to intimidate the population into accepting political-religious change."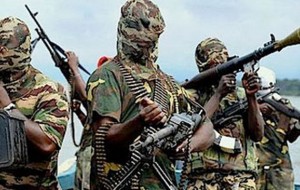 To be sure, Boko Haram has absolutely nothing to do with Islam as practiced by the majority of the world's Muslims, including most Nigerian Muslims. Rather, the group is led by opportunistic, ideological, heavily armed bandits who have a political rather than a spiritual objective.
Despite the urgent, blood-curling state of affairs, the Nigerian government has failed not only to rescue the girls but they have also not provided Nigerians, foremost the families of the girls, with information concerning the abduction. Instead citizen platforms are trying to use socio-political pressure so that the girls can be found and rescued. Nigerians have taken to Twitter and other social media to raise awareness using hashtags such as #BringBackOurGirls and #WhereAreOurDaughters. The women's rights group, Women for Peace and Justice, staging a 'Million Woman March' in four Nigerian cities on Wednesday. In Abuja, they will march to the House of Assembly demanding to know why there is so little protection in schools in the regions affected and how – in the age of drones, Google Maps and aerial shots – 200 girls can vanish without a trace. After all, it seems implausible that a convoy of trucks and motorbikes can move around undetected if real efforts were being made to locate them.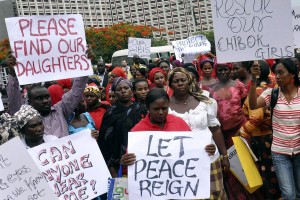 It seems obvious to say, but, the young girls and their families deserve better than this. They deserve a great effort to ensure their daughters, sisters, cousins, nieces and friends can be returned home safely. They deserve a leadership that cares about the fates of their loved ones. The girls and their families also deserve better from the international community. Boko Haram has largely arisen out of post 9/11 conflicts: it is not simply a local or national problem but an international one. Yet predictably, international involvement has been embarrassingly negligent. There's hardly been any media coverage, and even an international body such as UN Women are yet to get actively involved.
Not only do the girls deserve more, but all Nigerians deserve better. We deserve to know why despite the massive increase in federal military spending, Nigerians are not safer than they were a few years ago. We deserve to know why Nigerian soldiers, despite increased resources, seem unable to handle Boko Haram threats. We need to demand solutions to these problems. As days turn into weeks, it is firstly the abducted girls and their families that deserve urgent answers.
But there is much, much more at stake.
_____________________________________________________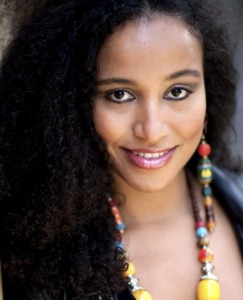 Minna Salami writes, speaks and advocates on a broad range of Africa, Diaspora and feminist issues. She writes the award-winning blog, MsAfropolitan, and is a member of the Duke University Educator Network as well as the Guardian's (UK) Africa Network. Follow her on Twitter @MsAfropolitan.