By Natalie Hartsfield-Crowe
He didn't want to fuck
me from across the street. But
he did notice my fine gold fish net hair
then right
as he passed me, I peeked up and shot him my
"look."
He was bold and knew exactly how to return the look
showing me he wanted to fuck
and I confess that it made my
heart race. My blush made him think I was 16. But
of course he wasn't right.
People always associate youth with long hair.
Everyone said I looked older when I cut it – my hair.
Now I let the stuff billow out and it's what earned me that look
and then he made the face that made me want to write
this poem about a young bottom lip he wanted to fuck.
I rub off kind of like high school but
I love being a late bloomer, it is my
sex weapon. I have a young face and my
hair, did I mention the hook, line, and sinker hair?
Women see men and speculate but
men can find lustful hunger anywhere they look.
And the only reason he wanted to fuck
me was he thought it wouldn't have been right.
I wasn't thinking if it was right
wrong, good, or bad, and my
mind wasn't desperately imagining us fuck-
ing. I was just waiting for the reaction to my hair
and my pink color, to see his face; for an exhibitionist, the look
is everything, is enough. But
most of the time I am well-behaved. But
often I am not; for only a bad female would write
so long on so lustful a look –
and not on the effervescence of love at first sight, on my
look. One doe eye (no make up) peeking out of a blonde hair
veil, and it makes any man I give it to want to fuck.
Ha, he can kiss my perky round butt
and smell my long, fertile hair. Guys, remember this, alright? –
Girls who give "the look" rarely ever want to fuck.
 ******
This poem is unapologetically sexual. I believe females should be explicit about the politics of sex. In the U.S. heterosexualized society, I find it is common for men to look at women in overly sexualized ways.  "Good" women may look demurely down at the ground and let that gaze pass uninterrupted. However as I have come into my own sexuality, I have found it empowering to return these gazes with a look of my own—a look that is enjoyable to me because it allows me to be an empowered sexual agent in this game and interrupt his dominance. If a man can look at a woman that he does not know with sex in his eyes, then a woman should be allowed to return that look—a look that calls the man out, defies his look with their own sexuality, and interrupts any expectation to actually follow through with sexual interaction.   
_________________________________________________________________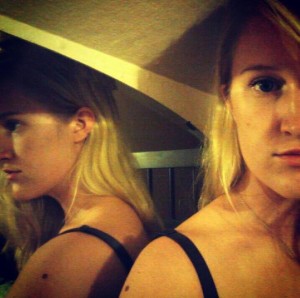 Natalie Hartsfield-Crowe is almost finished with her undergraduate degree in English at Portland State University and is excited to start adult life after graduation. She works as a preschool teacher for Portland Parks and Recreation. She loves to read and write – mostly poetry, and is beginning her work on fiction writing. She also loves living in Portland and taking daily advantage of all it has to offer – the coffee, the beer, and the trail runs.