By Jennifer McGreevey
On my second day of waitressing at Athen's Kitchen*, it rained.
"It sucks cock," said my boss, Baldios*, barely understandable due to his heavy Greek accent. "Days like this, they suck cock."
Statements like these were not uncommon from the manager of the popular Forest Hills, N.Y. eatery, where the objectification of women quietly goes unnoticed by its customers. For many women, sexual harassment in the workplace is all too common, especially in the restaurant business. In 2013, a Chinese fast food chain in Hawaii paid $15,000 to settle a lawsuit with three teenage female employees who were harassed by a male supervisor [1]. That's nothing compared to a $150,000 settlement that Burger King paid in 2012 to a former employee who alleged that she was harassed by her boss at work while she was only 17 [2].
Yet, for most people workplace sexual harassment does not end with a huge payday. Many victims, especially teens, remain silent about such an experience, due to embarrassment, shame, or trauma [3].
I moved back to my childhood home in Queens the summer after my sophomore year in college with one goal in mind: to make money. I took the train to a nearby, somewhat hip neighborhood with a folder full of resumes and nervous ambition. I inquired into a "Help Wanted" sign in the window of the tiny Greek bistro, and was instantly hired—no resume, reference, or right to work required. "Come in tomorrow at 10:30," said the boss, who was sitting at an outside table listening to his iPod. I agreed excitedly, and Baldios smiled.
The inappropriate behavior began immediately. Baldios walked in on my first day and declared, "You're so f*cking hot." I was shocked, and soon learned that his authority as a boss went far beyond making sure we were polite and efficient waitresses. His constant need for attention as a man, a testament to his own insecurity, made him one of the most deplorable, as well as ineffective, bosses one could ever be unfortunate enough to be employed by.
The current waitresses, ranging in age from 17 to 27, had all known Baldios for a very long time. He drove the two youngest girls home, rented out his basement to one, and had given another her first job nine years ago. I soon noticed that his specific treatment of the waitresses was based upon their willingness to respond to his flirtations. Baldios often acted as though he not only owned the restaurant, but his female wait staff as well.
Baldios relentlessly discussed sex, blowjobs, cocks, and asses, and occasionally his views on the government- "They're all cocksuckers." He had once been a young nightclub owner in Greece, before he lost all of his money and moved to New York City, where he could start over. Now he was a fairly successful restaurant owner, slightly overweight and balding, and an aspiring actor. His computer background was his head shot and the hilarity of his acting demo tape was comparable to every episode of The Office combined. He was also an unhappily married father of two.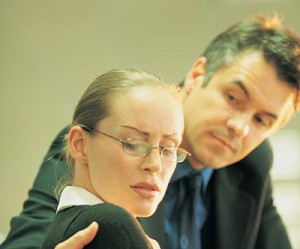 At times, he was concerned with his business, the epitome of the American Dream, according to him.
"It's very important to change the soap," Baldios said on one of my first days. "When people go to the bathroom, they touch themselves. If they don't wash their hands, they're touching the food with the same hand that touched the cock. Alejandro* here has a very big cock, don't you Alejandro?" He motioned to a kitchen worker who had sat down to eat.
Alejandro and most of the other kitchen workers, including the head cook, Julian* (which may or may not have been his real name), spoke very little English, communicating with one another rapidly in Spanish. On the floor, the languages spoken included Greek, Russian, and English.
As I went in and out of the kitchen to pick up food and deposit empty plates, the guys' behavior ranged from ignoring me altogether to saying, "I love you, Yenni," and trying to give me massages. They called me sucia and cochina, Spanish slurs that meant "dirty girl."
It took me only a week to realize that part of my job included allowing myself to be a victim of sexual harassment—defined by the New York State Department of Labor as any unwelcome sexual advance, request for sexual favors, or other verbal or physical conduct of a sexual nature.
With sexual harassment charges consistently three times higher in the restaurant industry than other workplaces [4], it came as no surprise to most of the people who I told about my boss's behavior. Still, I continued to be appalled and dismayed each and every time I had any contact with him. The job itself had proved enjoyable—I had a natural talent for the fast-paced restaurant work.
The veteran waitresses—and one in particular, who was speculated to be having an affair with Baldios—controlled the schedule and the highly sought after weekend night shifts.
One must have noticed my ability to laugh off requests from my boss and the kitchen workers to "make out" and "vamos a mi casa" and the way in which I ran from table to table scribbling down orders and running them back to the kitchen like I was alerting the patriots that the British were coming. As a result, I began to get better shifts and make more money, and convinced myself that the paycheck and the distraction that the job provided me with during the long, hot city days were worth the harassment.
Most of the time Baldios greeted me with a creepy grin and the words "What's up, sexy?" He often wondered out loud what kind of underwear I was wearing. Other times, he scolded me for slight errors, though he never applauded my skills, commitment, or upbeat attitude—only my looks.
He saw no need to filter his thoughts and desires, seeing them as compliments. Any interaction with him was sure to be marred by a sexual comment or suggestion. I was trying to just serve him his Ketel One on the rocks and be on my way.
The shifts at the restaurant were stressful enough without his tasteless vernacular (and endless plays of Daft Punk's repetitive hit "Get Lucky") in my ears as I darted between taking orders, making drinks, and collecting money, which we stored in a receipt book before counting it and turning it over at the end of the night.
But for the most part, Baldios' behavior was largely ignorable, as the restaurant was usually too busy for me to have any time to pay attention to his pathetic puppy dog eyes. His comments and behavior were out of place, but quickly became expected.
Meanwhile, I darted head kisses and waggling eyebrows directed at me, and all of the girls, from the kitchen workers, who despite their limited English proficiency had learned to communicate to express their desires quite well
The constant bombardment of unfounded attention by my boss and male coworkers made me wonder why some men had been against women in the workplace for so long.
For men who are controlled by the illusion of their own superiority based on gender, the workplace is just another place for them to intimidate and patronize women.
The stress of late nights, 14-hour shifts, and womanly woes that had clamored for my attention since I had inadvertently entered into a semi-realistic, quasi-relationship with my boss, and his bizarre Greek restaurant, a convention of strange characters, began to wear me down. About a month before the end of the summer, I implied quitting in a hyperbolic, unforgivable rage after getting reprimanded relentlessly for a minor mistake.
A few days later, a coworker alerted me that Baldios did not want me to come in for my scheduled shift the next morning. Just like that, it was over. Baldios had deemed me disposable, and easily replaceable, for the last time, revoking his gift that was the most uncomfortable job I ever had and reminding me that it was he, not I, who was in charge.
With my job lost, I went to the NYPD to talk to them about my former boss's behavior, so that future young waitresses could be spared from an experience akin to my summer of love and hate. The police told me that they couldn't do anything if I didn't want to get him arrested; they suggested I talk to the Better Business Bureau.
The Better Business Bureau didn't seem to understand what I wanted, or have a place to take my complaint. On my second call, they misunderstood and connected me to 911, which I hung up in a panic, concerned for people in more life-threatening emergencies.
For while the situation certainly felt dire, there seemed to be no number to call, or office to visit, to report that injustice against women still permeated the workplace, despite the carefully worded laws; no way to file a complaint against men indulging in grand delusions of patriarchy. I was supposed to take my tip-dependent salary, my aching waitress feet, and the memories of faking a smile through days and nights of constant sexual harassment, served with your spinach pie or chicken kebab, and sit in a corner and be quiet about it.
*Names have been changed.
References:
"Panda Express Settle Sexual Harassment Lawsuit With Female Teen Employees." CBS Sacramento.
Gordon, Claire. "Burger King Pays Big Bucks To Teen Workers In Sex-Harassment Cases." AOL Jobs.
Hinojosa, Maria. "Teen Sexual Harassment at Work — An Underreported Scandal." The Huffington Post.
Fastenberg, Dan. "Woman Goes 'Behind The Kitchen Door' And Exposes Restaurant Industry." AOL Jobs.
_____________________________________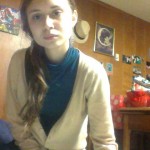 Jennifer McGreevey is a senior at SUNY New Paltz studying journalism, evolutionary studies, and philosophy. She grew up in Queens, N.Y., where she was often frustrated, sad, or elated and so wrote a lot of poetry. After college, she hopes to go into newspaper or magazine writing or perhaps teaching. Who knows? Life is an adventure.