By Cheryl Cooky
Nearly a year ago today, I was invited to deliver a lecture to the students at Wabash College (a small, all-male, liberal arts College in central Indiana) on the issue of homophobia in sport. This was part of the lead up to Wabash College's performance of Richard Greenberg's Tony-Award winning play Take Me Out. The play was originally staged in 2002, and tells the story of a Black, gay major league baseball player who comes out to his team and to the league. The plot explores issues of racism and homophobia in professional men's sports, as the players' responses to their teammate's announcement range from support to derision and violence. My lecture was intended to help the students acquire a broader understanding of the play's content, and as such, I focused my presentation on the sports that USC sociologist and sport and masculinities scholar Michael Messner, Ph.D. refers to as the "institutional center" of sports. According to Messner, sports at the institutional center are intricately linked to commercial interests, closely aligned with hegemonic masculinity, are male-dominated, and have historically have excluded women (both in terms of participants and in terms of institutional control). In the U.S., these sports include professional football, baseball, basketball and hockey. Messner argues that the inclusion of marginalized groups (like gay men and women) creates tensions in gender dynamics, but does little to fundamentally change sports organizations or the cultural assumptions that operate to exclude marginalized groups in the first place. In other words, inclusion does not always lead to acceptance or to major changes in the organizational cultures of sport. An illustrative example of this is the continued lack of coverage and positive representation of female athletes in the mainstream media.
At the end of the lecture, a student asked what it would take for a gay man to come out in men's professional sport. At the time, there were several examples of athletes who had come out (Dave Kopay and John Amechi, for example); however, both athletes chose to come out publicly after retirement. I mentioned these athletes in my response, and argued that in order for an athlete to come out while still in a major league, hegemonic masculinity, and the homophobia through which hegemonic masculinity is upheld, would have to fundamentally change. Moreover, I suggested the existing landscape of contemporary sports cultures would have to change, since masculinity has such a stronghold on sports. My assessment at the time was that the economic and cultural stakes were too high for an openly gay player to have the support necessary to come out publicly and still be considered a viable asset to a professional team/ league.
After hearing that Michael Sam, a former collegiate football player of a winning program (Missouri), had announced he was gay, I recalled this exchange. I wondered: Had I had gotten it wrong? Was it possible that a gay man could come out, while still eligible for competition in a hyper-competitive, hyper-masculine professional sport? Perhaps I overestimated the power of homophobia in sports cultures? Perhaps I was still stuck in a "second wave" feminist framework that views football as inherently patriarchal and homophobic. Perhaps I had underestimated the extent to which the decline in discrimination, as evidenced in the growing number of states enacting laws that protect LGBT individuals and prohibit discrimination on the basis of sexual orientation or gender identity, had impacted sports cultures and organizations? Or is it possible that I had it right the first time when I answered the student's question and maybe, in fact, the existing landscape of the "center of sports" has changed?
After I thought more about this, I realized that what's happening is the NFL is experiencing a "moment of crisis," which creates spaces of inclusion for historically marginalized groups. According to Monte Burke, the NFL's annual revenues for 2013 were estimated at more than $9 billion, making the NFL the "most lucrative" sports league worldwide. So, on the surface it seems somewhat naïve to suggest that the NFL is in any crisis. However, despite its economic success, the NFL has incurred extensive criticism regarding its ambivalence, or in many cases outright denial, of the linkage between the negative impact of concussions on the health and wellbeing of its players. The lawsuit filed by former NFL players has yet to be decided; however, the medical evidence is conclusive at this point, and the NFL can no longer keep its head buried in the sand. Recognizing that it can no longer uphold a "play through pain" and "win at all costs" mentality, the NFL has instituted rule changes regarding hits to the head, implemented changes with respect to the diagnosis and treatment of concussions, and sponsored programs to teach youth sport coaches how they can coach their players to avoid concussive hits. It is not surprising that given the critical discourse on the NFL and the probing questions folks are asking about the role of football in our culture (the Jerry Sandusky/Penn State scandal initiated one of the most recent iteration of that conversation), this contemporary context serves as a moment of opportunity for an athlete like Michael Sam, who by some accounts had already been out to his teammates, to come out publicly. It would be difficult to imagine that the NFL, in this "moment of crisis," could afford to alienate its audience vis-à-vis homophobia; although, the NFL's reaction to Michael Sam's announcement has been mixed.
Another important factor to consider is the timing of the announcement. It is of interest that the announcement came during the 2014 Sochi Olympic Games and on the heels of a media frenzy regarding the controversy surrounding the Russian government's ban on "gay propaganda." The framing of the law in the U.S. media centers on an oppressive Russian government that limits the freedom of its citizens and harkens back to the Cold War, allowing the U.S. media to promote a nationalist sentiment that relies upon a re-articulation of the "evil Communist" trope. This framing of the Russian government offers a perfect foil for the United States to be constructed as a country where citizens are free to love whom they choose; never mind that Naraj Chokshi recently reported on a study from Yale that found 8 states in the United States have laws on the books that prohibit the "positive portrayal" of gays and lesbians in school curriculum.
A small part of me views this space of opportunity and possibility for a professional athlete being openly gay while currently playing a sport in the "institutional center" as one that we should celebrate. As an individual who has benefitted from heterosexual privilege my entire life, I cannot begin to appreciate the importance of the visibility of role models, especially one who is in such a masculine-identified and masculine-dominated institution as professional football. The impact of Michael Sam coming out publicly cannot be underestimated or overlooked in a society wherein LGBT communities continue (despite the passage of laws or increased representation in popular culture) to experience marginalization, discrimination, and oppression. Moreover, the cultural meanings and implications of being "out" in a men's professional league like the NFL cannot be easily dismissed, because, as aforementioned, football has been so intricately linked to hegemonic masculinity and heterosexuality. A gay man playing sport has the potential to fracture that cultural linkage between masculinity, heterosexuality and athleticism by his mere presence on the field, from which athletes of all genders and sexual orientations would benefit.
At the same time, I am less optimistic about the impact of Michael Sam coming out on the subcultures of sport. Sports in the institutional center have faced similar crises wherein sport's hegemonic masculine dominance was tenuous (i.e. the racial integration of sports, the inclusion of women in sports with the passage of Title IX, and the establishment of professional leagues for women). However, while sports struggle with the inclusion of marginalized groups, these struggles too often strengthen the institutional power of sports rather than fundamentally restructuring of the values, norms, and beliefs embedded in these dominant institutions. Although people of color, women, sexual minorities, and non-cis gender individuals participate in sport, racism, sexism, homophobia and other forms of oppression continue to plague sports cultures.
Michael Sam is an expected 2014 NFL draft pick; although, sports commentators are debating whether this announcement will help or hinder his position in the draft. The story has yet to be told regarding the extent to which Michael Sam coming out will impact the NFL, and subsequently the meanings of masculinity and sexuality in football and in contemporary American culture. My hope is for a better future. My fear is that our past will always be present.
_________________________________________________________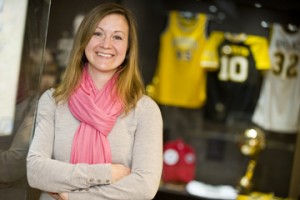 Cheryl Cooky, Ph.D. is an Associate Professor of Health & Kinesiology and Women's, Gender, & Sexuality Studies at Purdue University. Cheryl was a Principal Investigator for the first ever evidence-based study of gender and sport in Montenegro, "Gender and Sport in Montenegro," a collaborative project with the Women's Sport Foundation funded by the International/Montenegro Olympic Committee and United Nations Development Program (UNDP). She also co-authored "Gender in Televised Sports: News and Highlight Shows, 1989-2009," a groundbreaking report published by the University of Southern California Center for Feminist Research with Michael Messner. In honor of her work, Cheryl has received the Purdue University Title IX Distinguished Service Award, the Purdue University Difference Makers Award, the Dorothy Harris/Women's Sports Foundation Dissertation Scholarship, the Haynes Foundation Dissertation Fellowship, and a tribute in our "Feminists We Love" series. Cheryl was also an Honorable Mention for the Sociology of Sport Journal Article of the Year Award for "If You Let Me Play: Young Girls' Insider-Other Narratives of Sport."