By Jamie McKaie
The biography sat on the bookshelf of my fourth grade classroom, as if patiently waiting for me. The bell rang. Ring. I ran for my fourth grade classroom as fast as I could. There it was: Blue Banner Biography: Jennifer Lopez. I snatched it from the shelf just as my other classmates entered the room. I didn't care for them. While they wildly rummaged through the bookshelves for their favorites, I drowned myself in my book. I read each word slowly savoring everything that Jenny, my Jenny, had to say about herself. She is a Latina from the Bronx, my neighboring borough only a bridge away. She is a dancer just like me; I spent many Saturday afternoons practicing salsa moves in the Bronx. She is Puerto Rican just like some members of my extended family. She is me.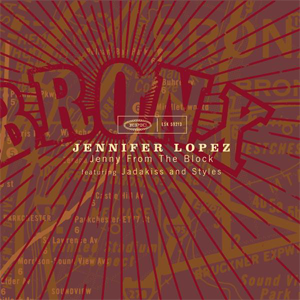 Eleven years later, I still bop my head and lip-sync to her songs like I did when I was in fourth grade. I constantly sing her songs; the lyrics pour out of my mouth uncontrollably. I still watch her videos and know every move, every choreographed step. I pay attention to her lyrics. When she suggests in "All I Have" that it is okay for me to walk away from a relationship when my pride is at stake because the relationship can be replaced, I believe her. I do what she suggests. I have gone from one intimate relationship to the next and forget the previous one because like Jenny says "Without me [they'll] be fine right."
But Jenny also confuses me. In her "Ain't It Funny," she and Ja Rule tell me "It must be the ass that got me like damn." She tells me that a woman is her ass, and it's ass that men like and want. She tells me that I am my ass, my thighs, my breasts. She tells me that I am a sum of body parts, parts meant for men's desires. I have allowed men to tell me I have juicy thighs as if I were a piece of meat for them to bite into. It wasn't the choice of the word "juicy" that particularly bothered me but the context it was said in. We were about to step into my lover's teal pre-war apartment in the heart of Brooklyn, but he stopped on the front steps to see me shivering in black body-clinging leggings. There was pure lust in his eyes when he commented on how juicy my thighs looked in those leggings, but then he critiqued me for exposing myself to everybody else in the city (as if my thighs were only for his viewing). I was not wearing those leggings to show off anything, I wore them because I had nothing else comfortable to wear. In that moment on the stoop, I had become a sexualized piece of thigh.
In the past, men have also told me that my breasts conveniently fit in the palm of their hands and are perfect, as if this piece of fact was something "useful" for me to know as if I didn't already. Again, I had become a sexualized piece of breast. But Jenny told me it was okay to be a sum of pieces. She told me to enjoy my sexualization under the male gaze. While I often did enjoy it, I always felt a sense of unease. I am not sure if Jenny says what she does with a sense of unease, too.
Jenny does sing about women wanting more than to be the object of a man's affection. Women want to be recognized for more than their looks, want their sexual agency, and need their bodies to be admired in whatever shape or form. But often this message gets stripped in song and dance for the patriarchal gaze.
As a teenager, I saw Jenny as an empowering female figure, and she clearly influenced my choices. "Bye," I said to my parents as I headed out the door. "J, come down for a second." I slowly crept down the basement stairs in my low-cut blouse and mini skirt knowing this was not going to go well. My parents pointed their fingers to the staircase, directing me to go back to my bedroom to change. According to my parents, it was unacceptable for a girl to be showing so much skin. "Men will have their jaws on the floor, Jamie. Keep something to the imagination," my mother often said. I knew dressing revealingly was "wrong," but I felt sexy. I knew I could easily seduce a man this way. I was performing my sexuality just like J Lo had taught me. I was pissed for being criticized for feeling good and felt ashamed of my choices because they clearly were not received well by my parents or even by some of my girlfriends. Expressing my sexuality in any form, I realized, was never "right." If I dress sexily, I am perceived as reckless, and if I were to cover my body, I am seen as pure, innocent, and sexually sheltered.
I have come to learn that J Lo creates music that resonates with my contradictory understanding and performance of my own sexuality. J Lo performs sexuality to fulfill the male gaze, which likely helps her advance in the music industry. The male characters in her music videos eroticize her curvy body and serve as spectators of her visible sexualized body. Women, such as myself, have grown accustomed to viewing women's bodies through a male perspective because mainstream media primarily only allows its audience to see the world through this lens. Both of my parents were judging my fashion choices through a male gaze that objectifies women's bodies, however, they were also conflicted by Puritan-based societal notions that women need to hide their bodies and sexuality to preserve their "innocence" and maintain respect from others. In spite of J Lo being hyper-sexualized in the media, she uses her power in this industry to shift her audience's understanding of women's sexuality. She encourages women to own their sexuality without regret or shame.
I am not ashamed to say that Jenny has been a role model to me for most of my life because I saw myself in her and her songs. Could my fascination with her be a feminist move or a juvenile one born of a false consciousness? I understand that she is working within a patriarchal framework, but I think she deftly uses this framework to her advantage. She shows that one must define the fine line between sexual objectification and sexual admiration; I have learned from her music to love, to own, and to be proud of my body and my sexuality. I no longer keep my mouth shut and settle for anyone who does not respect me or my body, who doesn't care about what I want in and out of the bedroom. A former lover no longer makes me feel ashamed of my sexuality or makes me hide in the shadows when I stand up for myself. I will wear what I please and will not tolerate possessive or demeaning comments about my body or sexuality even if it means more arguments or one day walking away.
__________________________________________
Jamie McKaie grew up in Queens, New York. She is currently attending Connecticut College as a Gender and Women's studies major and a Holleran Center for Community Action and Public Policy scholar. She envisions herself working with youth in some capacity after college, either through teaching or after-school programs that focus on empowerment and critical pedagogy. On another note, she enjoys soaking up the sun, blasting throwbacks from the 90s and 00s, and believes she was a sloth in a past life.