By Paisley Currah
Every two years, the Olympic Games brings the world together to celebrate sports, witness the sacrifices and determination of the competitors, and admire the perfection of the muscles and contours of the athletes' bodies (though the summer games provides more opportunity for that than the winter games). While competitors are grouped by nation–and certainly the medal count by country matters a lot–it's also celebrated as an international event that temporarily diminishes the importance of national borders and creates a brief pause in the political crises and controversies of the day. One of the goals of "Olympism" is to "place sport at the service of the harmonious development of humankind, with a view to promoting a peaceful society concerned with the preservation of human dignity." Conceived this way, the Olympics functions as an institution we can count on to foster international good feeling and solidarity (though, if one is watching an American network, that solidarity is peppered with a light dose of jingoism).
By tradition and by fiat, the International Olympic Committee, the host country, the athletes, and the media broadcasters pretty much avoid any talk of politics during the games. Indeed, Rule 50 of the International Olympic Charter actually bans talk of anything that might be construed as political: "No kind of demonstration or political, religious or racial propaganda is permitted in any Olympic sites, venues or other areas." Instead, international viewers are normally presented with a shiny, gleaming, sanitized image of the competition and the host city. Unsightly issues–homelessness, poverty, racism–are airbrushed out of the picture.
Russia took a gamble with this opportunity with the ill-timed passage of Article 6.21 of the Code of the Russian Federation on Administrative Offenses earlier this year, which outlaws "propaganda of non-traditional sexual relations among minors…that is aimed at the formation among minors of non-traditional sexual attitudes, attractiveness of non-traditional sexual relations, misperceptions of the social equivalence of traditional and non-traditional sexual relations, or enforcing information about non-traditional sexual relations that evokes interest to such relations." As a result, the "world community" has had its attention drawn to the social and legal violences perpetrated on LGBT people in Russia.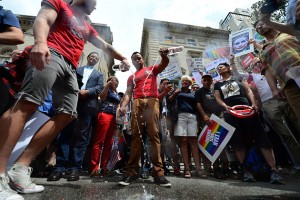 In the U.S. and elsewhere, some initially responded by calling for a boycott of the Olympics itself. But it's clear that it's not politically feasible to push for a boycott of the Olympics itself: no country is going to withdraw based on opposition to Vladmir Putin's treatment of LGBT people. Others, like Queer Nation and columnist Dan Savage, are calling for a boycott of Russian vodka.
In fact, most LGBT activists in Russia aren't asking for us to boycott. Instead, they're asking for solidarity. Let me quote at length from an opinion piece by Igor Yasin, an LGBT activist in Moscow's Rainbow Association, titled "Russia needs its own Stonewall, not Western sanctions":
It won't be Stonewall; it'll be our own revolt. It's hard to believe today, but for a short period after the 1917 Revolution Russia was considered a progressive country in its attitude to sexuality and sexual minorities. There was no anti-gay legislation, and no rights movement, for that matter. Social revolution, the defeat of the clerics and the promotion of women's rights were top of the agenda, so for a while the issue of sexuality was ignored by the state, until Stalin came to power and reaction set in. And now we need to create a systematic and solid movement for LGBT rights if we are to avoid a new backlash.

On the other hand, our lives are simpler than those of our predecessors in the west. The gays at Stonewall couldn't draw on any support from LGBT people in other countries. It was the very beginning of the rights movement, so they had no experience, no success stories to inspire them. But thanks to them we can take inspiration from other people's successes. Not everything in that experience is universal and equally relevant everywhere, but its importance should not be underestimated.

In the 60s and 70s the American LGBT community couldn't ask Brezhnev or Mao to lean on the USA government on their behalf, to introduce sanctions or refuse visas to American officials. But now some Russian activists are looking for ways to enlist help in putting pressure on the Kremlin from abroad, as they doubt their own strength and don't believe they will find enough support among other Russians. But … the best way to fight homophobic laws and prejudice is to forget about Obama and develop our own grassroots protest campaign. … [T]he LGBT community shouldn't be pawns in a new Cold War, but part of an international movement for real democracy and equal rights for all.

The best way for people abroad to help us is through empathy and genuine solidarity, and not isolation or a boycott. Lukashenka's Belarus has been the object of sanctions for years, but ordinary people's lives are none the better for it.
(And here I want to give a shout out to Scott Long's indispensable blog, "A Paper Bird: Sex, Rights, and the World," which led me to Yasin's piece and to a host of other essential sources of information and commentary.)
The question is, then, what does solidarity look like? Certainly it means not being a pawn to the celebratory and glossy version of internationalism promoted by the International Olympic Committee. But it's also not adopting a meaningless and no-cost oppositional stance. It's not not drinking vodka thought to be Russian, or switching from Coke to Pepsi to signal our support for LGBT brothers and sisters in Russia. It's not not cheering for openly gay American figure skater Johnny Weir, who has been beat up in the blogosphere for his decision–like that of the entire American Olympic team–not to boycott the Sochi Games. I don't have a precise answer, but I know it's harder than that. For a start, it's reading, learning, becoming informed. It's at least paying close attention to the words of others–even recirculating those words by quoting them at length–before coming to a conclusion and writing about how best to be in solidarity with them.
One place to start is Queerussia, "a comprehensive and live LGBTQ news & views feed aggregator" that "brings together Russian and foreign LGBTQ activists, bloggers, journalists and concerned citizens who want to know more about queer issues in Russia, progress on LGBTQ rights, queer activism, public events, advocacy, homophobia." Another is the aforementioned blog by Scott Long, who yesterday broke a story about the funding behind the Human Rights Campaign new international LGBT rights program. "HRC," Long tells us, "is receiving its money for gay rights in the Third World from the man who 'virtually invented vulture funds': a form of speculation that's one of the worst contributors to Third World poverty ever." Finally, there's Pussy Riot member Nadezhda Tolokonnikova's Unread Statement about her feminism, her imprisonment, and her ethics.
_____________________________________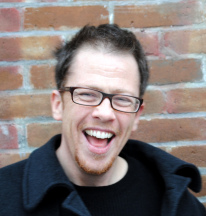 Paisley Currah teaches political science and women's and gender studies at Brooklyn College and the Graduate Center of the City University of New York. Currah is a founding editor, with Susan Stryker, of TSQ: Transgender Studies Quarterly, a new journal from Duke University Press. His book, States of Sex: Regulating Transgender Identities (NYU, forthcoming) looks at contradictions in state definitions of sex. For more information, visit his site.