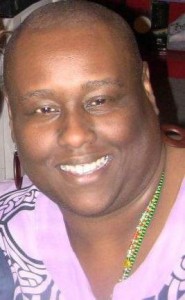 Thandisizwe Chimurenga is an award-winning, freelance journalist based in Los Angeles.  She came to journalism through activism, understanding how powerful media can be for destroying or building grassroots, revolutionary change. She has been a writer and creator or co-creator of media (newspapers, Cable TV, radio) for over 20 years (most notably as co-creator of the groundbreaking Black women's show Some of Us are Brave on KPFK Los Angeles), and her community activism has ranged from electoral organizing; anti-police terror work; freedom for political prisoners and prisoners of war; to organizing against violence against women. Her first book, No Doubt: The Murder(s) of Oscar Grant, will be released in January 2014, the fifth anniversary of the (first) murder of Oscar Grant.
SH: You are a longtime activist for Black women's rights and self-determination. What were your early personal and political influences? 
I was fortunate to have several experiences that raised my consciousness, from high school through college, but the beginnings of my political development came from Malcolm X, Haki Madhubuti, and Zak Kondo. "Naturally" my study was male-centered though it was not necessarily rabidly patriarchal and sexist.  Later, as a young woman, I was introduced to the works and words of Assata Shakur and Angela Davis.  I developed a bond with Ida B. Wells that has remained to this day; she is my Spiritual Mother. Later still I was introduced to Pearl Cleage and bell hooks. Cleage's Mad at Miles really worked me: "she sounds like a Nationalist; wait, now she sounds like a Feminist; no wait, she's back to sounding like a Nationalist – how can this be?  She can't do this!"  But my "aha" moment in terms of understanding what a threat patriarchy was  came with the murder of Rosemary Flournoy in April of 1999.
"Early Thursday morning, Rosemary Flournoy stepped out of her Grant Park apartment and sat on the porch, away from her abusive husband. She put up with her husband, William Reese, because he paid the bills. Last year she even asked a judge to let him out of jail, where he was awaiting trial for abusing her. She couldn't afford to pay the $350-a-month rent without him. Thursday morning was the last time Flournoy, 41, would sit on that front porch. Her husband came out and poured gasoline over her body and set her on fire. As the flames burned away his wife's clothes and skin, Reese went back into theapartment and yanked loose a natural gas line. Police detectives believe he was trying to make it look like his wife caught fire on accident. But the gas ignited. The explosion killed Reese, 45, and blew out a chunk of wall in the four-unit apartment …. The blast woke neighbors, who called 911. The fire ravaged the building, forcing everyone out. The burns covered all of Flournoy's body. As a paramedic placed an oxygen mask over her badly burned face, Flournoy's neighbor, Christopher Murphy, 12, yelled out to her. "Rosemary!" Christopher said, getting her attention. She waved as she was loaded into an ambulance. About 10 hours later she was dead. Flournoy died at 3:01 p.m. at Grady Memorial Hospital."
I didn't know Rosemary Flournoy but I didn't need to. She was a Black woman whose life was taken by someone who had the audacity to think that it was okay to do that. That was the moment I got it: patriarchy is deadly, patriarchy is killing Black women, and patriarchy must be destroyed. 
SH: What motivated you to write your forthcoming book on the murder of Oscar Grant?
Like most people who viewed the video of Oscar's murder, I was horrified.  I followed the case on my own and later, I was hired to cover the trial for several Bay Area media outlets.  Knowing what I did simply from living/being a (Nu)Afrikan woman born and raised in the United States and as well as being a witness in the courtroom every day, I decided that I needed to document what went on during the trial from my personal voice – my reaction to and analysis of what I observed during the trial – as well as from my community's point of view. And even though I was writing this book about what I witnessed, there were times when I had no clue as to what I was observing; not from a legal standpoint but from an ideological standpoint, the basis that gave rise to the legal frame.  In uncovering that type of ideological framework, I felt it was important to also share that with my readers.
SH: Do you believe there has been significant change in L.A. vis-a-vis police misconduct and state violence post-Rodney King?   
TC: There is always change but the question becomes, of what quality?  People are still murdered.  The LAPD has changed from using chokeholds and battering rams to beating people unnecessarily and shooting people who are "holding" cell phones or wallets yet running away from them, or imaginary knives and other sleight-of-hand weapons. Being a woman does not save you from the wrath of LAPD – ask the family of Alesia Thomas . The police have made an effort to hold meetings with community residents and groups, to smile at us, but their chief function is still one of containment and intimidation.  Christopher Dorner's "manifesto" confirmed that for us; that "manifesto" even gave us the nuances of the behavior of cops from different ethnicities/identities (white, Black, Asian, Latino, LGBT), and that "manifesto" led to a number of Black police officers speaking out and "co-signing" his allegations.  No wonder Black cops in L.A. rarely stand up for justice for our communities – they're too busy trying to survive their own hostile work environment!
SH: What impact do you hope the book has on public perceptions and/or public policy? 
 TC: My hope is that I have written something that will not only give people food for thought but also move them to some type of practical, concrete action. My hope is that people will understand that the blind support that "Dick and Jane" give to the police is nothing more than support for white supremacy – plain and simple, and it has absolutely nothing to do with intention but absolutely everything to do with impact.  The legal arena cannot be our sole venue for pursuing and exacting change and justice because the law is not on our side and it never has been.  Occasional trials and rulings in our favor don't change that and Ida B. Wells told us that more than one hundred years ago.
SH: Many young African American women and other women of color don't relate to feminism. Is feminism culturally and politically relevant for young women of color and if so why do you believe that there is a disconnect?
TC: Feminism is absolutely culturally and politically relevant to African American women and others.  At its base it seeks to free people from all forms of oppression, so in a sense, feminism is for everybody. But there is also absolutely a disconnect. This disconnect comes from several real places, not imaginary ones.  Amongst the African American community we have a documented history of hostile antagonisms with white women – pre-feminism, through various waves, up through to today – that can be traced to their collusion with white men in our continued oppression. For the Black community, this may be the single biggest obstacle. The work of transnational feminists in India, the Philippines and Central and South America, for example, is phenomenal and should be studied by young women of color, especially African American women, but that does not happen enough en masse because of that history of antagonism. Additionally, there is the history of identifying "feminism" with "white women" while viewing white women's antagonistic relations with their own men and their attempts to separate themselves from them – that bourgeois feminism which casts all men as the enemy and does not appear to be concerned with the entire community. There is also, most importantly, the fear of being labeled as a "traitor" or "enemy" to Black people and their struggle for liberation. Both the act of labeling and the fear of being labeled as a traitor/enemy are real. That act is foolish and it is a damned lie, but that don't mean it ain't real.
Challenging patriarchy—the rule of men and the belief in the (male)God-given right of men to rule—in a community where the Black Church has played such a prominent role is not that popular; in a community where the political organizations and movements for liberation have been headed by men is not that popular; and simply talking about – much less actually challenging – patriarchy in a community where we are reminded every day that Black men's lives are worth less than dogs is, understandably, not that popular.  But it absolutely must be done because Black women are under attack just like Black men are. The assaults simply take on different forms, and are sometimes carried out by Black men themselves.
There is also a disconnect (with feminism) due to class differences. Much of feminism appears to be an intellectual undertaking—i.e., essays, books and lectures—instead of on-the-ground engagement.  Many young Black women/women of color come into contact with feminism through college/higher education which is a marker of privilege and class mobility; many young, low-income/poor Black women (grassroots) and others who disdain feminism are not represented in these centers of higher learning, in addition to the fact that they have a reference for feminism that comes from popular culture which has no interest whatsoever in empowering young women of color (or the communities they come from) psychologically.
Dr. Walter Rodney, a brilliant Afrikan scholar/historian and author, taught classes at the University of the West Indies in Jamaica, and he would also go into the ghettos of Jamaica and teach Black history. He was also a political activist and member of a worker's political party in his home country of Guyana.  He came down out of the Ivory Tower and got into the trenches and the gutters.  This is what feminism must do if it is concerned about its disconnect. And once it does this, it won't matter if it's called womanism, feminism, anarcha-feminsm, transnational feminism.  It will be doing the hands-on work of freeing people, women as well as men, from oppression and in the end, that's what matters.  Not the label.
For more information on Thandisizwe's forthcoming book No Doubt: The Murder(s) of Oscar Grant  check out http://www.triplemurder.com.