By Rashida Harrison
To be a feminist, for me, is a work of love.  However, it was not until I wrote my dissertation, drawing on Audre Lorde (for both research and inspiration), that I internalized the radical capability of love.  I imagine the proverbial "speak truth to power" as "Speaking/Writing Love to Power."   This becomes more evident for me everyday, asI am imbued with a new sense of what it means to love and to labor on behalf of that love.  The most recent realization came on Saturday, July 13, 2013, while I was working with a pre-college high school program geared toward disadvantaged youth of color; the verdict for the Trayvon Martin Case was publicized.  I had a range of emotions that was difficult to articulate.  I called several sister-friends, and as I recounted my shock with one—I started to sob.  I was surprised at my reaction and a little embarrassed at my sudden outburst on the phone.  This deep felt cry came from an emotional investment in justice.  I was so acutely committed to talking, teaching, and making clear the injustice of this case and several other human rights matters dear to heart thatI began to love.  My love was one shaped by possibilities of justice.  That love often was and is transferred onto the humans responsible for carrying out the work of justice.  When that work was not carried out, I felt hurt.  I could only think about the ways in which the students I was growing to care deeply about were not safe.  I was afraid I would not be able to do the work of provoking social justice.  Only love could incite such profound hurt.
My activism, my feminism, my work is shaped by a deep felt love. My feminist-activist work is [still] a radical concept.  And therefore, the love that guides it as well.
_________________________________________________________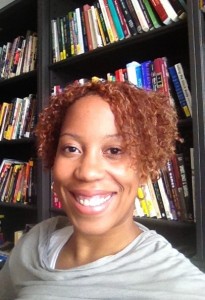 Dr. Rashida L. Harrison is Visiting Assistant Professor at Michigan State University's James Madison College.  Her research interests include black Diaspora Studies, Black Feminism, Women and gender studies, British Empire studies and Social Movements.