A workshop was held at the University of Arizona on September 7, 2013, called "LoveMaps for Middle School: Nurturing Digital Activism for Social Justice." This project, funded by the HASTAC Digital Media Learning Competition, is a collaboration between The Feminist Wire, the UA Gender and Women's Studies Department, and the UA Women in Science and Engineering (WISE) Program.
Sixteen students from Tucson-area schools joined a team of educators to learn about digital literacy, social justice, feminist publishing, and GIS mapping. Following a morning of hands-on instruction, the students walked a short distance to the UA Women's Plaza of Honor, where they mapped the names of, and locations of markers for, notable women in Arizona history. They used their time in the afternoon to begin working on projects for The Feminist Wire.  Over the next several weeks, we'll be featuring the students' work.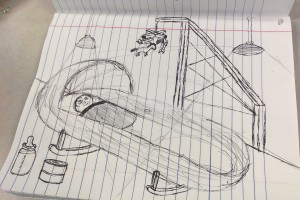 As our first offering, we are pleased to share this drawing made by sixth-grader Walter Rahmer. Using "old school" materials of pen and paper, as a study for a future digital imaging project, Walter created this image of an infant in a cradle. When asked what it means, he replied,
Babies are born without genders. We don't know right away whether they're boys or girls, and you really can't tell just by looking at them.  So why should we care? It's sad when people aren't treated well because of who they are.
Earlier in the day, Walter and another workshop participant, Mira Raju, had been studying several articles and sites devoted to transgender education and support.
Stay tuned for future contributions from the middle-schoolers who participated in LoveMaps.