By Claire Askew
for Steve
I almost can't
help it.
Sometimes
it just comes
fizzing
up through me —
the white noise
of lightning
rattling the radio tower —
the need to stand
in a silent room
a mile away
from logic
or earshot
and just
say
thank you.
Or sorry.
Or help me out
here.  Or
I am a seed-blown
cinder path
behind a locked gate I am
so lonely.
Or no,
no more now
please,
enough.
Sometimes,
the big, slick bug
of a plane
in the sky
is just
an omen.
Sometimes
I'm just scared
to the teeth
that every single heart
I love
will someday die.
Including yours —
especially yours —
you,
who'd smile,
look me square
in the eye,
tell me this
is all one
big
fat
comforting
elaborate
lie.
_________________________________________________________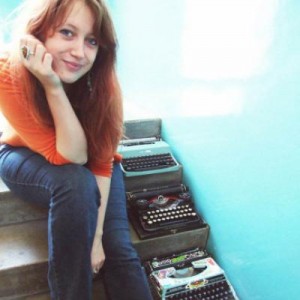 Claire Askew's poetry has appeared in numerous publications, including The Guardian, The Edinburgh Review, Poetry Scotland, and PANK. In 2012, she was awarded a Scottish Book Trust New Writers Award, won the Mookychick Feminist Flash Contest, and was awarded the inaugural International Salt Prize for Poetry. Claire works as a community educator with women and young people, and she is close to completing a PhD in Creative Writing and Contemporary Women's Poetry at the University of Edinburgh.