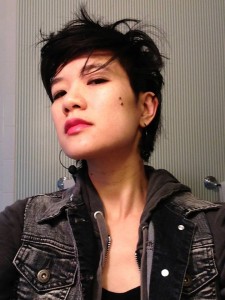 Mimi Thi Nguyen is a feminist scholar, activist, and blogger. She is Associate Professor of Gender and Women's Studies and Asian American Studies at the University of Illinois, Urbana-Champaign. Nguyen is the author of The Gift of Freedom: War, Debt, and Other Refugee Passages (Duke, 2012). Along with Fiona I.B. Ngo and Mariam Lam, she co-edited  a special issue of Positions on Southeast Asian American Studies (20:3, Summer 2012). Her other publications include Alien Encounters: Popular Culture in Asian America, with Thuy Linh Nguyen Tu (Duke, 2007), "The Diasporic Erotic: Love, Loss, and the Copy" (Camera Obscura, 2013), "Race, Riot Grrrl, and Revival" (Women and Performance, 2012), and "The Biopower of Beauty: Humanitarian Imperialisms and Global Feminisms in the War on Terror" (Signs, 2011). Nguyen has been making zines since the early 1990s, including Slander (formerly know by other titles) and Race Riot. She recently participated in the POC Zine Project/Race Riot! Tour. In the late 1990s she taught herself HTML and began blogging about issues ranging from fashion and beauty culture to empire and racial profiling. Nguyen and Minh-Ha Pham operate Threadbared—a cutting edge fashion blog with an international following.
****
Mimi Thi Nguyen is a feminist I love because she constantly finds innovative ways to utilize her formal training in women, gender, and sexuality studies in radical spaces beyond the "ivory tower." Her work on fashion, body politics, and punk cultures has inspired my own scholarship and public writing. She redefines what it means to be an academic. And she is one of the most stylish people I have ever met!
*****
I recently had the opportunity to speak with Mimi about her scholarship and some of her latest projects. Check out the interview below.
TCF: I was a graduate student when I met you. I admired so much about you—from your scholarship and your bold personality to your dope personal style. I wanted to pattern my career after yours. Who were your early role models, and how have you been able to navigate the academy on your own terms?
MTN: First, I'm incredibly touched to read these words, thank you. I remember consciously (and no doubt unconsciously) patterning myself as a feminist scholar and teacher after Caren Kaplan, who mentored me throughout my undergraduate and graduate education, and beyond. She not only facilitated my initial exposure to transnational feminist studies in an undergraduate seminar on feminist cultural studies of travel, but she wields this wonderful combination of razor-sharp, analytic wit and principled generosity – first in the classroom, and then as a mentor, colleague, and friend. (I will also note that I extra-crushed on Caren when she wore this amazing black blazer with a collar adorned in hundreds of safety pins arranged in rows to my undergraduate women's studies graduation!) Her commitment to feminist collaboration –which she modeled in her frequent co-authored pieces with Inderpal Grewal, who also became a mentor and role model during graduate school— also informs my scholarship now.
Together, Caren and Inderpal inspired me to be bold in pursuing scholarship that stakes its claims in understanding how empire unfolds through seemingly "soft" forms such as tourism, feminism, or aid; and principled in building ethical and at the same time fearless relationships with students, with colleagues, within our respective programs and with our fields of inquiry at large. I was so young when I met them –I met Caren when I was a nineteen year-old punk in a ratty black uniform, and Inderpal only a few years later!— so I am still discovering how they modeled for me my own way of being. Caren and Inderpal are both savvy and straightforward in their approaches to navigating the academy, but distinctly so, and I would like to believe that I am too. The single best practice that sustains me in this Midwestern college town is collaboration, and on the tenure-track I worked hard to build and grow relationships with other brand-new faculty (who then became my very good friends) toward that end: we worked with each other, and we made fun and food together. I'm not sure that I would claim that I navigated the academy "on my own terms," because I won't downplay the institutional nature of the academy, which as we know, is not necessarily hospitable, but I did learn to revalue growing up punk –antiauthoritarian and stubborn!—in encountering that institutional drag (not the good kind).
TCF: I'm so glad you mention punk. You're part of the POC Zine Project. Tell our readers a bit about the project and how it relates to your activist work.
MTN: Daniela Capistrano, founder of the POC Zine Project, contacted me in 2010 about digitizing and distributing for free the Race Riot compilation zines, which I made in 1997 and 2002. Her goals are numerous, but among them is to support and distribute independent publications by people of color, and to reclaim histories of people of color in publishing cultures, from FIRE! to Race Riot and more. I hadn't thought about these zines for a while until Osa Atoe from Shotgun Seamstress (a zine for Black punks, feminists, queers, misfits, and freaks) wrote a Maximum Rocknroll column the year previous asking, "Where did all the black and brown punk foremothers go?" and naming me and some others specifically as missing persons. This resonated with me, since I was motivated at the time by a passionate desire to claim the fact of history –that we were here, black and brown punks, feminists, queers, misfits, and freaks—and acknowledge those who came before us and laid the foundations for our becoming punk, and those who were with us when we went through this (or that) moment together, and those who came after us who wonder where we are now.
So when I was scheduled in November 2011 to present an academic paper at the University of Pennsylvania, I contacted Jenna Freedman at the Barnard Zine Library (Jenna has focused that zine collection on women of color zines specifically) about doing an event there, at Barnard. In short order, she organized the first "Meet Me at the Race Riot" panel with Kate Wadkins of For the Birds Feminist Collective and Distro and Daniela of POC Zine Project. We had an in-depth dialogue with seventy-something people in this small windowless room, and Daniela thought, We should take this show on the road. The first POC Zine Project/Race Riot! Tour happened in September and October 2012 – 5 and sometimes 6 women of color in a van, hitting 14 cities and 20 events in 2 weeks. Every night –and sometimes twice in one day— we would read from our zines and facilitate these often super-intense conversations about structures of race and racism, punk activism, feminist art, anarchist politics, consent and accountability, violence, family histories and queer becoming. It was exhausting, but also exhilarating, to be a part of these conversations and to be able to facilitate and funnel some of what I know and do as a feminist scholar trained in comparative race studies and transnational cultural studies into these spaces – not just college classrooms, but also cafes, art collectives, living rooms, punk venues, independent bookstores, and more. One of the more significant consequences to growing up punk, for me, is an understanding that politics can and should be found and unfolded anywhere – and that one does not need to be an expert to be curious, outraged, or outspoken about the conditions that structure our everyday lives.
Until now, my punk history hasn't been the subject of my scholarship, which is in the main concerned with liberal war, and liberal empire. But recent flurries of academic and popular inquiry into punk and riot grrrl have pulled me into their orbit. I'm somewhat conflicted about becoming an object of study, but I am coping by co-organizing an upcoming symposium with my amazing colleagues Ruth Nicole Brown, Karen Flynn, and Fiona I.B. Ngô, called "Hip Hop and Punk Feminisms: Theory, Genealogy, Performance."
TCF: You're great at funneling your feminist work into non-academic spaces. You have quite a web presence with Threadbared. How did the blog come about? And what type of feminist work do you use the blog to do?
MTN: I taught myself HTML and built my first website in 1998, called Exoticize This!, which acted as a clearinghouse for Asian/American feminist resources both on and offline. Soon after I started my first "web journal," as we called blogs back in the olden days, named Worse Than Queer, after a lyric in the Bikini Kill anthem, "Suck My Left One." So the premise of blogging was not new to me.
Threadbared began with my second project, then vaguely conceived as an investigation of fashion (and clothing) as a medium for disseminating and disciplining forms of citizenship, and a casual conversation about this work with Minh-Ha Pham, a close friend of mine who was at the time a faculty fellow at New York University. We wanted to continue this conversation, though we lived at a distance from one another, so we started a co-authored blog to share ideas and research. There was a small handful of smart fashion blogs at the time, including Kat Asharya's No Good For Me, so we were in good company.
We were both relatively new to fashion studies at the time, and we brought our respective training –we both earned our degrees in comparative ethnic studies, but my emphasis was feminist theory and hers was film theory— to our queries about fashion and beauty. I found that the ubiquity of fashion and beauty leverages for me the politics of the everyday and the monumental, which includes the disciplinary powers brought to bear upon individuals as well as the biopolitics of empires. These are the politics that have interested me the most in blogging about carceral chic or the indexicality of the veil for Threadbared. Most recently, I published a transcript of a brief talk I gave on the hoodie and the politics of profiling and preemption as George Zimmerman's trial for the murder of Trayvon Martin was unfolding in real time. In it, I argued that the presence of the hoodie in the criminal profile as an item of clothing that provides cover also provides cover for the deferral of ethical responsibility for targeting black life. So Threadbared has been a useful tool for intervening in those everyday discourses about clothes, especially those that serve as flashpoints like the veil or the hoodie and that draw our attention to forms of race and gender in a moment of danger, in order to practice transnational feminisms, women of color feminisms in public.
For more on Mimi Thi Nguyen, visit her website and follow her on Twitter: @Inzombia