By Sayu Bhojwani
Dear Huma,
I have thought so much about why you–universally admired, strong, intelligent, beautiful, charismatic—stay with an attention-hungry, untrustworthy, arrogant husband. Like everyone else, I have been asking myself the same question. And here's my attempt at an answer.
Competent, over-achieving women like you, Hillary, and dare I say, myself, are used to taking charge of our lives and being able to figure things out for ourselves. We study hard, work hard, put in long hours at home or at the office, and generally get great results. The output often matches the input, at school and in the workplace. Dedication and hard work, at least among well-educated, middle-class women, generally brings kudos and career progression.
Then, we become wives and mothers. We apply the same level of dedication and hard work, and sometimes we are never able to acknowledge that there, the output is not correlated with the input. No matter how hard I try, I will never be able to change my daughter's personality. And certainly not my husband's.
It's so hard to admit that we don't have what it takes to change a situation, or a person. Some people might think it's controlling. But I like to think it's optimism and self-confidence. Perhaps you believe that with support and understanding , or raising money for his mayoral race, you can "work" on Anthony. Or maybe you think that with the right amount of effort spent on the marriage, you will be able to "reform" him. But standing outside this mess, we can see that is an impossible feat.
It now makes sense to me that a strong, confident woman like yourself can't let go of a man who is not worth your time, no matter how small the promising kernel of hope is in him. But, sister, it pains us to watch you try to make this work. Think about the effort you could be putting into raising your son, or building your own career, or just nurturing yourself, instead of the Herculean effort it's taking you to steer this dinghy in the right direction.  Anthony's failure is his all alone, not yours.
In solidarity,
Sayu Bhojwani
_________________________________________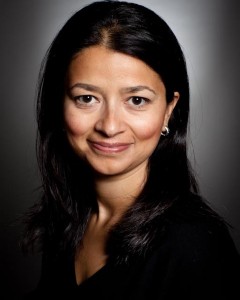 Sayu Bhojwani is the founder of The New American Leaders Project (NALP), the only national organization specifically focused on preparing first- and second-generation immigrants for civic leadership. For that work, she has been recognized by the Case Foundation as a Fearless Changemaker, honored by Citizens Union New York, and awarded the BMW Foundation's Young Leaders Award in 2013.  From 2002 to 2004, she was New York City's first Commissioner of Immigrant Affairs, under Mayor Michael R. Bloomberg, and in 1997 she founded South Asian Youth Action (SAYA!), the first and only organization working with South Asian youth.
Sayu is a frequent contributor to the Huffington Post,  CNN In America, and other online publications and currently serves on the boards of the National Immigration Forum and The Afterschool Corporation. She is completing her dissertation on immigrant civic engagement, at Teachers College, Columbia University.
Sayu also holds an M. A. in English Education and a M.Ed. in Comparative Education from Columbia University. Sayu was born in India and grew up in Belize. She moved to New York City in 1984, and currently lives there with her husband and daughter.