By j.n. salters
"Alice Walker: Beauty In Truth" (2013). Pratibha Parmar (Director-Screenwriter-Producer) and Co-Produced with Shaheen Hq and Kali Films. Color; 82 minutes.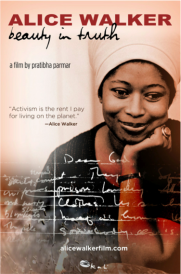 Last night, I set foot in Alice Walker's garden. And it was beautiful. I found myself within lavender rose petals and forest green shrubs and yellow daffodils. Within stories of destruction and creation, suffering and joy, love and sacrifice. I found myself within Alice Walker. My reflection in her brown eyes that incessantly gleam of hope and life beneath these eyeglasses that I imagine to have been constructed of worldly possibility.
If only the rest of the world had those glasses, I thought to myself as I watched Alice Walker: Beauty In Truth, a visually and aurally poetic glimpse into the life and spirit of one of the foremost artists, thinkers, and global citizens of our time. Written and directed by multi-award-winning filmmaker and longtime friend of Walker, Pratibha Parmar, Beauty In Truth is a feature-length documentary that rightly positions Pulitzer-Prize winning author, womanist, and humanitarian Alice Walker as a "key literary figure in 20th century American culture." According to Parmar—who has spent more than 20 years behind the camera, using an innovative feminist lens to tell the stories of women, minorities, and other subjects who do not often make it to the mainstream—Beauty In Truth is her "contribution to filling this gaping abyss of on screen representations of women as history makers and shapers, women public intellectuals and visionary leaders." Four years in the making, the film comes nearly 30 years after the release of The Color Purple—the novel that made Alice Walker the first African-American woman to receive the Pulitzer Prize for Fiction.
In the documentary, Walker recalls the verbal hate that she was subjected to upon the release of the film adaptation of The Color Purple. Yet, even while the authoress recollects the threats and cold words hurled at her by black men and women alike, the hypocrisy, the isolation, and other tragedies of growing up black in apartheid America, she still manages to transform the ugliness into beauty ("I believe people exist to be enjoyed"). She attributes this approach to life—her ability to experience pain and still unearth humanity and possess the secret of joy—to the South and the black women artists who came before her, which she reverberates when she reads lines from her essay "In Search of Our Mothers' Gardens": "No one could wish for a more advantageous heritage than that bequeathed to the black writer in the South…We inherit a great responsibility as well, for we must give voice to centuries not only of silent bitterness and hate but also of neighborly kindness and sustaining love."
What makes the film so truly affecting is Parmar's directorial decision to make Walker's voice central throughout, a narrative style that exemplifies the magnificence of "black women's efforts to make beauty in a world that denies that they have anything to do with beauty." Much like In Search of Our Mothers' Gardens (1983)—a collection of Walker's nonfiction writings that the writer-activist gathered herself thirty years ago—Walker retells much of her own personal history. There is a breathtaking majesty in her self-effacing vocalization of her everlasting commitment to exposing the beauty in truth, the beauty of black womanhood, and the beautiful possibilities of humanity. For instance, when discussing her travels to war-zone countries such as Zimbabwe and Congo, where countless bodies perish in the ashes of conflict, she says: "I find when I travel to these places, it's never just the horror that I see. It's the resilience of the people, their absolute beauty and high-spiritedness, you know, the women who've undergone so many horrible things, for instance in the Congo, rise up again, you know, at every opportunity to express joy."
While some critics contend that Beauty In Truth is limited in scope (John DeFore of The Hollywood Reporter uses the phrases "single-minded" and "self-absorbed"), I must disagree. It is not often that we, as black women, are able to hear our own voices, speak truth to our existence, and overcome "the oppression of silence." For once, I sought myself, and I found her.
Walker's first-person ruminations are also interwoven effortlessly with placid shots reveling in the beauty of nature, personal photographs, and testimonials from some of Walker's closest allies, including Gloria Steinem, Evelyn C. White, Sonia Sanchez, Danny Glover, Beverly Guy-Sheftall, Quincy Jones, ex-husband Melvyn R. Leventhal, and the late Howard Zinn. Their words are like brushstrokes, aurally painting an intimate portrait of the divine essence that is Alice Walker: a child of impoverished sharecroppers and violent racism, feminist, truth-seeker, fearless lover, Pulitzer Prize-wining authoress, hopefully forlorn mother and grandmother, global citizen.
I encourage you all to watch Beauty In Truth, which recently won the 2013 QFest Jury Award for Best Documentary at Philadelphia's annual GLBTQ film festival. Much like Walker's literary canon and Parmar's film canon—which includes award-winning feature Nina's Heavenly Delights (2006) and documentaries Warrior Marks (1993), A Place of Rage (1991), and Khush (1991)—the film takes us yet another step closer to exposing the creative spark that our mothers and grandmothers have anonymously handed on for centuries ("the seed of the flower they themselves never hoped to see") and toward a world in which we must no longer live in fear of war or bodily mutilation or apartheid. As activist and scholar Angela Y. Davis observes in the film, "Alice [Walker] is the quintessential writer-activist, and all of Alice's writings urge us to think differently and to think critically often about those things we most take for granted [and this] is what can change the world."
As a country continually at war with its second-class citizens (people of color, the poor, the transgendered, etc.), and a world in which poverty, inequality, and hatred remain embedded in our universal DNA, we are in need of more films like Beauty In Truth and more spirits like Alice Walker and Pratibha Parmar to remind us of at least the possibility of love, compassion, and freedom.
Within Alice Walker's garden, may you also find your own.
___________________________________________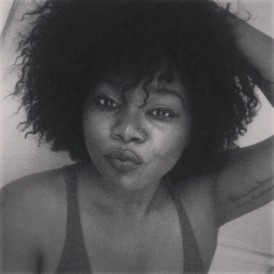 j.n .salters is a black feminist doctoral student at the Annenberg School for Communication at the University of Pennsylvania interested in the intersections of race, gender, class, and sexuality in rights to privacy, black cultural production, identity politics, sex work, law and criminal justice, and visual culture.