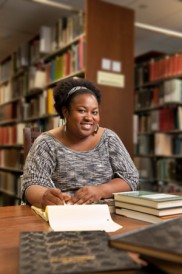 Brittney C. Cooper is assistant professor of Women's and Gender Studies and Africana Studies at Rutgers University. She is a proud graduate of Howard University with her bachelors degrees in English and Political Science.
Dr. Cooper is also co-founder of the Crunk Feminist Collective, a Hip Hop Generation feminist blogging crew that runs a highly successful blog. The CFC blog was named one of the top "lady blogs" by New York Magazine in 2011, a top Black blog by The Root.com in 2012, and the CFC was nominated for a Ms. Foundation People's Choice Award in 2013. The women of the CFC were also designated as a group of "Young, Black, and Amazing" Women under age 35 by Essence Magazine in August 2012.
A cultural critic, public intellectual, and Black feminist scholar, Professor Cooper is deeply committed to challenging  her audiences and communities to think more deeply and critically about the truths we hold to be self-evident. She specializes in Black women's intellectual history, Hip Hop Feminisms, Black Feminisms, Digital Feminisms and the relationship between Christianity and Black Feminism.
Dr. Cooper is currently finishing her first book Race Women: Gender and the Making of a Black Public Intellectual Tradition.
************
It's not everyday that we get to honor our feminist sheroes, particularly the living.  However, it's even more rare that we get to recognize the labors of our peers, particularly those that have graciously, and sometimes unknowingly, mentored us sideways.  I met Brittney Cooper while in graduate school at Emory University several years ago.  She was ahead of me in the Ph.D. program, younger in years, but light years forward in terms of feminist criticism and consciousness.  Watching her both changed my and gave me life.  She brought and continues to bring crunk feminist fiyah in all that she does and in all that she is.  I'm extremely blessed for my encounters with her, and ever the more thankful to call her friend.  We recently sat down and engaged a variety of topics from male feminism to dating to feminist emotionality to the politics of recognition to feminism 101 to black feminism and religion to feminism as freedom space.  Sista is brilliant.  Take a look.
Part I: