By Farah Tanis, Kalima DeSuze, and Nikki Patin
Black Women's Blueprint
It is over 180 years since the abolition movement, 165 years since women's suffrage, and approximately 50 years since the women's liberation movement propelled American feminism to center stage. Despite noticeable progress, numerous literary and cultural productions, media recognition from the mainstream to the pseudo underground, and other incredible efforts have barely chipped away at the fundamental conflicts that continue to shape relationships between Black and white feminists. A dynamic of neglect, an environment of dismissal, and a culture of misrecognition prevail.  The absence of a strong politic on the inherent dignity of Black women and girls as human, and an arrested integration of basic rights for all, as central to any white feminist endeavor does nothing but perpetuate a state of segregation.
We salute those who crafted a response to the attack on nine-year-old Quvenzhane Wallis —white women, other women of color, men, and transgender folks who view any abuse, and particularly the abuse of a Black girl, as an issue that is central, not tangential to their own struggles.  However, we are not surprised others remained silent or that the response offered by some white feminists in defense of Quvenzhane Wallis was less than impressive or triggered grave disappointment and downright shock.
After decades if not centuries of Black feminist declaration and teaching about the axes of identities embodied by Black women and all people, it is not too much to expect or even require white feminists regularly to deploy their resources to denounce racist, misogynist attacks by any entity, including the media, against the marginalized and most vulnerable among us.  In the aftermath of The Onion's attack on this nine-year-old Black girl, many of us expected fierce public critique by the most prominent and influential white feminists.  The outrage expressed by some Black women at the lack of action by white feminists indicates that many of us still believe in the notion of a feminist sisterhood and movement which can cross racial lines.  However, at this point, once again we're compelled to take pause and say: "let's fact check" this notion.
When have Black feminists been able to rely on their white comrades in earnest?  When have we been able to rest assured that white feminists would show up fully armored, ready to challenge even the most egregious forms of racialized-sexism?  Has there ever been a time in history when Black women have not had to pull themselves from real-on-the-ground battles to defend human and civil rights, including the right to bodily and personal safety, in order to step away, to educate, and to ensure our white feminist comrades engage in authentic alliances on our behalf?
Even today as we Black feminists take time to convene in person or with each other behind our computer screens to rally and demand that white feminists consistently stand ready to fire upon our shared oppressors, somewhere in our communities, a Black girl is being assaulted, sold for sex, raped, and/or abused.  As we sit here crafting our own response in written form and in protest, trying to contain overwhelming exhaustion, sadness, and outright rage, we also planning tomorrow's conversations at our actual offices, our support groups, and sister circles. We have to strategize about the war on our Black bodies, about historical trauma and self-care, and simultaneously prepare for the arrival of one more violated Black woman and one more girl on our doorstep seeking justice.  While you, our white sisters, get to selectively choose where and how you enter this movement, the work of the Black feminist does not end.  It is constant. We barely have the time to exhale before positioning ourselves for the next battle.
We also give full acknowledgement to Quvenzhane Wallis herself, a child still in the early stages of development. By the time this debate ends, this girl will have learned like countless other nine-year-olds of Black generations past, that her age will not protect her.  She and other girls like her will have learned—if they haven't already—that Black women and girls are constantly viewed through stereotypes, caricatures meant to evoke shame.  Their identities designed for sexist and racist fodder. They will have learned that the images of us were neither created by our own hand nor propagated with our consent.  She and other girls like her will learn that Black girls are not regarded as girls, but as small adults capable of anything and deserving of the treatment leveled against any Black woman.
A legacy of slavery has constructed and positioned Black girls as tough, physically strong, and eventual breeders.  In a world that rarely affords value to Black women, Black girls under this equation remain vulnerable to violence, and the violators operate with impunity. Calling Quvenzhane Wallis a "CUNT" is not today, nor will it ever be, satire.  It is violence, and carries with it profound verbal, emotional, and sexually violent undertones and implications.  Black Women's Blueprint views the attack on Quvenzhane Wallis as part and parcel of a war against women and girls. In the silences and the lukewarm responses of white feminists, we are reminded that no one will come to our rescue, at any age. No one will take care of us, but us. Because Black feminism teaches that our liberation is intertwined with that of others, we also understand the need to continue to disrupt the dynamic of neglect, the environment of dismissal, and the culture of misrecognition that pervades certain factions of the white feminist movement.
The absence of a strong politic prioritizing the inherent dignity and humanity of Black women and girls, and the arrested integration of the notion of basic "rights" for all, as an intent, as a feminist value system, and as central to any feminist endeavor, perpetuates inequality. When pondering the chasm between women within our intersecting movements, Shulamith Firestone's essay, "Racism: the Sexism of the Family of Man," although written 43 years ago, affirms that we are trapped in an old paradigm.  Firestone gives this brazen and provocative analysis of the state of affairs between white and Black women:
"How do the women of this racial Triangle feel about each other? Divide and conquer: Both women have grown hostile to each other, white women feeling contempt for the 'sluts' with no morals, black women feeling envy for the 'pampered powder puffs'. The black woman is jealous of the white woman's legitimacy, privilege, and comfort, but she also feels deep contempt. . .Similarly the white woman's contempt for the black woman is mixed with envy: for the black woman's greater sexual license, for her gutsiness, for her freedom from the marriage bind. For after all, the black woman is not under the thumb of a man, but is pretty much her own boss to come and go, to leave the house, to work (much as it is degrading work) or to be 'shiftless'. What the white woman doesn't know is that the black woman, not under the thumb of one man, can now be squashed by all. There is no alternative for either of them than the choice between being public or private property, but because each still believes that the other is getting away with something both can be fooled into mis-channeling their frustration onto each other rather than onto the real enemy, 'The Man.'"
So what then is the work?  How do we turn toward one another in a process of truth, justice, and healing—and in true sisterhood? Are these processes possible? For Black and white feminists to be in true allyship, we must take the time to define what solidarity and allyship actually means. As Black and white women and feminists, we have written hundreds of letters to each other, and many more essays about one another. But when do we get to face each other to truly see each other, for all that we are, all that we have been and have the potential to be in this movement.
These are large and necessary conversations to be had, as we remain apprehensive, even fearful and certainly unclear about what it is we should expect from one another. We call for public deliberations about genuine allyship and a required unpacking of old and recent betrayals of Black women by white feminists, whether those betrayals are perceived or actual.  We call on white feminists to engage in honest conversation about relinquishing the status of savior and relinquishing the white guilt that continues to position them as inauthentic allies. Moreover, white feminists would do well to release internalized racial superiority and renounce widely held beliefs and stereotypes about Black women and girls. Instead, activate your platforms in public and in ferocious support of Black girls like Quvenzhane Wallis and countless others like her.
We call on our white feminist sisters to fully interrogate their own insidious relationship with power and to fully survey the impact this relationship has had on those of us who are three or four times removed from the center of power, like our Black girls.   It is essential that the white feminist movement consider the broader implications of the decisions they take, and the priorities they set in their work. In order to strengthen collaboration and radical organizing against racist and misogynist attacks, these challenges must be grappled with, even if full resolution is impossible.
Each of these challenges requires a significant investment of time and thought. The questions are fundamental, and the answers that we give them will shape the future of the broader movement, as well as help or hinder progress towards ending public and private violence against not only those most vulnerable among us, but against all of us.
Finally, we offer this to our white feminist sisters—do your work with each other.  Commit to holding one another accountable so that this is the last time Black feminists have to retreat from the frontlines to do remedial work.  Each time this movement has to educate white feminists, reiterate expectations that have been shared across centuries, or massage the tension within our own Black bodies as a result of engaging in the same conversation our foresisters did before us, we are sapped of energy and distracted from the fight at our doorsteps.  Please remember, this is not a game for us.  While we are all under attack, it looks different for people of color, and particularly for people of African Descent.  We have insufficient resources to squander, and despite our realization that these conversations are necessary, continuous strategies towards rapprochement have for a long time felt like an irresponsible use of precious time.
At Black Women's Blueprint, one of the principal ethics we adopted is "leave no one behind the enemy lines."   In that spirit, we write this note as a representation of our commitment to do just that, leave no one—not even you—our white feminist sister behind enemy lines.  Now back to the real work.
______________________________________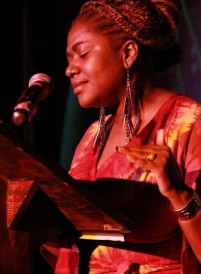 Farah Tanis is an ardent human rights activist and advocate, has over 16 years of experience leading social justice movements, grassroots initiatives and organizational development, and is currently the Executive Director of Black Women's Blueprint. She serves as Almoner for the Havens Relief Fund which provides emergency grants in New York City. She is on the Advisory Board of the New Americans Leadership Project which prepares immigrants for civic leadership, political participation and to hold political office. Tanis recently served as National Conference Coordinator and on the Host Committee for the Anita Hill Twenty Years Later: Power, Sex and Speaking Truth Conference. Tanis' work began in 1995, with refugees living with HIV/AIDS and women in the New York City shelter system who had been victims of domestic violence and sexual violence.  Tanis co-founded Dwa Fanm, meaning "Women's Rights" in Creole in 1999, and served on the Founding Board of Directors of Girls for Gender Equity until 2003. In 2004, Tanis chaired the advisory committee for the development of service policies for the Family Justice Center, of the NYC Mayor's Office to Combat Domestic Violence and in 2006 developed a multi-year collaboration with the International Human Rights Clinic at NYU's School of Law to support human rights research and advocacy on the intersection of violence, poverty and discrimination as it impacts black immigrant communities. Tanis has a B.A. in Science from N.Y.U., an M.A. in Social Work from Fordham University; a Post-Graduate Degree in Family Therapy from Hunter College; and is an alumni of Columbia University Business School's Institute for Nonprofit Management. Tanis is a 2000 Open Society Institute Fellow, and has received several awards for her work in the social justice, including a 2001 Union Square Award; a 2003 Everyday Hero Award; a 2004 Emigrant Award; a 2007 Extraordinary Woman Award, a 2007 Soroptimists International Award; and two New York City Council Proclamations. Tanis is a 2012 U.S. Human Rights Institute Fellow.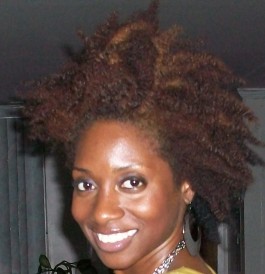 Kalima DeSuze identifies as a Queer Afro-Latina Black Feminist/Womanist Anti-Oppression Social Worker. As such, she realizes that she stands at the intersections of many identities that impact her personally, professionally, and politically and therefore, has been committed to reconciling and healing all the parts that make the whole. Activism is a major part of her reconciling and healing process.  Since her transition from the US Army, her life's work has been dedicated to addressing the systems of oppression, working to eradicate racism and gender-based violence.  Her commitment to these efforts is reflected in many of her life's choices. She has generously shared her talent and passion for grassroots organizing with Voices of Women Organizing Project (VOW), Service Women's Action Network (SWAN), and Girls Education and Mentoring Services (GEMS).
Of late, Ms. DeSuze has focused significant time on exploring and excavating the herstory and potent power of the divine feminine.  She is a fierce and unapologetic believer in love with a deep and abiding faith in the redemptive power of Black Love.
She is a past organizer for the Undoing Racism Project; she continues to sit on the Internship's Steering Committee where she helps to guide, support, and shape student led organizing in NYC. She is also a proud member of the Board of Directors of NASW-NYC and Service Women's Action Network.  She is an Adjunct Lecturer at Columbia University School of Social Work and a National Council for Research on Women AMEX Women's Leadership Fellow.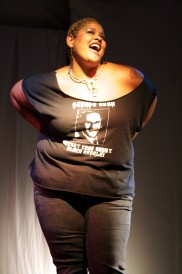 Nikki Patin has been writing for over two decades. She has taught hundreds of workshops on performance poetry, body image, sexual assault prevention, and LGBT issues. Patin has worked as a sexual assault prevention educator for Rape Victim Advocates and as a case manager/program coordinator for Center on Halsted's youth program. Patin has performed, taught, and spoken at elementary schools, high schools, colleges, and universities such as Francis Parker, University of Chicago, Adler School of Psychology, Northwestern University, Nancy B. Jefferson High School (located within the Cook County Temporary Juvenile Detention Center), University of Michigan, University of Wisconsin-Madison and –Stevens Point, and many others.
As a vocalist, Patin has been in seven bands and opened for Jill Scott at the Metro in 2000. She was also a member of Chicago's 2001 Mental Graffiti National Poetry Slam team. In 2004, she was featured on the fourth season of HBO's Def Poetry Jam and was voted one of Chicago's six most fabulous 20-somethings by Chicago Tribune's Red Eye newspaper. In 2006, Patin was voted one of 30 under 30 most influential LGBTQ people in Chicago by Windy City Times and took the gold medal in the Gay Games International LGBT poetry slam.
In 2008, she released "The Phat Grrrl Diaries," her first collection of writing and design. In 2009, she completed a two-month tour of New Zealand and Australia, collaborating with the Literatti, a spoken word performance group based in Auckland, and performing her 60-minute, one-woman show, "The Phat Grrrl Revolution." Patin was nominated for "Best Standout Performer" in the Dunedin Fringe Festival and was featured in numerous radio, TV and print publications, including TV3, George FM and NO.Magazine (NZ). On May 7th, 2010, she released her full-length debut album, "Bedroom Empire," on her own label, Phat Grrrl Revolution.
Patin designs and maintains two websites, www.nikkipatin.com, and phatgrrrlrevolution.com. She is an MFA candidate in Creative Non-Fiction at Stonecoast MFA Program at the University of Southern Maine.