By Allison Javors and Wade Davis, II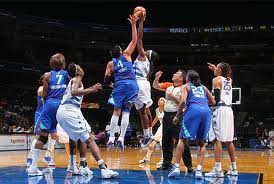 I fell in love with Women's College Basketball in 1993.  I can remember watching Sheryl Swoopes score 47 points leading the Texas Tech Lady Raiders over the Ohio State Lady Buckeyes.  Sheryl Swoopes was like nothing I had ever seen before and she single-handedly dominated the lady Buckeyes and rewrote the records. She kindled my interest in women's college basketball.
While the Lady Raiders were the team to capture my attention, Pat Summit and the Tennessee Lady Vols stole my heart.  I can remember watching Nikki McCray and then becoming obsessed with Chamique Holdsclaw and getting into heated arguments over whether or not Chamique could beat them in a game of "one on one."  Year after year, I would get teased by my friends for being such a diehard women's college basketball fan but it didn't matter, I respected the game and marveled at the players. I knew that patriarchy and tacit misgnony were the real reasons why my friends never gave the sports of women's college basketball and the supremely talented female athletes any authentic praise.
As any true Lady Vols fan, over the years I grew to loathe the Connecticut Huskers but respect their players, especially Diana Taurasi. Diana had this uncanny ability to take over a game and will her team to win. From Sheryl Swoopes to Chamique Holdsclaw to Diana Taurasi to Candace Wiggins, year after year, women's college basketball became more important to me than the men's game.  Whether it was the fact that the players stayed in school for fours years and I could grow with the players as their game grew or the way they seemed to play as a team and compete for each other, I couldn't get enough.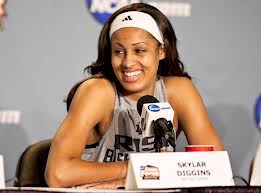 For the last four years, I've been primarily obsessed with two players, Skylar Diggins, point guard extraordinaire from Notre Dame, and Brittney Griner, easily one of the most talented and recognizable college athletes out there. And, yet, she is often on the receiving end of an inordinate amount of hatred.
I remember my first introduction to Brittney Griner, she was a typical freshman ball player who was an okay player: a block shot here, a turnover or forced shot there. But Brittney had all the makings of someone who would be an all-time great. Then there was Skylar Diggins, a much more polished athlete out of high school with impressive balls skills. She also seemed to be a natural leader.  Both are phenomenal athletes and yet they are received by fans in strikingly different ways.
As social media continues to move into every fiber of society, we are able to read the comments and opinions of people everywhere, giving us a glance into the minds of others.  And if you're ever bored, read the words that follow both Skylar Diggins and Brittney Griner in cyber space.  If you do, you will get a clear understanding of how the perceived physical attractiveness and feminine gender expression of Skylar Diggins seemingly dictates how some interact and engage her.  Skylar is clearly viewed as acceptably feminine and attractive, which unfortunately relegates her talents to an after thought.  We often don't hear about Skylar being a two-time All-American or two-time Big East player of the year.  Her looks take center stage.
But Brittney Griner, the nation's leading scorer, the All-American, the Naismith Player of year, the third leading scorer all-time in Women's College basketball history, is viewed and treated quite differently.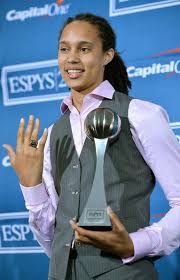 For example, I was at the UConn-Baylor game this past February, enjoying what (at the time) was a sizeable UConn lead, when Griner went up for a clean block. Amidst the loyal, yet mild-mannered, UConn jeers, the tone changed.  I overheard someone say, "She's a man!" Suddenly, this was no longer about the game, it was a personal attack that I'm sure Griner is all too familiar with. For this one comment overheard at the game, there have been countless sexist, transphobic remarks about Griner's appearance in other corners of arenas, airwaves, and the Internet. Not convinced? Go ahead and Google her. The third hit you will find will be "Brittney Griner man."
Is this happening because Griner is so athletically gifted that men find her threatening? Is it because she falls outside of our typical construct of the "feminine"? Until these questions are regularly being addressed in multiple arenas, I'm unsure how we will get to the root of the problem. But this is a problem that affects far more people than just Griner. Misappropriating another's gender is an act of violence. When we identify another without providing the space for her/him/hir to self-identify (on their own terms) we commit an act of ontological violence. Indeed, it is an act of aggression against another's sense of self — against another's being. Griner is just the latest visible target of this type of violations. Our society relishes the comfort and efficiency of putting people in boxes. So, when a superstar like Griner comes along who doesn't easily fit into a box, people react (and some do so violently).
On the surface, Skylar Diggins is someone who fits quite neatly into one of said boxes. By our society's standards, she is conventionally beautiful and feminine – someone whose gender would never be questioned, despite her athleticism. Yet, she too has to deal with her appearance being constantly commented on and often noticed before her talent. Plug her name into Google and within the top Google hits you will find "Skylar Diggins headband," "Skylar Diggins photos," and "Skylar Diggins Chris Brown" – references to her fashion, her looks, and her presumed dating life. Absent are the references to being Big East Player of the Year, All-American First Team, and her myriad other accolades. But when we care more about her signature headband than we do about her points per game, what does that say about how we treat women athletes? She shouldn't have to choose between her femininity and her athleticism.  Female athletes – elite and amateur – ought to be recognized for their skills and abilities.
So how can we move to a point where female athletes are treated as such, and not only recognized for their gender expression, mainstream sex appeal, or lack thereof? In a world where female athletes consistently have the short end of the stick – in terms of fan base, contracts, and endorsements – respect is the most basic of demands. It has to start early. Young sports enthusiasts of all genders need posters of female athletes hanging in their bedrooms. Dads shouldn't be afraid to bring their sons to women's games. Tickets are cheaper, there's better teamwork, and you might just see the next superstar in the making. Besides, you'll have a lot better chance of getting Maya Moore's autograph than one from Lebron James.
_____________________________________________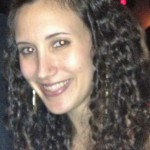 Alli Javors is a former varsity collegiate athlete who experienced some of her most important self-discovery by being nowhere near MVP of the team. She is passionate about social work, urban education, queer issues, and intersectionality. She currently works at the Hetrick-Martin Institute, where every day she learns something new from the young people she works with.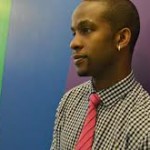 Wade Davis II is a nationally recognized speaker, advocate, writer and educator. He is a former NFL athlete who played for the Tennessee Titans, Washington Redskins and Seattle Seahawks as well as two different teams within the NFL Europe. After retiring, Wade owned a media business through a partnership with the New York Times called InMotion Media. Currently, Wade teaches at-promise youth how to define success for themselves and to thrive in society. His writings and interviews have appeared in the LA Times, The Huffington Post, New York Times, The Advocate, OutSports, TheGrio.com, and other media outlets including President Barack Obama's Whitehouse blog. He has appeared on NPR, MSNBC, BBC, CNN, and BET. Wade served as an LGBT Surrogate for President Obama during the 2012 election