By Harsha Walia
Two months ago, Jyoti Singh Pandey was brutally raped and beaten by a group of men in Delhi. She died a few weeks later.
As someone who grew up, in part, in what is known as the rape capital of India, in some of the same neighborhoods blasted across television screens and Facebook feeds, it has taken me months to process this harrowing incident as well as the broader movement it has sparked. As Arundhati Roy notes, the outrage spilling into streets is a "very unexceptional reaction to an event which is hardly exceptional."
Rape no longer startles me; I am seeped in sexual violence to such a degree that I too normalize it. For the past fifteen years, I have been in communities with high rates of gender violence. From India to the South Asian diaspora to the poorest postal code in Canada, the daily diet for women includes beatings, sex-selective abortions, debt extractions, going missing or being murdered, forced sex in marriage, sexual assault by police officers, family incest. Rape terrifies me, angers me, unsettles me. But it has also embedded itself in my psyche as an inevitability.
The rape and murder of Jyoti, who was perceived as a middle-class student but actually was the daughter of a poor family from Uttar Pradesh (also home to the rural feminist and pro-poor movement Gulabi Gang), suddenly wrestled me from my own accommodations to patriarchy.
Perhaps this is because countless experiences of sexual assault, rape, and incest in Delhi shape much of my narrative as a survivor. I have lied to family members and doctors about childhood injuries. I regurgitate to scores of women that it is possible to 'heal with time,' even though memory still fails me, shame and self-blame continue to be nightly recurrences, intimacy is a luxury, and sometimes the only assurance is that light will in fact not make its way through the cracks. I have for many years been unable to return to Delhi – due, in part, to the fact that my body, my mind, my spirit have been wholly unprepared to return to the streets, neighborhoods, and homes of Delhi.
While navigating my own relationship to Delhi and home, it has been infuriating to read Orientalist renditions of South Asian women needing saving from barbaric South Asian men. South Asian women, we are led to believe, are all subjected to honor killings and dowry deaths, coerced into arranged marriages and into killing their female babies. Cultural imperialism has essentialized communities of color as innately reactionary towards women, who are themselves constructed in inherently infantilizing ways devoid of any agency. Maintaining the myth of Western superiority requires a facade of gender equality 'at home' that invisibilizes, for example, the gruesome gang rape in Steubenville, Ohio, and US representative Todd Akin's comments about 'legitimate rape,' and the ritualized colonial violence against Indigenous women murdered at alarming rates, and Black women in prisons and migrant women in detention centers, and women of color, poor women, transfolks, and sex workers.
Low conviction rates are thrown around as somehow unique to India, ignoring equally low conviction rates in North America and Europe. Media reports also fail to mention how India's legal regime is a colonial legacy from 1862 that sets strict evidentiary requirements on a survivor.
We see this dynamic repeated with Harvard feminists who sidestepped Indian feminist organizations and intervened with their own Policy Task Force "to offer recommendations to India and other South Asian countries." To be clear, I am not speaking against transnational feminist politics. Rather, I am reiterating the call for solidarities grounded in the specificity of location and privilege. Gayatri Chakravorty Spivak reminds us of the dangers of non-consensual and unaccountable feminist solidarity that cheerlead "white men saving brown women from brown men."
On the other end of the spectrum, we have the traditional fundamentalists and cultural gatekeepers brazenly declaring that rape is a product of the erosion of Indian values and due to the imposition of immoral Western values. Just days after Jyoti's death, Mohan Bhagwat, chief of the fascist Hindutva RSS organization, ridiculously claimed, "Crimes against women happening in urban India are shameful. It is a dangerous trend. But such crimes won't happen in Bharat or the rural areas of the country. " He further added, "Where 'Bharat' becomes 'India' with the influence of western culture, these types of incidents happen."
Between, on the one hand, the imperialist gaze that sees women as oppressed by uncivilized culture and, on the other hand, the patriarchal gaze that sees women as property to be protected from corrupting influences, is the renewal and resurgence of a local feminist movement.
Raat mein bhi Azaadi. Din mein bhi Azaadi …

Sadak pe bhi Azaadi. Gharon mein bhi Azaadi…

Shadi karne ki Azaadi aur Na Karne ki Azaadi…

Chhattisgarh mein Azaadi aur Dilli mein bhi Azaadi.

Jangal mein bhi Azaadi. Shahron mein bhi Azaadi…

Samaj se bhi Azaadi. Sarkar se bhi Azaadi.

– Excerpt from "Notes from a Night Walk in Delhi University"

Freedom in the night and freedom in the day…

Freedom on the streets, freedom also in our homes…

Freedom to get married and not to get married…

Freedom in Chhattisgarh and freedom in Delhi…

Freedom in the jungles, freedom in the cities…

Freedom from society's norms, freedom from the government.
Feminist movements are articulating the experience of rape survivors in highly nuanced ways – from street harassment and marital rape to child molestation and rape of transgendered women. They are also shedding light on the systematic rape of Adivasi, Dalit, Muslim, Kashmiri, and Naga women that is intimately linked to state militarism and neoliberal capitalism, and the inscription of class, caste, and communalism on women's bodies.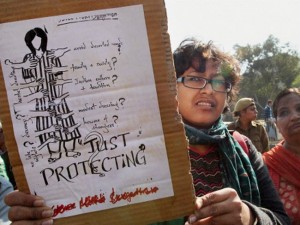 Since 2000, the world's longest hunger striker Irom Sharmila has refused to eat until the repeal of the Armed Forces Special Power Act, which sanctions extrajudicial killings, torture, and rape in Arunachal Pradesh, Assam, Kashmir, Manipur, Meghalaya, Mizoram, Nagaland, and Tripura. In 2004, enraged by the raping of their daughters by the military and Assam Rifles paramilitaries, Manipuri mothers torched government buildings and stripped in front of army barracks with a banner declaring 'Indian Army Rape Us.'
Submissions made to, and subsequently accepted as recommendations by, the Justice Verma Committee include the repeal of special immunity under the Armed Forces Special Powers Act. Over 80,000 submissions were made to this Committee, including:
Define rape more broadly than penetration,
Sexual violence includes everything from stalking and voyeurism to carrying out acid attacks and violence against domestic workers,
Consent requires an unequivocal voluntary agreement,
Outlaw marital rape,
Imprison police offers who fail to properly investigating sexual crimes,
Parliamentarians who are accused or charged with rape should resign,
Sexual assault in the context of caste or communal violence is an aggravated sexual assault,
Prohibition of the two-finger test as part of medical protocol, and,
Survivors of sexual assault include women, children, queers, and transgendered persons.
Most of these were accepted as recommendations by the Committee but, unsurprisingly, key recommendations were not adopted into the emergency ordinance signed into law.
Submissions by women's groups also spoke against the death penalty. A joint statement declares, "We refuse to deem 'legitimate' any act of violence that would give the State the right to take life in our names. Justice meted by the State cannot bypass complex socio-political questions of violence against women by punishing rapists by death. Death penalty is often used to distract attention away from the real issue— it changes nothing but becomes a tool in the hands of the State to further exert its power."
These feminists are particularly attuned to the death penalty being selectively and arbitrarily applied by the state against those who are already criminalized.  A number of feminists recently condemned the secretive and sudden hanging of Kashmiri Afzal Guru. His murder by the occupying Indian government is a prime example of how the death penalty has perpetuated state terror and reinforced state hegemony; indeed, one of the crimes punishable by death is 'waging war against the nation.'
Fundamentally, feminists continue to push for an understanding of rape as embodied violence, an assertion of power and not just an act of interpersonal violence. They are firmly centering sexual autonomy and gender liberation by, firstly, deconstructing the shame-honor paradigm in connection to rape victims and, secondly, rejecting the policing of women's behavior as solutions to rape. On the former, Aruna Kashyap outlines how notions of 'authentic' victims reinforce patriarchy. She argues that "sexual violence should be completely delinked from patriarchal notions of 'modesty,' 'chastity,' or 'virginity,' because ideas of so-called 'modesty' themselves perpetuate violence and discrimination."
On the issue of regulating women's behavior, Kavita Krishnan boldly proclaimed in front of the Chief Ministers house, "Women know what 'safety' refers to. It means – You behave yourself. You get back into the house. You don't dress in a particular way. Do not live by your freedom, and this means that you are safe. A whole range of patriarchal laws and institutions tell us what to do in the guise of keeping us 'safe'. We reject this entire notion."
Delhi, the calls for freedom (hum kya chahtey, azaadi) in your streets have inspired me. Our bodies are as resilient as the tens of thousands of young people of all genders in Delhi facing down police batons and water cannons and tear gas and live ammunition. Our spirits are as free as the Manipuri mothers taking and shaping space amidst a military occupation. Our collective redemption is tied to dismantling the avalanche of injustice and repression we all face. And as I dig tunnels between the many empty chasms within me, I am reminded that our self-worth must be marked by more than the language of loss or emptiness. Mia McKenzie's words reverberate through me, "The things we learn to do to survive at all costs are not the things that will help us get free. Getting free is a whole different journey altogether. " Indeed, our freedom lies beyond the calculations we make about our oppressions.
Delhi, thank you for giving me the courage to come home.
________________________________________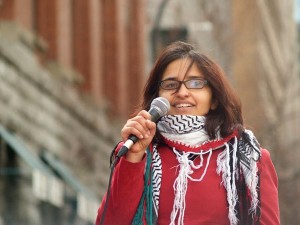 Harsha Walia is a South Asian activist, writer, and popular educator trained in the law. Based in Vancouver (Indigenous Coast Salish Territories) in Canada, she has been active in anti-racist, migrant justice, feminist, anti-war, and social justice issues for over a decade. She is the author of the upcoming book Undoing Border Imperialism. Find her @HarshaWalia