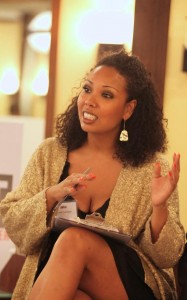 Jamilah Lemieux is the News & Lifestyle Editor for EBONY.com. In 2005, she created the award-winning blog, The Beautiful Struggler, where for more than six years, she published meditations on race and relationships. Jamilah has contributed to a host of publications including Essence, JET, Clutch, The Loop, Madame Noire, Black Enterprise Online, and Jezebel. She has appeared on a number of radio programs, including NPR's "All Things Considered," "The Michael Eric Dyson Show," WBAI's "The Spin," and "Al B. In The Afternoon" on Philadelphia's 900AM WURD. Jamilah is a Chicago native and graduate of Howard University. Follow her on Twitter: @jamilahlemieux
TFW: Your Tumblr page lists the following words in its subtitle: WRITE FIGHT LOVE. I think it is great way to frame our conversation given that your life seems to reflect that mantra: you are a writer, a fighter, and one who is moved by love to do your part in the world. What moves you? What moves to write, fight, and love?
JAMILAH: I write because I enjoy writing and I think it's my "something." Everyone has something that they do well and if you are lucky, you enjoy doing it and you can figure out a way to do it constantly. I don't know who the first person to say this was, but the belief that "another world is possible" is what inspires the "fight" part of that tagline. Fighting, be it via a one-on-one debate or by writing an op-ed about a rape culture that many people will never believe exists or simply by living in the way that you see fit, can be emotionally draining. But you have to believe that what you are fighting for is both possible and worth it. I don't see this country's attitudes around race, sexuality and culture changing in the way that they need to in my lifetime, but I think we can scratch the surface. We can move the needle slightly in the right direction.Ellen DeGeneres came out of the closet in 1997. A closet with a glass door. We all knew, but it was still a BIG thing. Her show lasted one more season. Today, she's got a wildly successful TV show and a wife—not a domestic partner, a wife—who has her own successful career. There's the Obama family in the White House and Melissa Harris Perry on MSNBC…these are things that would not have happened when I was an infant. The representation needle has been moved. I will be giving birth to a daughter in a few months and I'd like to believe that when she's my age, there will be lots of Ellens, Obamas and Melissas.
Che Guevera famously stated that a revolutionary must be motivated by love. I do not consider myself to be a revolutionary, but I am someone who walks in the footsteps of revolutionaries and who has embraced revolutionary ideals. And if you don't love your people, your ideals and yourself, it is all for naught. I truly love and enjoy being Black and woman, though those are two things that bring with them great challenges. I don't think I could be a nationalist and a feminist if I felt otherwise.
TFW: You are self-described feminist. How would you define/describe your feminist politics and ways of life? How does your feminist outlook impact your work, commitments, and movement in the world?
JAMILAH: I was raised to believe that women were as capable, significant and valuable as men. That we were entitled to the same rights, access and agency. These are simple concepts, but every single day we are reminded that much of the world feels otherwise. The misconceptions about feminism are many: women feminists want to lord over men, we don't want equality, we want domination—sounds similar to those paranoid White folks who accuse Black activists and even someone as conservative as a President Obama of being racist and interested in oppressing Whites, right?–that we hate men, we're ruining the Black community. That feminism can only benefit White women. The list goes on and on and on.Meanwhile, women and girls across the world are being sold into sexual slavery, are being raped and blamed for being raped, are being denied access to educational freedoms, are working for lower wages than men performing the same work. I can't recognize this as the truth of our world without challenging it and I am surprised by the number of people, particularly women, who feel otherwise.
My feminist values/outlook don't exist in conflict with my concerns about race and class. Oppression is oppression is oppression. You have the Tariq Nasheeds of the world who can talk a great game when it comes to race, but who are quick to enforce these patriarchal standards that render Black women to second or third class citizen status. Ironic that these are the men (and their women supporters) who accused Black feminists of wanting to be or live like White women. These guys want to be White men! They want to lord over Black women and silence our concerns. They pay dust to the concerns of women and LGBT folk and pose the Black male struggle as the definitive Black struggle. Free the almighty Black man and we'll get to your little girl stuff later, maybe.
What so many of our people fail to realize—and it isn't just the boldly sexist and homophobic ones, it's also the folks who feel that gay marriage isn't worth talking about until we destroy the prison industrial complex, that Black women's gains in the academic and professional realms somehow indicate that we aren't oppressed anymore—is that the key to our future is to fight against all the injustice in our space. The issues that are specific to Black men, to Black women, to Black children, to Black LGBT persons and the ones that fall somewhere in between. To me, that's being a real feminist. I'm not joining up with some Black women's empowerment movement that requires me to leave our men behind. I want us all to work together and love each other.
TFW: You've mentioned in one of your Tumblr posts that you have landed your "dream job." How did you land at Ebony.com? What struggles and victories have you experienced along the way?
JAMILAH: Serendipity! I had met Kierna Mayo at an event coordinated by Michaela Angela Davis, who has been a wonderful mentor to me. I was floored to find out that she was a fan of my writing, I could not believe that she knew who I was. I am still surprised that anyone anywhere that I haven't met knows who I am. She reached out to me, perhaps a year later, about a project she was working on and we really hit it off. In the meantime, I had noticed how amazing EBONY was looking (in terms of content and aesthetics) and I wondered about their website, which I had never visited. When I checked it out, I knew that the site had to be gearing up for the same sort of fly redesign. I called HR trying to figure out who was in charge of EBONY.com, but I was unable to reach anyone. I decided to keep checking in with them, keep my eyes on that site. About a month later, Kierna hits me to say that she was stepping into the role of Editorial Director and wanted me to join her as an editor. We worked closely to reimagine EBONY.com and reintroduced the site last January with a brand-new look and new attiude, keeping in step with the amazing work that Amy DuBois Barnett and her team have done with the magazine.The biggest struggle would be the size of our team. We are a small little army! And there was a long stretch of time where I was assigning editing the majority of the site's content singlehandedly. But it is and has always been worth it. I have the utmost respect and love for my colleagues, we really are a family. I've been able to work with some of the most amazing progressive young voices in the game (Michael Arceneaux, Zerlina Maxwell, Jamila Aisha Brown, Dr. L'Heureux Lewis-McCoy and many others) and industry vets who I have admired for many years (Rod McCullom, dream hampton, Mark Anthony Neal).
Among our biggest victories? The fact that we are a Black site taking on LGBT and women's issues. And there's no rage about this, these are our most widely-read stories. Our most popular story of 2012 was Zerlina's "Stop Telling Women How Not to Get Raped." Marc Lamont Hill did a piece about Cece McDonald, which was nominated for a GLAAD Media Award; that we live in an era where one of our most-widely acclaimed "public intellectuals" is writing about Cece McDonald? The needle is moving! Now we have to move it to place where you won't have a Cece McDonald case, you'll have Cece walking around her community and doing her thing without anyone challenging her right to exist.
John H. Johnson, founder of EBONY, Jet and Negro Digest (the magazine that started it all), understood the importance of sharing Black America's most important stories. He also understood the power of using entertainment/celebrity content as a tool to get people to the door; he likened it to his mother giving him orange juice to make medicine go down more easily. We cover the celebs, we love and celebrate Black music, song, theatre and film because those things are awesome and important in their own right. If we didn't have art to come home to after a day of fighting, we'd probably all lose our minds. How many sites can you visit and get the latest on the Trayvon Martin case, an interview with Brandy, a look at the week's political news, beauty/grooming tips, parenting advice, info on the latest bedroom trends and recipes? We aren't trying to immulate the blogosphere, we're giving you a magazine experience.
TFW: Is there a particular story that you've written that you are most proud of or have yet to written that you would love to write?
JAMILAH: Speaking just of my time with EBONY.com, "Your Blackness Ain't Like Mine" is a personal favorite. I also felt really good about "Blaming Bobby Brown," as I have had issues with the widely-accepted notion that Bobby had to have been responsible for getting Whitney on the wrong path. I don't like the idea of robbing her of all of her agency. And in light of her mother's recent comments that she would not have accepted a lesbian relationship between Whitney and Robin Crawford, I wonder how much that may have had to do with with the singer's demons. Honestly, I feel proud anytime I write something and someone tells me that they enjoyed it. I'll never take that for granted.
TFW: Women, and women of color in particular, are under-represented in the fields of new and traditional media. There is also a need to create additional space in popular media outlets for stories that focus on women's lives and challenge sexism and misogyny. What is the way forward? What needs to happen to ensure that women are represented in male-dominated media outlets and to ensure that space is made for women-centered news?
JAMILAH: As far as traditional media and corporate owned new media, there are some strong examples of Black female leadership; EBONY and EBONY.com are run by women. The Root and the Grio are helmed by women. Jezebel's founding editor was a Black woman. Melissa Harris Perry, Tamron Hall and Soledad O'brien have seats in news rooms that Black women would not have had 10 years ago. So while there are still challenges, there have been some gains.
The internet has given us the opportunity to create and maintain our own spaces, from the personal Tumblrs to Clutch, Feministing and The Feminist Wire.  I think that's our greatest tool in the fight. If you see a Latina-led news blog that is competitive with mainstream news sites in terms of readership, people start to take notice and the access gates begin to open. Beyond getting in the door elsewhere, the fact that we can control and distribute our own stories without some Rupert Murdock-controlled entity is amazing! When we have a voice, we have to use it and use it effectively. I would not be happy in my current role if I weren't in a position to openly challenge sexism—not simply by being a woman editor, but using this platform to address our issues.
TFW: Finally, who would you name as three feminists who have inspired you, and why?
JAMILAH: Michele Wallace, author of Black Macho and the Myth of the Superwoman. That book was life changing for me when I read it as a teen. It was the first moment that I felt that my suspicions about gender and race were valid. Like, "Oh…I'm not imagining this stuff?" Especially as it related to the sexism of so many of our 'race men' and the lack of attention paid to women's issues during conversations around racial equality. bell hooks, who has so artfully broken feminism down to loving work that enhances the lives of all who dare to embrace the concept. Joan Morgan, for putting 'hip-hop feminism' in the spotlight and helping so many young women come forward and say "Yes, I am a feminist and I am Black and I love our men and our culture and none of those things negate one another."