By Liz A.
As soon as I arrived, I was pissed that there were people standing in line outside. As I walked to my spot, I asked a Sistah, "What is going on?" Her reply: "They are not opening the door until 10:00 am." Boisterously, I almost yelled, "10 am?!" Grumbling, I walked to the back of the line, now extremely pissed. When I called a day earlier, the guy on the phone told me that the Englewood Clinic on Chicago's South Side opened at 8:00 am. I'm nervous now because that same guy also told me that the STI and HIV clinics were only taking the first ten people, and there were already 11 people in front of me.
In what I perceive as a violent attempt to make up for the budget deficit, the City of Chicago laid off hundreds of city workers. And every Black person knows that when America (in this case the city) gets a cold, Black America (in this case the Englewood community) gets the flu. And in poverty stricken areas, like the one in which the clinic was located, flu-like symptoms were evident. There was only one doctor and one medical assistant on staff, and word spread fast that only the first ten people who exhibited symptoms were going to be seen. I prayed that in my case, they would make an exception. Plus, I was due at work in four hours. The line was getting longer now and I was hoping that the Black and Latino people who made up the line behind me were seeking other services.
I am angry with myself.
If a close friend was asked to describe me, they would say that I am highly intelligent, tenacious, a hard worker, extremely responsible, and definitely destined for success–one day. I've gone to great schools and am currently enrolled in one of the best graduate programs in the nation. So how could I, one who is usually on top of things and most of the time very conscientious of my surroundings, let myself be in this predicament? But then again, how was I supposed to know that my now ex-lover slipped his condoms off when we had sex? Especially when I witnessed him put the condom on, one that I personally had given him from my "keep my ass out of situations like this" stash. And I had no way of physically knowing because I could not feel the difference.
During our last sexual encounter, I was startled when I heard a strange noise during one of our breaks between sexing; a noise sounding similar to that of a doctor taking off gloves after performing a medical procedure.  In the moment, I immediately asked my now ex-lover about it and, without any apprehension, he said that the noise was him taking off his condom. His reasoning, "I could not feel anything," followed by "Don't you trust me?" Processing his last question about trust as rhetorical, I gave a cynical response: "I guess we are done now."
Given the current HIV and STI rates among Blacks, and Black women in particular, his question about trust was irrelevant. Especially since Black women are contracting HIV at very high rates and make up the largest number of new infections. In fact, according to the Centers for Disease Control and Prevention (CDC), Black women account for 30% of the estimated new HIV infections among all blacks. Most (85%) Black women with HIV acquired the virus through heterosexual sex.[1] This estimated rate of new HIV infections for Black women was more than 15 times as high as the rate for White women, and more than three times as high as that of Latina women.[2] And overall in 2009, though Blacks are 14% of the U.S. population, they accounted for 44% of all new HIV infections.[3] The rates are also the same for STI infections. Blacks thus experience higher rates of sexually transmitted infections (STIs) compared with other racial/ethnic communities in the U.S.[4]
Given these realities, it was a complete no-brainer for me that we were done (the ex and me), and the sex was fun while it lasted. But nothing could have prepared me for what came next. In a failed attempt to try to persuade me to allow him to penetrate me without a condom, he revealed, "Well, I did it the last time." Lost for actual words, I was able to murmur a successful "What!!"  He recalled that during our last sexual encounter, he had taken the condom off and put his raw penis into my vagina. At that moment, all I could think of was my mother.
I was 14 years old when she transitioned. She was an avid journaler, an undiscovered writer and poet who left me her writings. In one of her most intimate and painful journal entries, she talked about how she had contracted HIV. At the time, my mother was a mental health social worker who unknowingly embodied womanist and Black feminist wisdom and ethics. In this particular journal entry, she gave vivid details about how she was called into the Department of Health because her former lover had tested positive for HIV. And her name was on the list that he had provided of his current and former sexual partners. That former lover was my father. Her truth: during their marriage he was unfaithful and often slept with prostitutes. My mother lived with the HIV virus until her untimely death at the age of 46, caused by HIV-related complications. And though found positive, my father, due to speculated mental illness, remains in denial of his HIV status.
Given my history, then, it pained me that I, who was directly affected by HIV and as a result, intentionally became knowledgeable about it, found myself standing in this line. I wondered if my mother would be upset with me? I was also consumed with righteous indignation. I was now among the legacy of women standing in lines just like these, Black women who were not looked at as victims but instead were stereotyped as hypersexual and sexually irresponsible. As Black women made up the majority of the line, I began to think about how many others: How many others were in line because of an unfaithful or deceitful lover? How many others were in line because they were already HIV positive? How many more would learn that day of an HIV positive status? And how many of their mothers, grandmothers, and aunties stood in similar lines like these? How many of their daughters, nieces, and sisters will stand in these lines?
It is now 10:00 am, and I am number twelve. Fortunately, I am able to be tested because I have not been experiencing STI/HIV related symptoms. I urinate into a cup and give two viles of blood. I am instructed to call back in ten to twelve days.
Mimicking the concluding words of my mother's journal entry, I am currently un-symptomatic.
I wait for my results.
Notes
[1] http://www.cdc.gov/hiv/topics/aa/index.htm
[4] ibid.
______________________________________________________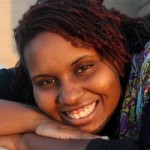 Liz A. is a woman on a journey of becoming. At age 14, Liz experienced the sudden death of her mother. Soon afterwards, Liz discovered her mother's journals, voice recordings, and poems filled with intimate details of her life's experiences from childhood to her death. This discovery has allowed Liz to reunite with her mother, and Liz often refers to her mother's journals for wisdom on themes of Black womanhood, love, spirituality trauma and healing. Liz is often noted for saying " The greatest gift my mother left me was her voice, it keeps her presence near." Liz considers herself to be a "daughter of the village," which is made up of "mamas" and mentors. She is a "warrior poet," an avid journal-ler, and is of the tradition of women who write to remain alive.
Liz is currently a dual degree student, pursuing a Master of Religious Leadership with a concentration in Social Transformation at the Chicago Theological Seminary as well as a Master's of Social Work with a focus on Trauma and Violence at the University of Chicago, School of Social Service Administration. Currently, her interests include trauma and recovery, identify formation for black woman who've experienced mother loss, healing traditions of the African diaspora, structural violence, and community organizing. Liz received her Bachelors of Arts degree from Spelman College where she majored in Sociology.