By Teresa Gilliams, Ph.D.
Much that is beautiful must be discarded
So that we may resemble a taller
Impression of ourselves
–John Ashberry, "Illustration"
"If the first woman God ever made was strong enough to turn the world upside down, these women together ought to be able to turn it right again." –Sojourner Truth
This past semester I taught at The National and Kapodistrian University of Athens as a Fulbright Scholar. Since I was on sabbatical (my first-ever sabbatical!) from the small liberal arts college where I teach—a college that boasts dynamic teaching and exceptional advising among its faculty as well as close teacher-student relationships—I was excited about the opportunity to refuel personally and professionally while also taking advantage of the anonymity of teaching in an international setting at a large university where students do not maintain the same kinds of expectations of teachers that are characteristic of the majority of students at my Pennsylvania college. To that end, while I planned to teach enthusiastically and effectively and achieve measurable progress with my research, one of my most significant goals was to scale back from "doin too much" in the context of my identity as a Black woman academic whose professional work, while challenging, is highly rewarding and deeply personal.
This "doin too much," particularly in the context of the African American community and the African American Vernacular, provides insight into and speaks volumes about the lives, commitments and multi-generational inheritance of Black women academics who teach, write, befriend, support, love, nurture, plan, advise, encourage, provoke, wonder, enlighten, respond, commit, and so much more in (c)overt ways that supersede the status quo. In order to understand this phrase, you will benefit from considering the oral tradition that informs and enlivens verbal exchanges that define the hyperbolic and provocative speech practices of Blacks in the United States, the Caribbean, Britain, and elsewhere.
African American Vernacular English has been figurative since its beginnings. That is, African Americans often say one thing to mean another. Hence, in the African American community, one's saying to another person, "you're doin too much," means that whatever a person is giving may be coming at a personal cost. It also conveys "you're being extra" or "doin' the most." In a nutshell, "doin' too much" when used in a sentence to describe the word, actions or intentions of a Black woman academic means that the black woman academic is possibly excessive in the physical but more likely in her emotional expending of energy or engagement in activities.
Over the course of my semester in Athens, I taught two undergraduate Literature courses with upwards of 100 students enrolled in each class. My plan was to use my knowledge of American literature to develop classroom exchanges demonstrating Black women writers' declaration that not only is it acceptable to be different from mainstream white America but that these important differences must be celebrated rather than repressed. However given the large number of students in my classes, I realized early on in my fellowship period that I would have difficulty fostering this critical classroom dialogue without being honest and explicit about my work, reason for being in Greece, and the daring Black women academics and visionaries who have made my teaching and scholarship possible.
Within the first two weeks of classes, my relationships with my students were concretized after I introduced myself as an offspring of Sojourner Truth and other Black women visionaries on a mission to make the world a better, more inclusive place to live. Part and parcel to this vision, I declared to them that this semester we would become learners simultaneously. In framing this class this way, I began (re)thinking and (re)strategizing my pedagogical objectives for the term and establishing a method for healthy, personal living beyond the academy.
Until my experience in Greece, I always encouraged my students to depend on me for well-prepared, lively, informed lectures that illuminated my efforts at tapping into the veracity of Sojourner Truth and other fierce Black Feminist visionaries when teaching. While being an encouraging teacher is not something I want or need to change, I recognized the imperative of giving so much of myself left little space for my students to take on the responsibility of giving more of themselves. For my Pennsylvania students, they often did not go beyond their required assignments or exercise the discipline to become their best selves without my nudge. For my Greek students who had not been acquainted with a professor's weekly classroom performativity, close reading of and detailed responses to their papers or expressed sustained interest in their growth and ideas about the course texts and objectives, they were delighted by the prospect of fully contributing to our classroom conversation and enthusiastically offered their insight into Greek culture and mythology as they saw parallels with American writers and texts. Alas, this difference in expectation coupled with our articulated responsibility to each other (their teaching me new Greek phrases and sharing their knowledge about obscure Greek cultural practices) freed me up to breathe deeply and break the cycle of "doin too much."
In making a concerted effort to do less well by carving out spaces to liberate myself from the compulsion to go above and beyond the call of duty to ensure my students' learning, I succeeded in breaking the cycle of overworking that holds prominence in the lives of many Black women academics. In fact, my students' classroom comments and papers, which often entailed analyses of American texts in conversation with Greek mythology and culture, challenged me to acknowledge the potential for surrendering and exchanging my over-functioning teacher-student partnership. My Sojourner Truth academic and social justice inheritance was benefitted by their mythological Medusa/god-goddess centered analyses. Ultimately, in honoring my students' intellectual yearning and promoting reciprocal dialogue, I seized the opportunity to reconstruct and prioritize myself for the first time in my professional life.
Whereas my Greek students openly described themselves as rarely seeking out their Greek professors, even during office hours, terming their professors "traditional" in terms of their typical engagement with students, they admitted that what they found in me was someone who was interested in nurturing the whole of them. I had not completely over-extended myself as I had done in the past at my home institution, nor had I revamped my teaching style, and I began keeping a journal of my daily experiences. This new practice of using my writing to reflect on my choices and actions helped me begin thinking differently about the importance of achieving balance as an academic. Most of my entries included my remembrance of students' questions, responses, funny sayings, collective confusion, classroom moments marked by awkward silences, and distinctive successes in promoting deep critical thinking. Other entries highlighted my deliberate commitment to doing something good for me every day. My setting aside, time to reflect on my work through journaling has been one of the best gifts I've given myself.  Previously, you could find me rushing to various meetings, meeting with students to discuss research projects, conference papers, senior theses, and everything in between.  Today, I've implemented into my busy schedule, conscious, deep breaths after and between classes and journal writing, even for as little as three minutes at a time.
While in Greece, I replaced my initial coping mechanism of counting to ten in multiple languages (when feeling stressed out by the actuality of too many people in tight quarters and in close proximity to me on the metro) with mentally transposing my reality with images of Sojourner Truth's obeying a supernatural call to "travel up and down the land." Given my work on literary ancestral figures and their sage guidance of the youngins left to advance their work, I benefited immensely from imagining and emulating the courage and fortitude that many of my ancestors—academic, biological, literary, and otherwise–have bequeathed to me. That I never resolved the dilemma of how my ancestral mamas would have coped with the clickety-clack sounds of too many Athenians' worry beads as they maniacally swung the strands of beads while riding the metro betrays my interest in undertaking new research that offers audacious glimpses into the wit and wisdom of spirited Black women academics considering the mythological narratives of Medusa, Artemis and Athena, among others. Above all, my newfound (re)definition of what it means to be a Black woman academic currently involves daily acts of deliberate physical and mental self-care and self-reflection synonymous with creative strategies aimed at protecting my time, mental sanity, voice, sense of humor, and Sojourner-like fierceness.
___________________________________________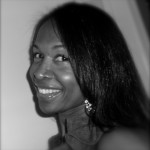 Teresa Gilliams, Associate Professor of English at Albright College, earned her B.A. from Duquesne University and her M.A. and Ph.D. in African American Literature from Howard University. Her research and teaching focus broadly on the cultural and discursive practices that mark bodily differences, particularly the ways in which those practices establish selfhood and nationhood in 20th and 21st century African American literature and culture. She is currently working on a book titled Retrievable Wrongs: Reading and Preserving African-American Women's Writing, 1950-2005 which seeks to address the ongoing need to continue the necessary work of recovering and providing access to important texts by African American Women writers from 1950 to the present while simultaneously evaluating each writer's contribution to tradition building within the African American literary canon.