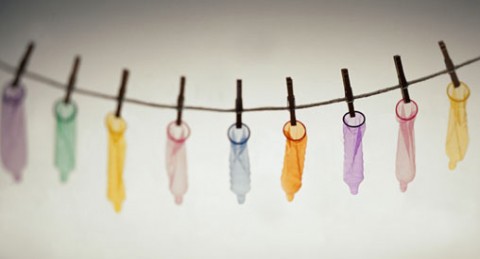 Voters want actors in adult films to wear condoms, but the industry is threatening to sue and shift production elsewhere.
Nearly 56% of Los Angeles County voters approved the Safer Sex in the Adult Film Industry Act, which would require actors in pornographic films to wear condoms in order to prevent the spread of sexually transmitted diseases and HIV, but enforcing the ballot measure remains a hurdle.
Under the initiative, sponsored by the AIDS Healthcare Foundation, porn producers would have to obtain a public-health permit from the Los Angeles County Department of Public Health in order to shoot adult films. A majority of the U.S. adult-film industry is in the San Fernando Valley in the county. Actors would be required to wear condoms during anal and vaginal sex scenes, and violators would be subject to civil fines, including potential criminal misdemeanor charges. The permit fee would pay for the enforcement, which ideally would involve nurses or others making routine inspections just as restaurants undergo routine health inspections, according to AIDS Healthcare Foundation spokesperson Ged Kenslea.
Kenslea said that Measure B, as the ballot initiative is known, is "fairly straightforward" and a "prudent" public-health measure, arguing its approval may be a message from people who watch porn. "The majority of voters who passed [this measure] into law are not only voters but also they are customers or they are potential customers."
To justify the law, advocates for safer sex in the industry cite past HIV scares in 2004 and 2010 that temporarily halted adult-film production in L.A., as well as a syphilis outbreak in August 2012. A week before the election, a study of 168 adult-film actors conducted by public-health experts revealed that L.A. porn actors have a higher rate of STDs than Nevada prostitutes, who are required by state law to use condoms and get tested weekly for sexually transmitted diseases. Measure B has also received the endorsements of the American Medical Association and the American Public Health Association.
Porn filmmakers claim that people will not pay to watch sex with condoms and insist they already have an effective system for protecting actors against STDs — regular testing for the diseases every 28 days. Industry medical consultants claimed to the New York Times that 350,000 sex scenes have been shot without condoms since 2004 without a single case of HIV transmission on set.
The Free Speech Coalition, an adult-film-industry trade association, says it will challenge Measure B in court as "unconstitutional," a violation of the First Amendment, and would not hesitate to move the production companies out of Los Angeles county as soon as possible. Larry Flynt, the publisher of Hustler magazine, echoed that idea to Bloomberg News: "We'll simply shoot in Hawaii, Mexico or the desert. We'll fly to Cabo for a week or 10 days. It's not a big deal.
Read more: Time Magazine