By Lillie Anne Brown
It was, at first, a voyeuristic peek during an untailored pass-by, a fleeting look here, a backward glance there, one foot past and two steps removed. Sustained viewership of such a show surely wouldn't bode well—privately or publicly—for a lettered sister, I theorized. Eventually, however, South Beach Tow, the Jennifer Lopez-produced reality show featuring a family-owned vehicle-towing business in Miami, claimed my sensibilities and demanded an acute viewing so substantial that a missed episode could prove—and be—a bit disconcerting.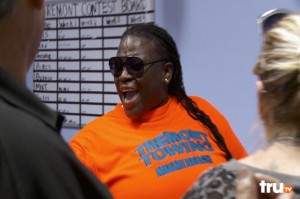 Initially reluctant to declare that I take pleasure in the coarse brutality of the language and (the sometimes) outlandish behavior of Bernice, the over-bearing sister on the show, I hesitated to tune in on a regular basis, though slowly and surely I found myself drawn to episodes in which Bernice would be centered. More significantly than wanting to adopt a secret viewing of SBT, however, I self-interrogated my attraction to the show as a way of acknowledging—while also feeling the need to recognize—the internal motives behind the reluctance that accompanied the appeal. In other words, I needed to know not only what informed my interest but also what framed my hesitancy of acknowledgment.
As a tow-truck driver in an industry dominated by men, Bernice, one of Tremont Towing Company's four drivers, has the figurative as well as literal weight of carrying herself confidently and projecting self-reliance. While I am unable to make the distinction between Bernice's personal character and televisual performance, I lean toward the notion that the public and private Bernice are not warring selves. Astute at navigationally managing vehicles in almost every circumstance in an effort to "come away with the goods," she does not suffer fools easily. Her octane-delivered mantra, "Bernice gon' get that money!," is vigorously dispensed during successful acquisitions and oft-repeated during almost every segment of an episode in which she is the principal focus. From my post, she is the show's calling card, and it is clearly evident that not only does she enjoy her job, she is, if the objective is to not return from an assignment empty-handed, exceptionally good at it.
I am, dare I say, vicariously attracted to Bernice because of her brutishness, loutishness, and profane tongue. Yes, I said it. And I am claiming my truth. While I cannot maintain that I want to be Bernice, I can say with confidence that Bernice and I share a sisterly bond: She possesses a strong work ethic, is resilient about the business of her work, and maximizes her presence in that work through the power and truth of words and conduct. And while the two of us are in professions as dissimilar as night and day—I am a professor of literature—and communicate with our respective audiences in distinguishable ways, I must honor the notion that a small, albeit softer, version of a few of Bernice's edicts might nudge some of my students from their occasional intellectual stupor–if only I were brave enough to employ the declarations.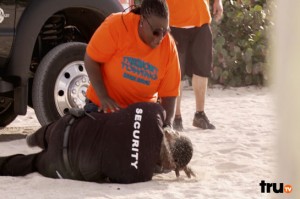 The more distinctive attraction to SBT, which, I believe, centers Bernice's appeal to me,, is the precision and confidence with which she carries out her tasks. As an independent woman whose outbursts and outrageous performances are not relegated to or dictated by gender or traditional roles, she engages her job without concern for social or political aesthetics. While she often plays it safe in the midst of her duties, she doesn't always play it safe. Caution to the wind? Yes. Sure. She flings it high, she flings it wide, and she flings it often.  She is not intimidated by company policies, procedures, or regulations, nor does she fail to inject her own business acumen into the mix if the need arises and the results seem plausible. In most instances, she breaks her own rules as quickly as she constructs them. I suspect that Bernice has always been one who spoke out of turn, ran with scissors, and colored outside the lines.
Bernice is my kind of gal.
Physically intimidating to the meek, she is, on every "run," appropriately attired for conducting the company's services, wearing company-identified t-shirts, trousers, and sturdy footwear. An ever-present pair of dark sunglasses rounds out the outfit. Under the banner of stealth coolness, the shades are a necessary accessory, which she wears with authority. Sometimes, however, the eyewear gets chucked if she's met with a resistant client and volatile situation: It's better to see the disgruntled, unfettered. During a recent episode in which she was engaged in a heated exchange with an uncooperative client who argued the merits of retaining his automobile (despite the vehicle's repossession status), she ripped a side door from the car's frame, tossed it to the ground, unleashed a torrent of superlatives and stood, panting, in a victoriously frenzied rush.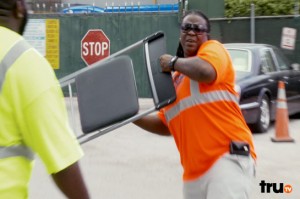 While the show is maximized drama, Bernice's performances are often the nod for a commercial break, where climatic background music entices the show's viewers to return for Bernice: Part II. On the occasion that she gets into physical altercations with recalcitrant clients, she is wired, agitated, undaunted, and unapologetic: "Don't nobody mess with Bernice!," she wildly exults as she drives away, triumphantly proud, with a client's prized possession in tow. In matters of cautious consideration, the hearty declaration goes noticeably unchallenged.
While the company's business takes its drivers to the wealthy enclave of South Miami Beach, Bernice's behavior does not align itself, historically, with the social and cultural distinction of the genteel southern belle. Her performances represent all of what the old, southern belle should not be: loud, obnoxious, crude, brutish, and undisciplined. Her name, which accentuates a kind of old-school appropriation, parallels her performances: It takes an old-fashioned work ethic to labor in a business where, traditionally, women are not the common denominator. Against iconic images of the dainty southern debutante of the 1960s, Bernice presents a different image of black female empowerment in today's South: aggressive, strong, powerful, and, as she so clearly demonstrates, non-traditional. Her brusque infusion into the prim and proper society of the affluent challenges the notion of a quiet, accommodating place of grace and status. While she may be seen in South Beach as an interloper, she is most likely viewed as a triple threat: She disturbs, agitates, and disrupts the comfort zones of the privileged class. Beethoven's Missa Solemnis seems an unlikely composition wafting from the tow truck's radio when she is on call.
During my growing-up years in the 1960s, I knew young girls who, although smart, mature, and determined to succeed, were oftentimes cautioned about "being loud." Loudness, it had been determined, was an unwanted quality. And while many young women dismissed the paralyzing edicts from well-meaning adults, others internalized the directive that "volume" was an aberrant property and therefore acquiesced to the mandate to "tone it down." A sign of discipline, sophistication, and "high class" was to remain separate from those who "carried on" in public or who had been declared "fast girls," a descriptive assigned to women who, like Bernice, didn't always play by the rules. Public scrutiny was the original enemy of Black Girl Southerness. While young men who might have exhibited parallel behaviors were not chastised, reprimanded, or declared "fast boys," many of the young women resigned themselves, deep and abidingly, to the mandate that one should be seen and not heard.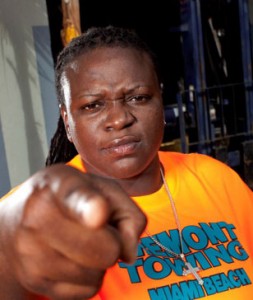 I knew "fast girls" and understood the orientation. More than understanding, however, I also knew that their fun—and their approach to having it—was, as was their descriptive, high speed, push-button fun. Like Bernice, fast girls exuded danger and had swagger: They wore short dresses and black fishnet stockings, swirled their heads with grown-up aplomb when they talked, and polished their nails fire-truck red. "Proper" girls wore crinoline slips beneath their dresses, carried attractive purses with tiny clasps on top, and received hand-delivered invitations to neighborhood parties. While I certainly have seen women who are Bernice's counterparts, they aren't among my intimate or professional associations. In the academy, my colleagues aren't confrontational, abrasive, or argumentative in the manner of Bernice's dictates, and my "clients" are slightly more receptive to my pedagogical approaches than Bernice's clients are to hers.
I admire Bernice, champion her independent spirit, and in my affection I am both proud and unafraid to claim her in sisterhood. In her world, she not only saddles up the bull and rides it to the next stop, she tackles the opposing distracter (sometimes literally) and calls it a day. She is, for certain, an unconventional girl about town: She is not rich, slender, white, delicate, or graceful. She is, however, a sister on the move, claiming, proclaiming, and dictating her truths in a profession where few women have dared enter. Not only does she demand respect, she commands it as well. Whether the call from the central office directs her to an errantly parked vehicle or to a driver whose financial obligations have been disregarded over a few-months' span, she very seldom, if at all, retreats from the business of obtaining the requisite goods.
On the road, in South Beach Miami, Bernice rocks steady that swift-girl label, dismisses anyone who interferes with her game, and moves forward, adrenaline-pumped, to the next acquisition.
__________________________________________________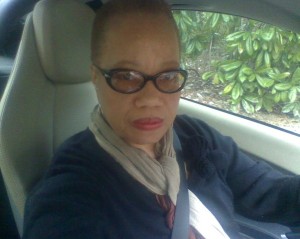 Lillie Anne Brown teaches in the Department of English at Florida A&M University in Tallahassee, FL, where she also serves as Co-chair of the Grievance Committee of the College of Social Sciences, Arts and Humanities. Her work has appeared in Revista Lingua & Literatura; Personal Souths: Interviews from the Southern Quarterly; Pakistaniaat; The Journal of the Pennsylvania State Universities; Black and White Masculinity in the American South; and Children of the Changing South: Accounts of Growing Up During and After Integration. She has work forthcoming in the Encyclopedia of the Environment in American Literature and Florida. Her research interests center on images of the female body politic and the intersection of race, power, gender, and identity in southern literature. She has written and lectured extensively on the works of American author Ernest J. Gaines and is at work on a project in celebration of the 20th anniversary of the Pulitzer Prize-nominated novel A Lesson Before Dying, and she is editing Kaleidoscope: Essays on Kinship, Community and Cultural Traditions. A politically conscious member of the community in which she grew up, she writes a blog for the Innocence Project of Florida, a public policy organization that seeks to free wrongfully convicted men and women through DNA testing. She holds a PhD in 19th and 20th Century American literature from Florida State University.