By Erica Lorraine Williams
In response to Toni Cade Bambara's classic question in The Salt Eaters, I am absolutely sure that I want to be well. In fact, I am determined to be well. I have been haunted by the legacies of premature death of black women academics since before I chose to enter into the academy. What does wellness look like for black women in the academy, and what are some strategies that we can utilize to achieve it? As an Assistant Professor of Anthropology at Spelman College entering my fourth year on the tenure-track, I have learned some tips and strategies for balance and wellness that I only wish I had known in college and graduate school.
The flexibility of the academic schedule is simultaneously wonderful and terrifying. On the one hand, we don't have to "clock in" a strict 9-5 schedule. This is very appealing for me, particularly since I've witnessed my mother,  a nurse, work 7pm-7am shifts at a nursing home for several years. In academia, night owls can sleep in and schedule afternoon or evening classes, while early-risers can get their classes out of the way early and then have the afternoons free for writing or personal time. On the other hand, with looming publication and grant deadlines, active research agendas, varying teaching loads, office hours, and meetings galore, there is enough work to keep us busy 24 hours a day, seven days a week.
For me, self-care quite simply means setting boundaries on how and when I work. I refuse to run myself into the ground by working around the clock with no time for rest and relaxation. The academy tends to privilege a lack of sleep, workaholic tendencies, and scholarly productivity at the expense of everything else. I refuse to sacrifice my nights and (whole) weekends for work. Evenings are reserved for exercise, family time, home-cooked meals, and general "down time," and I will not be made to feel guilty about that.
I want to be a prolific scholar, to open students' minds, and to make an impact on my institution and my community. However, I can't – and I won't – do this at the expense of my health and well-being. I am haunted by stories of women of color who worked so hard to earn tenure that once they got it they were too burnt out – suffering from fatigue and chronic illness – to enjoy it. I refuse to fall into this trap of self-destruction. Just as people often say that being a parent is a full-time job, self-care is also a full-time job! Sometimes my days feel so long because I am running from one thing to the next, even if some of those things I'm running to include Afro-Cuban dance class at 7:30pm after a long day of office hours, writing, and a 3-hour honors seminar.
It is one thing to say that self-care is important, however, how does one actually fit it into a busy schedule? The programs of Kerry Ann Rockquemore's National Center for Faculty Development and Diversity have taught me several useful tools and strategies to prioritize self-care.  I have learned the value of creating a semester plan, doing a Sunday Meeting, tracking the time I spend on various tasks (writing, research, teaching, service, and professional development), having a community of accountability, and enjoying daily treats. In creating a semester plan, you lay out clear writing goals alongside personal goals for the semester. This simple act encouraged me to think of writing and personal goals as mutually constitutive.
In order for me to be productive in my scholarship, I must take care of myself – this is a non-negotiable. For instance, one of my personal goals is to workout five times a week. I schedule my workouts into my calendar just like I do my writing time, class times, meetings, and doctor's appointments. After several months of doing this, it has (finally) become second nature, so that no matter how busy I am, I will find time for my workouts. Case in point: on a Thursday (a non-teaching day) when I needed to make some major progress on my book manuscript revision, I decided to work at a quiet café in Decatur, where I had a 1pm massage scheduled (haven't had one in 10 years!) thanks to a Groupon discount. After the massage, I returned to the café for a few more hours of writing, and then went for a BGR (Black Girls Run) group run. The Black Women's Life Balance and Wellness conference that I attended in July, also re-energized my desire to prioritize self-care.
Doing a Sunday Meeting every week helps me to visualize everything that I have on my plate for the week. Once all of my tasks, duties, and responsibilities are out of my head and onto a piece of paper (with color-coded columns for my enjoyment), it feels much more manageable and much less overwhelming. And of course there is nothing like the satisfaction of checking things off your To Do list! Rockquemore also encourages daily treats and taking weekends off. A treat can be something as simple as enjoying a phone conversation with a long-distance friend, watching your favorite television show, taking a walk in the park, eating a red velvet cupcake, or whatever else would be pleasurable or enjoyable for you. Taking weekends off as a scholar-teacher often seems like an unattainable feat. Though I try to take weekends off, I usually end up doing a few hours of work on at least one day during the weekend. Even when I do work on the weekends, I at least make a concerted effort to spend more time doing things that I enjoy.
Another crucial practice that has helped me is building community and accountability around writing.  I have a rotating circle of black women academics in Atlanta who meet at cafés around town a few times a week for write-on-site sessions. I have an accountability partner who I have weekly check-in calls with to see how we are progressing with our writing goals and to offer encouragement. We also complete a daily log on Google Drive that details our progress and time spent on writing, research, teaching, service, professional development. I have a writing partner with whom I periodically exchange drafts. Building community around writing helps to work against the solitary, individualistic mode of scholarly writing. Sometimes building community may also be virtual via Twitter, Facebook, Tumblr, and blogs. I like Tanya Golash-Boza's blog Get a Life, Ph.D. which has the tagline: "Succeed in Academia and Have a Life Too."  Golash-Boza, Associate Professor of Sociology at the University of California at Merced, has three books and three children, and is determined to be happy and balanced in the academy. The Crunk Feminist Collective also has a great post about Saying No, a necessary tool for setting boundaries so that we have the time to do what we want and need to do for our own personal sustainability.
Having knowledge of these tools, resources, and strategies doesn't mean that I never get stressed out or overwhelmed. I have yet to "perfect" the art of life balance, and I'm not sure if that's even completely possible. Nonetheless, having these tools give me standards to aspire to so that when I get off-balance, I can easily get back on track again. They have made me self-aware so that I know how to listen to my body when it says, "give me a minute."
So, what does wellness look like for black academic women? For me, wellness means breathing, taking a break, sipping tea, spending time with loved ones, enjoying a hike, a run, a dance class, a massage, a guided meditation, a game night with girlfriends or a date night with my partner.  It means eating fresh fruit and vegetables, home-cooked meals, sleeping eight hours a night, and taking a walk in the park. It means enjoying escapist shows like Scandal, The Good Wife, Grey's Anatomy, The Mindy Project, and The Misadventures of Awkward Black Girl at the end of a long day. Most of all, it means replenishing my reserves and not giving away all of myself to others because, as Toni Cade Bambara said "wholeness is no trifling matter."
________________________________________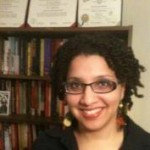 Erica Lorraine Williams is an Assistant Professor in the Department of Sociology and Anthropology at Spelman College in Atlanta, GA. She earned her Ph.D in Cultural and Social Anthropology from Stanford University in January 2010, her M.A. in Cultural Anthropology from Stanford in 2005, and her B.A. in Anthropology and Africana Studies from New York University in 2002. Erica's research has focused on the cultural and sexual politics of the transnational tourism industry in Salvador, Bahia, Brazil. Her forthcoming book manuscript, Ambiguous Entanglements: Sex, Race, and Tourism in Salvador, Brazil, won the National Women's Studies Association/University of Illinois Press First Book Prize. She is embarking on a new research project on Afro-Brazilian feminismt activism, sexuality, and religiosity in Salvador, Brazil. During the Spring 2012 semester, Williams was a Mellon/HBCU Fellow at the Franklin Humanities Institute at Duke University. She has also held fellowships from the Future of Minority Studies Project (2011), UC Santa Barbara's Department of Black Studies (2008-2009), and UNCF/Mellon Faculty Programs (2009). At Spelman, she is Co-Director of a five-week summer study abroad program in Salvador. Her teaching interests include: Introduction to Anthropology, Cross-Cultural Perspectives on Gender and Sexuality, Gender and Transnationalism, Sexual Economies, Race and Identity in Latin America, and African Diaspora and the World (ADW).