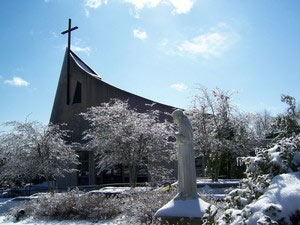 The Franciscan University of Steubenville in Ohio faces questions about its accreditation because of a course description that links homosexuality with crimes like murder, rape and robbery.
The university's social work program offers the course, called SWK 314 Deviant Behavior. The course description reads: "The behaviors that are primarily examined are murder, rape, robbery, prostitution, homosexuality, mental illness and drug use."
Members of a Franciscan University gay and lesbian alumni group on Facebook discovered the course description and have asked the school to change it. "The state of the art in science on homosexuality is not that it's deviant," says Vermilyea. "The DSM — Diagnostic and Statistical Manual of Mental Disorders — has removed it … as an illness."
The university says the term "deviant" is used in the sociological sense, to mean "different from the norm." And it says the course "covers a wide range of topics including crime, alcoholism, heterosexual deviance and homosexuality."
A spokeswoman for Franciscan University says the school is reviewing the course description to determine whether it needs to be changed.
Read more: NPR