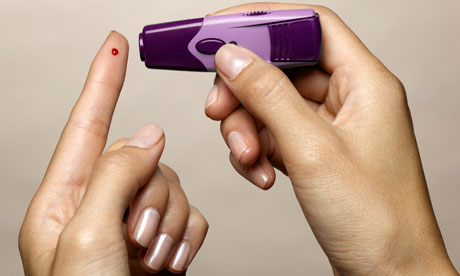 Half of all people of South Asian, African and African Caribbean descent living in Britain will develop diabetes by age 80, scientists said on Monday in research which also points to an alarming future for rates of the disease in Africa and Asia.
In the first study to reveal the extent of ethnic differences in the risk of developing type 2 diabetes, researchers said it seems a "Westernised" lifestyle of urban living with a poor diet and a lack of exercise could prove "toxic" for many British blacks and Asians. The study, which tracked 5,000 Londoners for more than 20 years, found that by age 80, twice as many South Asian, African and African Caribbean men and women had developed diabetes compared with Europeans of the same age.
The researchers said their findings suggested the higher rate of diabetes in some South Asian and African Caribbean women is due to greater rates of obesity and higher resistance to insulin, which helps the body process sugar.
Diets rich in high-calorie foods, combined with lifestyles which include little physical exercise, were the main factor behind the increased rates. "The urban environment is a toxic environment," researchers noted.
Read more: MSNBC