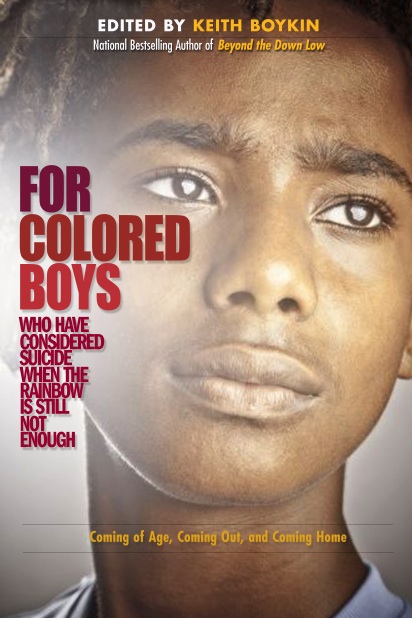 TFW Editorial Collective Member Darnell L. Moore recently caught up with Keith Boykin, political commentator and New York Times best-selling author, to discuss his newest book, For Colored Boys Who Have Considered Suicide When The Rainbow Is Still Enough. The book, which will be released on Monday, August 13th, includes contributions from 42 authors who address the many issues and triumphs that often characterize the lives of gay/bi/queer/same-gender loving men of color. Here is what Keith had to say about his long-awaited book.
Darnell: Your newest book is titled after Ntozake Shange's 1975 experiemental play/choreopoem, For Colored Girls Who Have Considered Suicide When the Rainbow Is Enuf. What was your motivation for selecting your book title?
Keith: The title kind of chose itself. In the fall of 2010, the film version of For Colored Girls was playing in theaters. At the same time, I began to hear stories of young black and Latino gay men and boys who were literally committing suicide. This all happened around the same time when gay Rutgers student Tyler Clementi took his own life after he was secretly videotaped by a roommate. But there wasn't a lot of news attention about people like Carl Joseph Walker Hoover, Jaheem Herrera, Raymond Chase, or Joseph Jefferson. These were real life colored boys who were actually committing suicide even as the LGBT community's promise of a rainbow could do nothing to save them.
Darnell: What lessons and/or themes, if any, do you draw from Shange's work, or works of other feminists of color?
Keith: I never really thought about this until you asked me this question, but now that I think about it, For Colored Boys is very much inspired by feminists of color. Much of the book is inspired by Ntozake Shange, Audre Lorde, Barbara Smith, and Pat Parker.
First, Ntozake Shange was the inspiration for the title of the book.
Second, Audre Lorde was the inspiration for my essay in the book. Lorde once said, "When I dare to be powerful — to use my strength in the service of my vision — then it becomes less and less important whether I am afraid." I use that quote every time I speak, and I used it as the title of my essay in the book, "When I Dare To Be Powerful."
Third, Barbara Smith was the inspiration for the format of the book. Smith's own trailblazing book, Home Girls: A Black Feminist Anthology, was one of the two models — the other was Brother To Brother — I used in designing my book, For Colored Boys.
And fourth, Pat Parker's famous poem, "Where Will You Be?" was the inspiration for my own poem that I wrote in For Colored Boys. My poem is called "How Do You Start A Revolution?"
Without realizing it, I actually shaped the entire book around the ideas of four different feminists of color.
Darnell: What prompted you (moved you) to take on this project?
Keith: To be honest, I didn't want to do this book. I wanted somebody else to do it. I was  concerned about those tragic stories of the young men and boys who were killing themselves, so I sent off an email to Don Weise, the publisher at Magnus Books, suggesting that he should get somebody to do an inspirational book for black gay men in light of all the suicides going on.
Don immediately liked the idea and he sent me an email about 10 minutes later saying it was one of the best proposals he had gotten, but he wanted me to do it. I resisted at first, but ultimately I realized that if I didn't do it, then it might not get done.
Darnell: Your intent is to educate, empower, and inspire readers. Are there particular audiences that you are targeting? If so, which audiences and why?
Keith: Yes, the goal is to reach as wide an audience as possible, but specifically I hope the book also reaches several target audiences.
First, I hope it inspires young people who are struggling with their sexuality. Second, I hope it educates parents, friends, and family members to think about the damaging effects that hurtful language can have on young people in their lives. And third, I hope it empowers gay men of color to speak up and tell their stories and pass on their history to one another so it doesn't get lost or covered up.
Darnell: For Colored Boys can be read as a companion to other anthologies focused on queer/gay/bi/same-gender loving men of color like Joseph Beam's Brother to Brother and In the Life and Other Countries' Voices Rising, to name a few. Are there any similarities and dissimilarities between the works?
Keith: Yes, as I mentioned earlier, Brother to Brother was a major inspiration for the book. There have been many important anthologies since Brother to Brother was published in the early 1990s, but there hasn't been a book with the same breadth and depth of experiences and backgrounds and styles. That's what makes this new anthology different.
For Colored Boys features 42 authors from all across the country and outside the country, of all different ages and backgrounds, from young to old, including students, professionals, activists, doctors, lawyers, entertainers, and writers. The diversity of the people in the collection is purposeful and actually quite breathtaking. We have everyone from drag queens to professional football players, and everything in between. I've never seen that before in a book.
Darnell: When reading the contributions in the book, did you notice any trends or themes that seem to have been constant across the stories regardless of age, racial/ethnic background, economic status, and/or geographical location?
Keith: The first major trend we recognized was the frequency of tales of abuse. Many of the writers who sent submissions told stories of molestation and abuse they suffered as children. I was stunned to find so many examples. We could have filled the book simply with those stories alone, but we wanted to have a broader book that told a variety of different stories.
From there, the book evolved organically. Originally, we put out a call for submissions for essays on four topics: faith, family, love, and work. But as we started reviewing the essays, we realized those four categories weren't adequate to represent the many different experience that were shared. So we cut out a couple of the categories and expanded into new categories and came up with ten distinct chapters or sections in the book. There's a section on coming of age, a section on molestation and abuse, a section on coming out, a section on religion and spirituality, a section on love and relationships, a section on health and HIV/AIDS, and more.
All that came out of reading the hundreds of submissions that were sent in as we were selecting which were most appropriate for the collection.
Darnell: This book will certainly transform minds and communities. What other modalities, besides the book, are you using to reach your various audiences? What is your ultimate vision for this project?
Keith: Well, we've created an interactive website at 4coloredboys.com. We've launched two videos for the book. And we'll be going out around the country to do readings and performances in more than a dozen cities from New York to Los Angeles and everywhere in between.
Ultimately, I want this project to develop and grow organically instead of trying to impose a shape on it. I've heard lots of great ideas, everything from a play to a film. We've talked about creating a scholarship and an essay contest for young people. And we want to go out to schools in the fall to share the message with as many young people as possible. But as I said, I'm going to let that process unfold on its own and see where it leads.
To view the book trailer, visit here.
______________________________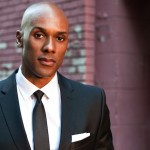 Bio: Keith Boykin is a popular TV commentator, inspirational speaker, and New York Times best-selling author. His new book is called For Colored Boys Who Have Considered Suicide When The Rainbow Is Still Not Enough.
Since the 2008 presidential campaign, Keith has provided political commentary for CNN, MSNBC, and CNBC, and he previously co-hosted the weekly TV series "My Two Cents" on BET Networks.
Educated at Dartmouth and Harvard, Keith attended law school with President Barack Obama and served in the White House as a special assistant to President Bill Clinton, where he helped organize and participated in the nation's first ever meeting between a sitting president and leaders of the LGBT community.
Keith has traveled extensively across four continents, and was appointed by President Clinton, along with Coretta Scott King and Rev. Jesse Jackson, to the U.S. presidential trade delegation to Zimbabwe.
He was a star on the Showtime television series American Candidate and has since appeared on numerous national media programs, including Anderson Cooper 360, The O'Reilly Factor, The Tyra Banks Show, The Montel Williams Show, Judge Hatchett, and The Tom Joyner Morning Show.
A founder and first board president of the National Black Justice Coalition, Keith has spoken to audiences, large and small, all across the world. He delivered a landmark speech to 200,000 people at the Millennium March on Washington, and he gave a stirring speech about the AIDS epidemic in front of 40,000 people in Chicago's Soldier Field.
All of Keith's first three books were nominated for a Lambda Literary Award, including his third book, Beyond the Down Low: Sex, Lies and Denial in Black America. Keith won the Lambda Literary Award for his second book, Respecting The Soul, while his first book, One More River to Cross, is taught in colleges and universities throughout the country.
Keith was an associate producer of the feature film Dirty Laundry, and he currently writes a weekly column for BET.com.