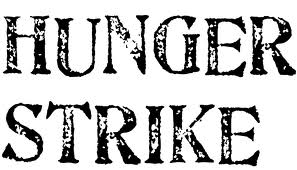 By Lisa Weiner-Mahfuz 
Hunger strikes have historically been used as a form of non-violent civil disobedience and protest. Liberation movements in the United States protesting racial and economic injustice as well as movements in Cuba, India, and South Africa (just to name a few), have used hunger strikes as a way to call national and international attention to genocide, apartheid, and human rights violations.
Mahatma Gandhi started a 21-day hunger strike to protest against British colonial rule in India on May  8, 1932. Cesar Chavez also went on a 25-day hunger strike in 1968 as part of a nation-wide boycott to end the exploitation of workers who pick grapes. Yet, hunger strikes are not just a part of movement history. They are taking place all over the globe today because genocide, apartheid, and human rights violations are not marginalizing acts relegated to our past. Political prisoners at Guantanamo Bay have used hunger strikes to call attention to their conditions, and activists in the Middle East and North Africa have done the same like Abdulhadi al-Khawaja in Bahrain who has been on hunger strike since February 8, 2012.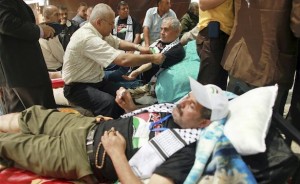 We witnessed the end of the largest hunger strike in Palestinian history on May 14th. The fast was launched as an open-ended strike on February 27, 2012, by two Palestinian prisoners. This protest was organized to bring visibility to the unjust detention policies and human rights violations of the Israeli government. The two lead protesters were then joined on April 17th by an estimated 2,500 Palestinian detainees. Together, the strikers focused international attention on a long list of Israeli government human rights violations including: violent arrests, imprisonment outside of the occupied territories, solitary confinement, denial of access to medical care, torture, and the policy of administrative detention which allows Israel to hold prisoners indefinitely without charge or due legal process.
Although the hunger strike is now over, it important for us to understand that the occupation of Palestine is far from over. In fact, it has been long ignored and denied by the United States, much of the international community, and many of our U.S.-based justice movements. Which begs the following question: If justice and liberation are supposed to be inherent to our feminist/queer/reproductive/disability/racial justice movements, then shouldn't our movements commit to doing all we can to end the occupation of Palestine?
Let us also consider the history and current reality of cis and trans women, LGBT people, people of color, people with disabilities,  immigrants, and poor people literally using our bodies to protest and to bring visibility to the conditions of oppression we face. Some examples include:
Sit-ins at lunch counters all over the South throughout the Civil Rights Movement to protest the exclusion of Black people from public establishments.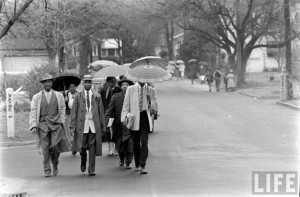 On December 1, 1955 Black people all over Alabama launched the Montgomery Bus Boycott and refused to take city buses. They physically walked everywhere in order to make visible their collective refusal to sit at the back of the bus.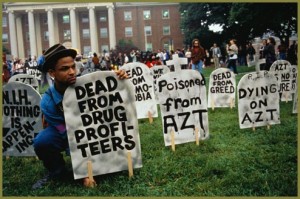 ACT-UP (AIDS Coalition to Unleash Power) was founded in 1987 and activists consistently used civil disobedience to bring attention to the HIV/AIDS crisis.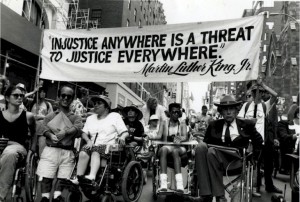 On April 23, 2012, over 75 people affiliated with ADAPT, a national disability rights organization, were arrested at the Capitol building in Washington, D.C. for civil disobedience while protesting "the failure of the federal government to protect community based services for very low income people with disabilities who rely on Medicaid."
These examples remind us that our collective survival often requires us to put our bodies on the line in the struggle for liberation. Why? Because it is our marginalized bodies that are often the target of the oppressions we face. In putting our bodies on the line we not only bring attention to systemic oppression, but in doing so we make it clear that our bodies are our own even in the face of dehumanization and oppression. If embodiment and self determination are not core feminist principles, then I am not sure we have the right to call ourselves feminists. That is what makes all of these examples, including the hunger strike in Palestine, feminist struggles for liberation.
In the name of feminism and liberation, this is why we must remember…
The names of the strikers that put their lives on the line to call attention to the conditions of detention, violence, and genocide so many Palestinians face inside Israeli prisons.
The names of the strikers who put their lives on the line to bring international attention to the occupation of Palestine, an occupation that much of the world denies or ignores.  
We remember their names and the many days they went without food in the name of justice and liberation for all of Palestine:
Bilal Thiab … 77 Days
Thaer Halahleh … 77 Days
Hassan Safadi … 71 Days
Omar Abu Shallal … 69 Days
Mohammedd Al-Taj … 61 Days
Mahmoud Sarsak … 55 Days
Faris Al-Natur … 48 Days
Ja'far Ezz Al-Din … 54 Days
Abdallah Al-Barghouthi …33 Days
more than 2000 Prisoners ….28 Days
Sovereignty, self-determination, and freedom from violence and oppression are core feminist values.  Together, our U.S.-based justice movements must connect the issues that we are working on to the Palestinian struggle for self-determination. Simply put, joining together with our Palestinian brothers and sisters is what solidarity looks like!
______________________________________________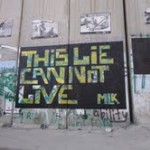 Lisa Weiner-Mahfuz is the Principal of intersections/intersecciones consulting. She is a community organizer, capacity builder, writer, and speaker who has worked across movements for social and economic justice for twenty years. Weiner-Mahfuz has traveled the country organizing, writing, and speaking about a range of community-based issues for the purpose of building more interconnected organizations, communities, and movements. Her writings can be found in an anthology entitled Colonize This! Young Women of Color and Feminism, through an online writing project entitled Busting Binaries that she co-authored with Ana Maurine Lara, and on the Bilerico Project Blog.
For five years she served as the Director of Capacity Building for the National Gay and Lesbian Task Force. While in this role, she actively embedded racial, economic, and disability justice work into building and strengthening organizations and movements. Prior to her work with the Task Force, she was an organizer and capacity builder for the National Organization for Women, Mid-West Regional Organizer for Parents, Families, and Friends of Lesbians and Gays, Pension Plan Organizer for the National Organizers Alliance, and Interim Director for the Massachusetts Coalition for Occupational Safety and Health. She lives in Silver Spring, MD with her partner of 14 years, Lisbeth Melendez Rivera.