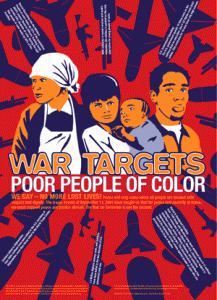 Credit: Favianna Rodriguez
Anna Brown sought out the care of St. Mary's Health Center in St. Louis, MO because she was not feeling well.  Complaining of extreme pain, so intense that she was unable to stand, one doctor identified Brown as "healthy enough to be locked up."  She refused to leave and demanded treatment; the police who wrongly thought she was under the influence of drugs instead took her to jail.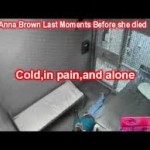 Brown would later die as a result of blood clots that traveled from her legs into her lungs.  The underlying health issue is not what killed Brown. But the suspicion that she aroused in both the doctor and the police who saw her as a criminal in need of incarceration rather than a sick patient in need of medical attention stopped these trained professionals from giving her the care she deserved.
The disrespect and disregard for her humanity has continued within a public that has been silent regarding the shameful incident.  The absence of a sustained public discussion, whether in the media or from political leaders, embodies the value afforded to her as a homeless black women in America.  On Medicaid, her pain was neither heard nor seen at St. Mary's or the other two hospitals she sought care from on this fateful September day.  Yet, the disregard for her life, and the dangers of being sick while black, extend beyond this moment as the value ascribed to her body and experience overdetermines her continued victimization.
Amid all the discussions of the "war on women" few have brought up the experience of Anna Brown or other women of color whose health, bodies, and humanity remain a dream deferred. Media accounts often chronicle the issue of health care through a partisan lens, in recent weeks talking about the "war on women" (as if this is new). The failure to provide universal health care, like the assault on Planned Parenthood, is particularly harmful to women of color.  According to Britni Danielle, "As the Supreme Court deliberates about the fate of the Affordable Care Act, the death of 29-year-old Anna Brown reminds us why health coverage is so vital to all."  Universal access to health care represents a dream deferred for many women in the United States.  According to the U.S. Department of Health and Human Services Office on Women's Health, over 17 million women between the ages of 18 and 64, that is 1 in 5, lack health insurance.  One in 10 women who work lack health care; even those who are insured are often unable to secure needed care – 16 percent of women report being denied coverage or payment for needed health services.  As noted by the Kaiser Family Foundation (KFF) in 2005:
As earlier mentioned, while many women carry some form of health insurance, numerous policies do not cover the services most needed by women. According to the KFF, as health costs swell, 27 percent of non-elderly women (under age 65) and 67 percent of uninsured women report that they delayed or went without treatment because of the cost for that treatment. Additionally, uninsured women are far less likely to be screened for breast, cervical and colon cancer, cardiovascular disease and osteoporosis—all major maladies affecting women.
Reflecting a health care system based on employer-provided coverage, which because of gender inequality in the labor force leads to denied health care and sexism within the insurance industry, health care and affordable health care remain illusive for women.   In other words, the opposition to health care reform and the refusal to institute a single-payer system constitutes a continued war on women.  More specifically, it reflects a war on women of color, particularly those who are poor.
African Americans, Native Americans, and Latinos all face a society that seems either unaware of or unfazed by the lack of affordable and available health care.  For example, as of 2009, 21 percent of African Americans lacked health insurance compared to 15 percent of white women – black women are twice as likely and Latinas are three times as likely to lack health insurance.  This is evident at the national level and also at the state level where the inequalities are startling.  In North Dakota, American Indian women are five times more likely to lack health insurance than white women, as are Alaska Native women. In the District of Columbia because of denied access, the lack of affordability, and denied health insurance, black and Latina women are three times less likely to receive prenatal care, which contributes to low birth weight, high infant mortality, and a myriad of other health problems.
The consequences of a Jim Crow health system, one that further denied women of color a basic right of "life, liberty and the pursuit of happiness," is clear as we look at virtually every indicator.  The war on affordable and universal health care is literally killing communities of color.  According to a report from KFF, whereas 9.5% of white women describe themselves as in fair or poor health, 17% of black women, 22.1 of indigenous women, and 27% of Latinas do so.  According to Melissa Harris-Perry,
Black infants are twice as likely as white infants to die before their first birthday. Black women are less likely to be diagnosed with breast cancer, but more likely to die from the disease. African Americans suffer from higher rates of diabetes, asthma, fibroids, and several forms of cancer. HIV infection rates are exponentially higher for African Americans with young black women being most vulnerable. Life expectancy for black men is the worst in the nation. These differences cannot be explained away simply by accounting for socioeconomic differences between racial groups. Black Americans have worse health outcomes even when we account for income.
Whether examining America's health care system—from the Affordable Care Act to efforts to defund Planned Parenthood—or chronic health disparities, it is clear that women remain at risk through systemic efforts to control women's bodies.  The ability to control one's health, body, and livelihood is under attack, an assault that is particularly harmful for women of color and poor women.  The war on women's bodies, on women's health, on women's humanity and future is ongoing yet nothing new. All one has to do is look at the experiences of women of color, including premature deaths such as Anna Brown's, to see the extent and consequences of the war on women.