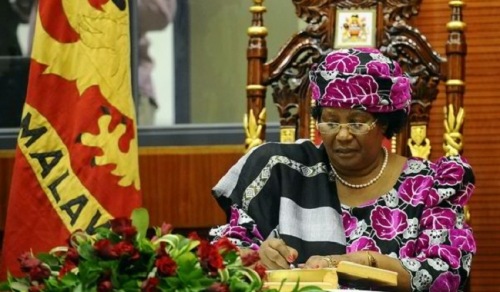 Last Saturday Joyce Banda was sworn in as president of Malawi, replacing former president Bingu wa Mutharika after his death. She becomes Africa's second woman head of state, and the first in southern Africa. Banda built her career as a tireless activist for women's political and social empowerment and the protection of children. She is already being heralded as a symbol of hope and democracy for the region, with men and women alike celebrating her ascension to power. During her inauguration, the hall of Parliament erupted into joyous singing. Major national newspapers ran headlines such as "Democracy Triumphs in Malawi!"
Banda has long been a champion for the rights of women who believes that uplifting women will uplift the nation as a whole. As Banda explains below, her goals are to end gender-based violence, increase the number of women in Parliament, fight against HIV, promote family planning and encourage the economic empowerment of women.
She became a national figure in 2004 when she was appointed the Minister of Gender, Child Welfare and Community Services. In that position, she worked to get the hard-fought Domestic Violence Bill passed and designed two national campaigns in support of orphans and abused children. In 2006, she became the Minister of Foreign Affairs, and by 2009, she was the country's first woman vice president. According to Banda, President Mutharika chose her as a running mate largely because of her commitment to women, who made up an estimated 70 percent of voters.
Banda faced her own challenges on her way to national prominence. At 25 years old, she had three children and was in an abusive marriage. Inspired by the international women's movement, she left her abusive husband and became a small business owner, starting a clothing store and a bakery. Banda saw her position as a way to help less privileged women, using the proceeds to send girls to school. Since that time, she has founded three major organizations to support the economic and social betterment of women's lives in Malawi: the National Association of Business Women, the Young Women's Leaders Network and the Joyce Banda Foundation.
Read more: Ms. Magazine