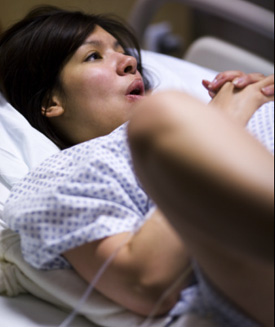 Births during the last decade take longer than they did in the early 1960s — 2.6 hours longer for women having their first baby, and a little less than two hours longer for women who have given birth before, a new study finds.
Scientists at the National Institute of Child Health and Human Development compared the birth experiences of thousands of women who went into labor without complications from 1959 to 1966 with those of women from 2002 to 2008, and found that women in the latter group labored longer, and were more likely to have had medical interventions, like an epidural or a dose of oxytocin.
But is that intervention the cause of the longer labors — and if it is, are longer labors a negative result? The authors of the study suspect as much, but at least one obstetrician who spoke to Nicholas Bakalar, the  Times reporter who wrote an article about the study, suggested that other variables could cause childbirth to take more time. He noted, too, that birth outcomes have improved since the 1960s (and the study authors did find evidence, like higher Apgar scores, that the modern babies were healthier).
Plenty of variables are available to account for the healthier babies as well. Midwives and some other public health experts have long argued that increased medical intervention in the birthing process benefits doctors, not women.
Read more: New York Times