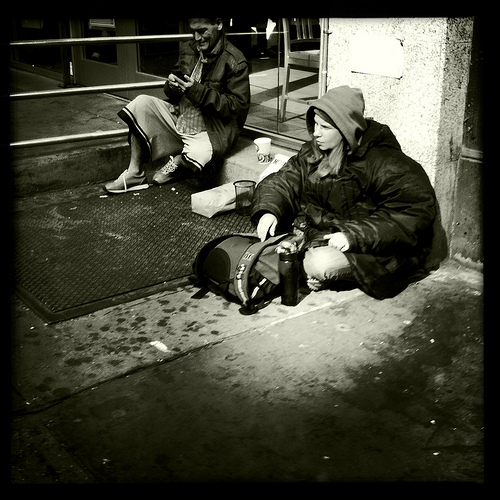 Once primarily male veteran problems, homelessness and economic struggles are escalating among female veterans, whose numbers have grown during the past decade of U.S. wars while resources for them haven't kept up. The population of female veterans without permanent shelter has more than doubled in the last half-dozen years and may continue climbing now that the Iraq war has ended, sending women home with the same stresses as their male counterparts — plus some gender-specific ones that make them more susceptible to homelessness.
The problem, a hurdle to the Obama administration's stated goal of ending veterans' homelessness by 2015, is exacerbated by a shortage of temporary housing specifically designed to be safe and welcoming to women or mothers with children. The spike comes even as the overall homeless veteran population has gone down, dropping by nearly 12 percent to about 67,500 between January 2010 and January 2011, officials say.
Female veterans make up about 8 percent of all veterans, or about 1.8 million, compared to just 4 percent in 1990. The number of homeless female veterans has more than doubled from 1,380 to 3,328 between fiscal year 2006 and fiscal year 2010, according to a December U.S. Government Accountability Office report that found many with young children and nearly two-thirds between ages 40 and 59.
A new report from the VA inspector general examining veteran housing that receive VA grants found bedrooms and bathrooms without locks, poorly lit hallways and women housed in facilities approved for men only. Nearly a third of the 26 facilities reviewed didn't have adequate safety precautions. One female veteran and her 18-month-old son were placed in the same facility as a male veteran who was a registered sex offender.
Female service members, who in wars with increasingly blurred front lines return with post-traumatic stress disorder, face unique challenges, advocates say. Many have suffered sexual assault and remain too traumatized to share common space with men. Many are single mothers struggling to find housing for themselves and their children. They're also more likely to be jobless: Unemployment for female veterans who've served since September 2001 was 12.4 percent last year, slightly higher than for their male counterparts.
Read more: CBS NEWS