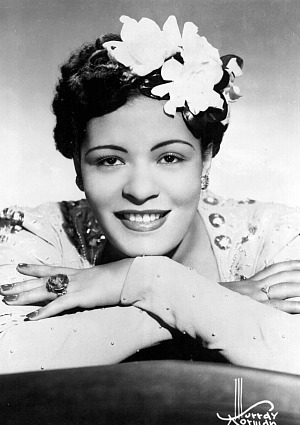 Billie Holiday was born on April 7, 1915 and died on July 17, 1959. She squeezed a lot of living–and a whole lot of music–into her 44 years on this earth. She was, in a word, incomparable.
Nicknamed "Lady Day" by Lester Young (who died exactly four months earlier than Holiday), the legendary jazz singer is known for such hits as "What a Little Moonlight Can Do," "God Bless the Child," "T'aint Nobody's Business If I Do," "A Fine Romance," "My Man," "A Foggy Day," and of course, "Strange Fruit." She worked with some of the greatest jazz musicians of the twentieth century while developing her own distinctive sound: part melancholy, part romance, part blues, and all Billie. Few vocalists could deliver a note like she could, the kind of sound that would hang in the air like an amber drop of honey spun with whiskey and make you catch your breath.
Holiday was known as much for her personal life, including addiction and bad relationships, as she was for her breathtaking musical talent. Over the years, her voice bore witness to drug and alcohol use, which escalated after her mother's death in 1945 and eventually led to a devastating and lethal heroin habit. She suffered a string of heartaches, too, including abusive relationships, divorces, and betrayal by lovers. She chronicled her woes and successes in her autobiography Lady Sings the Blues, published in 1956 and later made into a film starring Diana Ross.
Holiday's music and life came to represent a host of mid-century American troubles, including racism, sexism, and substance abuse. She became an icon but also a cautionary tale, a poster child for the intemperance of the jazz scene and human frailty. And yet, her discography stands as a singular, magnificent contribution to American music.
Happy birthday, Ms. Billie Holiday, from all of us at TFW. You have marked our lives indelibly.