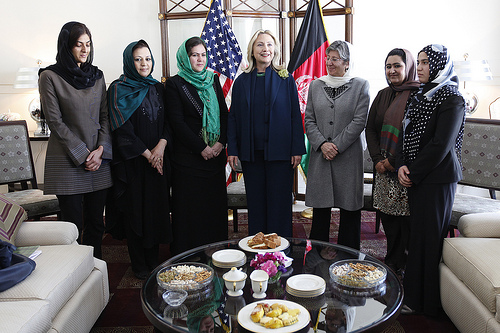 Any peace deal in Afghanistan that excludes women or tries to roll back their rights is doomed to fail, Secretary of State Hillary Clinton said. Speaking at an event yesterday in Washington marking the 10th anniversary of the U.S.-Afghan Women's Council, Clinton pledged the U.S. will defend the advances Afghan women have made since the fall of the Taliban. Any peace deal that may emerge from exploratory talks with insurgents must abide by the Afghan constitution, which enshrines rights for women, she said.
"We will not waver on this point," Clinton assured guests at the event, including Afghan officials and U.S. business leaders who have supported programs for Afghan women. A peace agreement "excluding more than half the population is no peace at all. It's a figment that will not last," she said to applause.
Clinton cited a list of achievements for women since the fall of the Taliban, from most basic health and social indicators to accomplishments in politics and industry. The average life expectancy for Afghan women in 2001 was 44; now it is 62, Clinton said. Back then, girls were prohibited from attending government schools; now, almost 3 million do, representing a third of primary and secondary school students, she said. She said 100,000 have graduated from high school, and 15,000 enrolled in universities in the last decade.
Still, Afghan women activists and some in the U.S. government have expressed concern that the Afghan government, in its desire to take insurgents off the battlefield and end the war, might bend to Taliban demands to curtail women's advances. Under the Taliban in the 1990s, Afghan women were largely prevented from attending school, holding jobs, participating in government or leaving home without male escorts.
Read more: Bloomberg