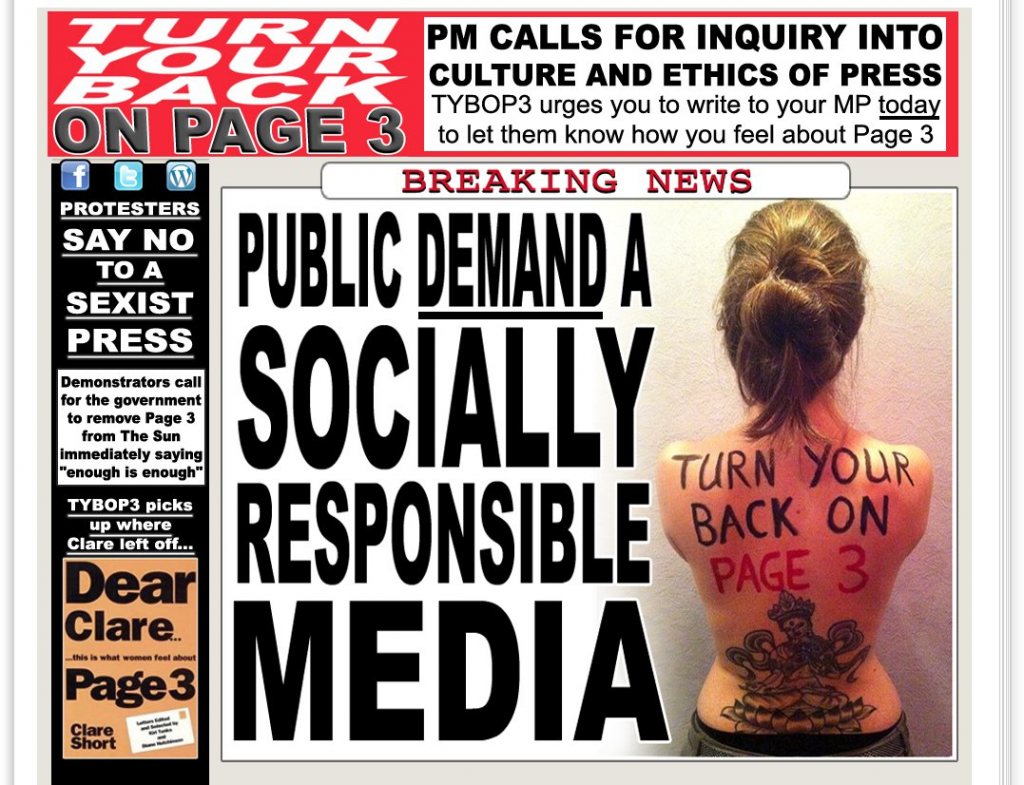 The Sun's editor, Dominic Mohan, was recalled a few weeks ago to give further evidence about Page 3 and  the UK tabloid's portrayal and reporting of women at the UK Leveson Enquiry (who are currently investigating the Culture and Ethics of the UK press). It's hard to believe that in the 21st Century there is still an ongoing debate as to whether or not it's appropriate or responsible for a national 'family' tabloid to publish a picture of a young woman's breasts for 'titillation' (excuse the pun).
However, when you read Mohan's statement you can start to understand why some people think there is still a debate to be had. It's pure Pythonesque satire, with Mohan claiming that the "innocuous" Page 3 is as "innocent today as it was in 1970," and it's a "force for good."
These ridiculous comments reminded me of the Monty Python sketch that 'all sperm is sacred' — much like the female US politician who recently satirically suggested this in order to expose the inherent sexism in the debate on family planning options available to women and 'unborn children.'
I mean tits a 'force for good'? Come again? (pun intended). As Rosamund Urwin remarked in the London Evening Standard last week:
[Mohan]somehow forgot to mention the patronising 'News in Brief' copy which accompanies the pictures- far from celebrating these women, it invites the reader to laugh at them.
Mohan, like many others, argues that Page 3 is neither 'harmful nor offensive,' and compared to hardcore online porn and the blatant misogyny in UK lad's mags, he may well be right.  However, what is intentionally glossed over and lost in the Page 3 debate by Mohan and other conservative journalists and tabloids is the fact that these objections are not driven by hostility or prudishness towards nudity, sexuality, or even soft porn. The objection is about sexism—unfair and discriminatory sexism. A sexism that perpetuates negative gender stereotypes about women and men, that devalues and derides women as sexual objects/eye-candy to be looked at by men, and implicitly portrays men as the main agents and observers of what is being published.
To place a woman's breasts, or any image of a woman that  emphasizes her physical attractiveness in the middle of news stories about rape, murder, sport, and politics, creates a deliberate tension between what is serious and interesting and what is 'fun' and 'playful'—with women 90% of the time falling into the 'playful' category.
For example, Mohan's claim that the visit from the Page 3 girls boosted the morale and 'cheered up' the British troops in Afghanistan only serves to highlight the portrayal and devaluation of women as objects of fun, play and sexual titillation for men. Can you imagine a group of young, hunky men being sent to 'cheer up' the female troops?
There is no male equivalent in The Sun for female readers to wistfully gaze at for their 'youthfulness and freshness.' If there were, it would be seen as a joke and out of the ordinary—as a counterbalance to the 'normal' Page 3.  As a young child I remember feeling embarrassed and uncomfortable seeing Page 3 in the newspaper at the GP's clinic, in cafés, etc. It certainly gave me the impression that it was normal for naked women to be in a newspaper, whereas it was unusual to see a man represented that way. Let's also not forget that a primary purpose of our mammary glands is for feeding babies not masturbatory material for men. Although these days, you'd be forgiven for thinking it's the latter, particularly with a media saturated with sexualized images of breasts, and very few celebrities or western women breastfeeding beyond six weeks.
Platform 51 commissioned a nationally representative poll on Page 3, which showed that almost twice as many women would support a ban on topless pictures of female models appearing in daily newspapers as those who would oppose it.  Almost a third of men said they would support a ban as well. In addition, research shows that many more young people, both men and women in the 18-24 age group are in favour of a ban, more so than 45-54 year olds.  This suggests that the sexist stereotype that those in favour of a ban are typically 'prudish' and 'old-fashioned' is being challenged.
The women's rights campaigning group, OBJECT, along with other women's campaigning organizations, submitted their objections to the Leveson Enquiry last month, calling for an end to the persistent devaluation and sexualization of women and girls in print media. Ironically, the images that OBJECT submitted as part of their case had to be censored for obscenity before being placed before the Enquiry panel. Is there any need for further proof of their general inappropriateness than that?
Yes, many men enjoy looking at naked, sexual images of women (and vice versa).  However, no one is trying to outlaw or forbid that.  There is a time and place for sexual titillation, and a daily 'family newspaper is not one.  If women's breasts are not allowed on UK television before 9pm then why are they allowed in newspapers? More importantly, the message it sends out to men (and women) is sexist and outdated. Although banning Page 3 would be a very small step in dealing with the derogatory and misogynistic portrayal of women in the media and advertising, at least it's a step in a positive direction.
Perhaps it's also time for a Pythonesque feminist satirical song called 'Tits are a force for good' with a Mohan lookalike on lead vocals, what do you think?