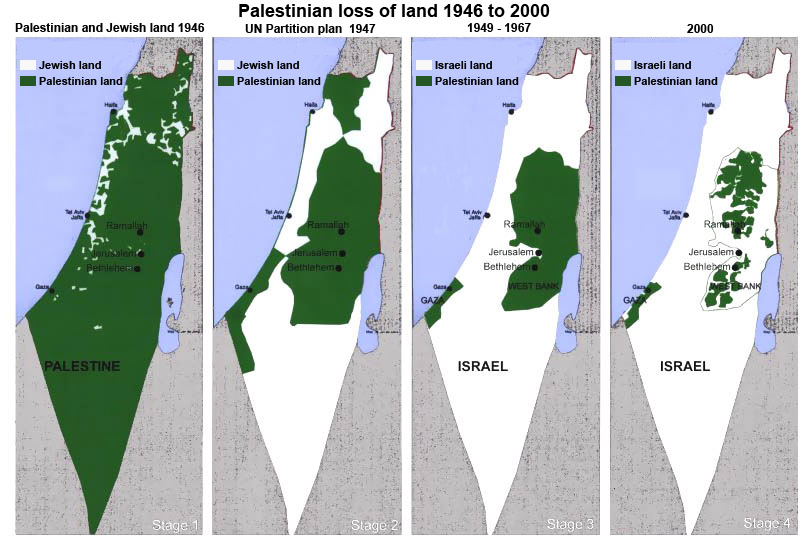 Introduction:
TFW Editorial Collective Member, Darnell L. Moore, recently returned from a trip to Israel/Palestine as a member of the first LGBTQI delegation to the Palestinian territories. He asked several US-based scholars, activists, and cultural workers, who also visited Palestine as members of US delegations, to offer critical reflections on their experiences. We are thrilled to present Part I of this forum, which includes moving and perceptive reflections from Beverly Guy-Sheftall, Katherine Franke, Lisa Weiner-Mahfuz, Roya Rastegar, Vani Natarajan, and Darnell L. Moore.
Part II of the forum will include two incisive commentaries from Neferti X. M. Tadiar and Jasbir K. Puar. Tadiar's contribution examines Palestine as a feminist concern and Puar's essay looks at homonationalism and pinkwashing as features of Israel's tacit and concrete regimes of occupation.
TFW Forum Part I: Reflections on Palestine
Beverly Guy-Sheftall
This past summer in June, I  joined a small delegation of feminist women of color who toured Palestine and upon our return to the U.S. issued a statement in support of the Palestinian struggle for liberation.  We also expressed our solidarity with the Boycott, Divestment, Sanction (BDS) movement, and over the past several months various members of the group have spoken in Atlanta conferences sponsored by the Future of Minority Studies (FMS), the National Women's Studies Association (NWSA), and the Friends of Sabeel. Having grown up in the Jim Crow, apartheid South of Memphis, Tennessee, in the 50s, and having attended Spelman College in the Civil Rights mecca of Atlanta, Georgia, in the 60s, I was aware of the commonalities among oppressed people globally, as was the case with my sister travelers.  But, "we wanted to see for ourselves the conditions under which Palestinian people live and struggle against what we can now confidently name as the Israeli project of apartheid…"
As a women's studies professor, I was interested as well in the development of the Palestinian women's movement, queer movements, and tensions between nationalist and feminist politics in the Palestinian freedom struggle.  I wanted to understand how women activists in the occupied territories negotiated struggles against Zionism, British colonialism, and hetero-patriarchal norms within both Israel and Palestine. I was also excited about visiting Palestinian universities and learning about their women's and gender studies curricula and programs. I returned to my women's studies classes with a broad array of materials about the gendered aspects of the occupation, as well as the complexities of women's movements over time in Palestine. I broadened my understanding of global feminisms and the particular plight of women and children in refugee camps and colonial space.  One of the highlights of the trip for me was singing "We Shall Overcome" with an elderly, still defiant Palestinian activist, who had been a political prisoner as a younger woman, an all too common experience for many of the women and men whom we met on our journey.  A luta continua.  The Struggle Continues.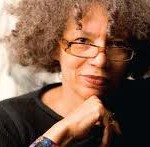 Beverly Guy-Sheftall is the founding director of the Women's Research and Resource Center and Anna Julia Cooper Professor of Women's Studies at Spelman College.  She is also adjunct professor at Emory University's Institute for Women's Studies where she teaches graduate courses.  She has published a number of texts within African American and Women's Studies which have been noted as seminal works by other scholars, including the first anthology on Black women's literature, Sturdy Black Bridges:  Visions of Black Women in Literature (Doubleday, 1980), which she coedited with Roseann P. Bell and Bettye Parker Smith; her dissertation, Daughters of Sorrow:  Attitudes Toward Black Women, 1880-1920 (Carlson, 1991); Words of Fire:  An Anthology of African American Feminist Thought (New Press, 1995); an anthology she co-edited with Rudolph Byrd, Traps: African American Men on Gender and Sexuality (Indiana University Press, 2001);  a book coauthored with Johnnetta Betsch Cole, Gender Talk:  The Struggle for Women's Equality in African American Communities (Random House, 2003); an anthology, I Am Your Sister: Collected and Unpublished Writings of Audre Lorde (Oxford University Press, 2008), coedited with Rudolph P. Bryd and Johnnetta B. Cole; an anthology, Still Brave: The Evolution of Black Women's Studies (Feminist Press, 2008), co-edited with Stanlie James and Frances Smith Foster; and Who Should Be First?: Feminists Speak Out on the 2008 Presidential Campaign (SUNY Press, 2010), co-edited with Johnnetta Betsch Cole.  In 1983 she became founding co-editor (with Patricia Bell Scott) of Sage:  A Scholarly Journal of Black Women which was devoted exclusively to the experiences of women of African descent and was published for thirteen years. She is the past President of the National Women's Studies Association (NWSA).
I return from a two-week visit to the West Bank wrestling with the complexities of solidarity in this region. The first half of my trip was as part of a delegation of 16 academics, journalists, artists, and activists who sought to better understand the relationship of Israeli occupation to Palestinian freedom and identity, particularly sexual freedom and identity. The group and its members identified as lesbian, gay, queer and/ or transgender. I stayed on for another week after the delegation concluded to begin work on an EU-funded project to enhance the role of women lawyers in the Palestinian Bar Association and in the legal profession more generally. Week One surfaced sexuality while admitting no interest in gender, while Week Two illuminated gender while leaving sexuality in the shadows. Of course the one cannot be fully understood apart from the other, but in practice it is difficult to keep both in view.
This is true everywhere, but Israeli occupation adds its own unique valence to the challenge of thinking identity complexly. The state of Israeli has financed a campaign to re-brand itself as a gay-friendly, modern, human-right loving place (in contrast with its purportedly more homophobic Arab neighbors) so as to distract attention from the dehumanization and violence of Palestinian occupation. "Surely all Palestinian homosexuals dream to flee to Tel Aviv and its gay bars, leaving behind the homophobia of their culture" the argument goes. This renders invisible the rich lives and incredible work of Palestinian LGBTQ activists who have a complex analysis of national and sexual self-determination and freedom. At the same time foreign support for the Palestinians in the form of money, aid workers and teams of "experts" (myself included) pour into Palestine seeking to improve the lives of women. Millions of dollars, euros or yen are easily available so long as gender-rights frame the "scope of work". But by "gender" the donors really mean "women". Just as with gays, Palestinian culture is understood as toxic and dangerous. Thus, Israel traffics in gay rights to "pink-wash" its international reputation, while the donor community "estrogen-washes" virtually all of its work in Palestine. In both cases the "backwardness" of Palestinian culture and tradition justifies the intervention of others to save its women and gays. When issues of sexuality and gender in Palestine are occupied by the agendas of outsiders, solidarity is tough if you want to avoid the traps of identity set by others.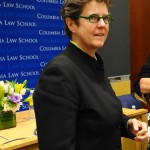 Katherine Franke is the Isidor and Seville Sulzbacher Professor of Law, and Director of the Center for Gender & Sexuality Law at Columbia Law School.   She is also on the Executive Committee of Columbia's Institute for Research on Women and Gender and works closely with the Center for Palestine Studies.  She is among the nation's leading scholars working at the intersections of feminist, queer, and critical race theory.  In addition to her scholarly research she writes regularly for a more popular audience in the Gender & Sexuality Law Blog and is on the Board of Directors of the Center for Constitutional Rights.  She was awarded a Guggenheim Fellowship in 2011 to write a book on the curious role of the right to marry in larger civil rights struggles, comparing African Americans in the immediate post Civil War period with same-sex couples today.
Lisa Weiner-Mahfuz
Going to Palestine had been a dream of mine. It was a journey that I have been longing to take in order to more deeply understand my histories, faith traditions and cultures as an Arab/Jew. There was so much about this trip that I knew would not be easy. Bearing witness to occupation is never easy.  Yet, after 20 years of intense movement building work in the US, I also believed that this trip held insight and transformation for me both personally and politically.
Transformational it was…
My first three hours in Tel Aviv gave me just a small window into what my Palestinian brothers and sisters face on a daily basis. I was detained and questioned by airport security for three hours about my ethnicity, racial identity and religion as an Arab/Jew.  I was the last person released from my flight. I walked into a massive and empty baggage claim area only to find my luggage standing by itself surrounded by concrete and total silence. My three hours of questioning was 'minimal' compared to the six to twelve hours most Palestinians face.
Our delegation witnessed the depths of the occupation. We went to places that most people in the US, internationals and Israelis are not allowed to go.  We bore witness to some of the most profound, disturbing and deeply upsetting aspects of the occupation. My heart is broken and my rage at what we saw is intense.  The elaborate systems of Israeli control around every aspect of Palestinian life are profound and very concrete. The Palestinian people say that given that they cannot live in their country, their country lives in them. The resilience, brilliance and depths of resistance we witnessed across the Palestinian community were truly revolutionary and amazing.
I strongly support the current BDS strategy (boycott, divestment and sanctions) on the part of the Palestinian people. Why? Because I believe that self-determination over one's body and land should be a central tenant of any movement for social and economic justice. It is true that queer and feminist movements have a long history of understanding that the attacks on our communities are grounded in our struggle for sexual liberation and free expression of our bodies, love, genders and desires. Yet, both movements have failed to further this understanding by connecting our struggle to the struggles many communities face around the colonizing of both their bodies and land. We must not forget that colonization—wherever and whenever it is taking place– is a queer and feminist issue!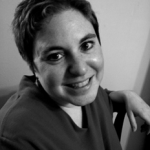 Lisa Weiner-Mahfuz is the principal of intersections/intersecciones consulting. She is a community organizer, capacity builder, writer and speaker who has worked across movements for social and economic justice for twenty years. Weiner-Mahfuz has traveled the country organizing, writing and speaking about a range of community based issues for the purpose of building more interconnected organizations, communities and movements. Her writings can be found in an anthology entitled Colonize This! Young Women of Color and Feminism, through an online writing project entitled Busting Binaries which she co-authored with Ana Maurine Lara and on the Bilerico Project Blog.
For five years she served as the Director of Capacity Building for the National Gay and Lesbian Task Force. While in this role, she actively embedded racial, economic and disability justice work into building and strengthening organizations and movements. Prior to her work with the Task Force, she was an organizer and capacity builder for the National Organization for Women, Mid-West Regional Organizer for Parents Families and Friends of Lesbians and Gays, Pension Plan Organizer for the National Organizers Alliance and Interim Director for the Massachusetts Coalition for Occupational Safety and Health.
She lives in Silver Spring, MD with her partner of 14 years Lisbeth Melendez Rivera.
Days after our trip to Palestine, I am desperate for my words to return. The fragmentation of physical spaces defies logic, and the state reveals itself for what it is: irrational, socio-pathic, menacing. A ruse of security justifies twenty-five foot high concrete walls, entrapping razorblade fences, and imprisoning checkpoints.  The state exists to seize mobility, maneuvering unjust legal mechanisms that squeeze Palestinian communities off the land and disappear their presence. All so that people from Brooklyn can move into newly constructed, ghost town settlements. This state violence compels violence. It is not a conflict between people of different religions or histories. This is a supremacist project designed to worm oppression into every crevice of life, segregate families, decompose generations, and rot possibilities for love, beauty, and desire.
The tenacious resistance from Palestinians across generations and perspectives further exceeds my capacity for language. Political economist Leila Farsakh emphasized that any solutions would need at least 15-20 years to gain traction. There is a unanimous commitment to doing social justice work around oppression at all levels of civil society, from families protesting the encroachment of the Israeli military and settlers on their farmlands and natal homes, to the Palestinian Queers for BDS [Boycott, Divestment, and Sanctions]. An astonishing amount of patience at first appears in contradiction to a common sense of urgency. But here is an approach to urgency that complicates expectations of the immediate, and pressures of the now. This is not to say the movement building is taking place at a relaxed, leisurely pace. Strategizing, outreach, and organizing across all sectors of civil society are active, dynamic, and evolving. Resisting spatial suffocation, it turns out, expands a capacity for time. I learned that it takes time to do the work necessary so we all are seen to matter, so that our lives are recognized as sacred. It takes time to reorganize social and civic life in economically and politically just ways. It takes time to realize capacious, broad visions of a free society—a society fully liberated from injustices and inequity around gender, class, race, religion, sexuality, caste, ethnicity, and any other difference that is subjugated and devalued. Here, urgency fully occupies the present so another future can be built from the ground up. With resolute clarity and vigor, these activists collectively struggle for justices that will free Palestine, and, if we listen and act, could lead us all to a freer world.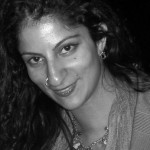 Roya Rastegar has a Ph.D. in the History of Consciousness, from the University of California, Santa Cruz. She was a Programmer at the Tribeca Film Festival from 2008-2011, a Curatorial Fellow at the Whitney Museum in 2008-9, and a Co-Director of the Santa Cruz Women of Color Film & Video Festival in 2005.  She has served on the juries of Outfest and the Santiago Festival International de Cine.  She is the co-writer of a magical realist documentary, Wildness, directed by Wu Tsang and premiering at MOMA's Documentary Fortnight 2012. Rastegar is a Visiting Scholar at the Center for the Study of Women at UCLA, and writes about film and performance for various publications. Her current book project presents a critical history of American film festivals and the radical possibilities of film and new media curatorial practices.
Vani Natarajan
The Israeli occupation of Palestine manifests itself in the most patriarchal and brutal ways. These can be observed in the apartheid wall, the demolition of Palestinian houses, the proliferation of racist security measures, ever-expanding Israeli settlements that separate Palestinians from their land, families and loved ones, the lack of access to basic resources like water due to Israel's control of these very resources—the list goes on.  Visiting Palestine as part of the LGBTQ delegation allowed me to observe, witness, and listen. It also exposed me to inspiring signs and stories of popular resistance. So much of the movement against the occupation involves the active vision and participation of women, of queer people, of youth and elders together.
Resistance to the Israeli occupation includes an active refusal to support the Israeli state and its allies. The US government and US corporations all too often constitute the worst offenders. The 2005 call for Boycotts, Divestment, and Sanctions (BDS) as issued by Palestinian civil society organizations gives people around the world a method for supporting the movement to end the occupation.  This method can, and should, prioritize the needs of people most directly affected by the occupation. I think of the BDS call as not just something frozen in 2005, but as an actively developing set of voices and strategies. It's beautiful to see how multifaceted the BDS movement in Palestine is. Meeting feminist and queer organizers, among others in Palestine, has inspired me greatly. Now that I have returned to the US, I feel like my work is only just beginning. I'm excited to be alive while this movement grows, and to learn more about practices of solidarity within it.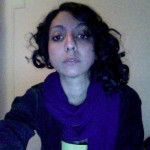 Vani Natarajan is a librarian and fiction writer based in Brooklyn, New York.
Darnell L. Moore
I arrived back in the United States very aware of my freedom of mobility. Most Palestinians experience the opposite, restriction. Remember that word.
I am left to consider the many ways that division manifests in Israel/Palestine: Israel's massive separation wall, differentiated roadways, fences, and checkpoints…forced separations, military-enacted displacements, demolitions and seizures. The extraordinary state-sponsored mechanisms—barriers, boundaries, separations, and disunion—that are normativized and function as ordinary features in the lives of many are imprinted on my mind.
I am left to consider the occupation of Palestinian land and the refusal of the right of the Palestinian people to self-determination, as a state-sponsored project—US supported regime—of colonization. A project that seeks to disappear indigenous knowledges: reordering maps such that Palestinian villages no longer exist; changing the names of towns in ways that re-routes travel and memories; and creating histories that mute the voices of the oppressed and makes audible the discourse of the colonizer.
I am left to consider: What's queer about the Palestinian struggle for liberation? And, answer: Every(damn)thing is queer about the Palestinian struggle for liberation! A queer politic of liberation desires the dismantling of state sanctioned "walls", barriers, partitions, labels, practices that turns apartheid systems into mundane and accepted ways of life.
A queer politic of liberation sees colonization for what it is: a racist, capitalist, imperialist project of control and ordering. And, order is an important word choice here because it is a rhetorical stand-in for security and normalcy: a way of life that the Israeli government goes about its project of occupation to maintain. But, the colonizer's humane order is the source of the Palestinian people's experiences of dehumanizing disorder. A queer politic of liberation pushes us to call out and resist the kinds of order that restricts people and limits freedom.
The Palestinian quest for self-determination is a queer fight. And, I stand in solidarity with Palestinian and Israeli brothers and sisters who are on that quest.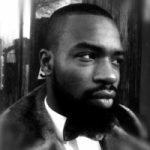 Darnell L. Moore is a writer/poet and activist who lives in Bedstuy, Broooklyn, NY and hails from Camden, NJ. He is a 2011-2012 Visiting Scholar in the Center for the Study of Gender and Sexuality at NYU and a Fellow of the Global Justice Institute. His writings, which have been published in peer-reviewed and popular publications, focus on issues of race and sexuality.